Discover elegant Salzburg — historic birthplace of Wolfgang Amadeus Mozart — on a 10-hour rail tour from Munich. Relax on the comfortable train ride to Salzburg, take a guided tour of city attractions like Domkirche Cathedral and the Festung Hohensalzburg fortress, then enjoy hours of independent time to explore. Soak up Austrian history, sample local delicacies, and snap photos of the city set against the striking backdrop of the Alps.
Highlights
Small-group Salzburg day tour from Munich

Personalized small group and commentary (maximum 25 people)

1.5-hour guided orientation tour of Salzburg's Mozart and The Sound of Music sites
Domkirche Cathedral and Festung Hohensalzburg fortress
Three hours to explore Salzburg at your own pace
Return train tickets to Salzburg
Why Our Insiders Chose This Tour
There's more to Salzburg than The Sound of Music, and you'll have several free hours to explore this lovely city's many charms. Shop at Old Town, take in the views from Salzburg Fortress and make sure to sample some apple strudel!
Recent Photos of This Tour
Salzburg Small Group Day Tour from Munich
What You Can Expect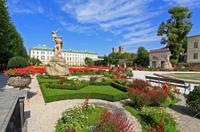 Begin your tour in the morning at the Munich Hauptbahnhof (Central Train Station), where you'll meet your guide and board a train for the 2-hour scenic ride to Salzburg. As you ride, enjoy the marvel of the German rail system, renowned for immaculate service and equipment. Relax in a comfortable seat, chat with fellow travelers or fuel up at the onboard snack bars (own expense).
You'll arrive in Salzburg by mid-morning, and your introduction begins with a 1.5-hour walking tour. With your city map in hand, follow you knowledgable guide for a stroll through this UNESCO-listed city. Admire baroque-era architecture and visit castles, churches, monasteries, gorgeous piazzas and more. Ask questions and snap photos along the way.
After your guided tour, break off from the group for three hours of independent exploring. Plot your trip through the preserved medieval town, wandering along picturesque lanes to see sites like Domkirche Cathedral, the magnificent Festung Hohensalzburg, and Mirabell Garden and Palace, the setting for the classic 'Do-Re-Mi' scene from the Sound of Music (admission not included). You'll have plenty of time to sightsee, souvenir shop and explore local boutiques and eateries.
At the end of your Salzburg walking tour, head to the train station for the return ride to Munich. You'll arrive back at the departure point in the evening.

April 2016
This tour was wonderful. The tour guide was quite knowledgeable and alot of fun. We did not realize that there was that much walking and a lot up hill. The part of the tour with the guide should have been in a mini bus. Due to the inclines and distance we were unable to see the monistary or the cathedral. As big Sound of Music fans we were disappointed!
April 2016
We visited Munich in January this year and decided to do this day trip to Salzburg. Our guide was really lovely and welcoming and managed cater for our group in English, German and Spanish! We met her at Munich station and spent the whole day exploring Salzburg. The city is absolutely beautiful, and was covered in snow when we went! I would HIGHLY recommend going up to the top of the Fortress in your spare time on this trip as the views are just breathtaking! The cable car was closed due to the weather when we went, but if you can manage the hike I would definitely give it a go. All in all, a fabulous day trip that I would highly recommend to anybody wishing to explore!
April 2016
Great day out, well worth a visit. Lucia our guide was fab.
April 2016
This was a great fun, our tour guide Lucia Peraza was very helpful and made our experience easy and stress free. She knew exactly where she was going, and edited our trip to suit our needs. I highly recommend this tour and will be using this tour centre again.
April 2016
I really enjoyed this trip. Our tour guide Lucia Peraza was very informative and made the tour easy and stress free. Lucia even edited the tour to suit our interest and needs. I highly recommend this tour and the tour company . I will be using this tour company again

April 2016
Again one of the best day tours ever taken !! Our tour guide gave us good insights into the history and architecture of the city. One must recommended tour if in Munich !!
March 2016
We really enjoyed this trip to Salzburg even though it was a long day. We were able to stay in Salzburg for an extra hour with some folks who wanted to stay longer as well. It was great of our guide, Maxine, to set that up. There is a lot to see in a very short amount of time. We went Mar 19th, so it will be prettier in mid April as the flowers start to come out there. We wondered about the refugee issue on the trains, but it wasn't an issue at all.
March 2016
Salzburg is a beautiful city and our guide Franz was incredible. Franz showed us the key spots and his knowledge added to our experience, and he gave us wonderful recommendations for lunch-- we even ran into him at one of the recommended restaurants. I would absolutely go on his tour again. It was my favorite day on our 6 day vacation.
March 2016
Our guide Susan/Suzanne was British so she spoke perfect English. She gave us trivia and other info about the sights. Salzburg was beautiful and we enjoyed this tour. Lots of walking involved though so wear comfortable shoes.
March 2016
Our tour guide was awesome! He knew a lot about history and shared as much as he could on the way over in the train so that once we arrived in Salzubrg we had more time to wander and explore the city.
Advertisement
Advertisement