Discover elegant Salzburg — historic birthplace of Wolfgang Amadeus Mozart — on a 10-hour rail tour from Munich. Relax on the comfortable train ride to Salzburg, take a guided tour of city attractions like Domkirche Cathedral and the Festung Hohensalzburg fortress, then enjoy hours of independent time to explore. Soak up Austrian history, sample local delicacies, and snap photos of the city set against the striking backdrop of the Alps.
Highlights
Small-group Salzburg day tour from Munich

Personalized small group and commentary (maximum 25 people)

1.5-hour guided orientation tour of Salzburg's Mozart and The Sound of Music sites
Domkirche Cathedral and Festung Hohensalzburg fortress
Three hours to explore Salzburg at your own pace
Return train tickets to Salzburg
Why Our Insiders Chose This Tour
There's more to Salzburg than The Sound of Music, and you'll have several free hours to explore this lovely city's many charms. Shop at Old Town, take in the views from Salzburg Fortress and make sure to sample some apple strudel!
Recent Photos of This Tour
Salzburg Small Group Day Tour from Munich
What You Can Expect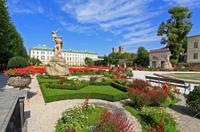 Begin your tour in the morning at the Munich Hauptbahnhof (Central Train Station), where you'll meet your guide and board a train for the 2-hour scenic ride to Salzburg. As you ride, enjoy the marvel of the German rail system, renowned for immaculate service and equipment. Relax in a comfortable seat, chat with fellow travelers or fuel up at the onboard snack bars (own expense).
You'll arrive in Salzburg by mid-morning, and your introduction begins with a 1.5-hour walking tour. With your city map in hand, follow you knowledgable guide for a stroll through this UNESCO-listed city. Admire baroque-era architecture and visit castles, churches, monasteries, gorgeous piazzas and more. Ask questions and snap photos along the way.
After your guided tour, break off from the group for three hours of independent exploring. Plot your trip through the preserved medieval town, wandering along picturesque lanes to see sites like Domkirche Cathedral, the magnificent Festung Hohensalzburg, and Mirabell Garden and Palace, the setting for the classic 'Do-Re-Mi' scene from the Sound of Music (admission not included). You'll have plenty of time to sightsee, souvenir shop and explore local boutiques and eateries.
At the end of your Salzburg walking tour, head to the train station for the return ride to Munich. You'll arrive back at the departure point in the evening.
May 2016
Outstanding tour. Iain, our guide, was quite the expert on Austrian history to really help us more fully enjoy this beautiful city. He was also very funny and entertaining.

May 2016
I loved this trip! Great guide and a fantastic train ride and walking tour.
May 2016
An outstanding tour. Great guide who was very knowledgeable But didn't overload us with info. the time management was excellent. Highly recommend this tour company! We were so pleased with the tour that we booked a different tour for later in the week. That was excellent too.
May 2016
We were a group of 24 individuals from around the world. Some came to experience the Sound of Music. Others came for Mozart. Our tour guide was Maxine, who had the unique ability to remain strong and focused in spite of the rather ironic circumstances imposed on our tour. We were forced to take buses between Rosenheim and Prien am Chiemsee due to an unfortunate tragic occurrence on the tracks between those stations. But this unexpected leg of our journey gave us intimate glimpses of the lives of the residents of the small towns and villages off the beaten track. It was actually rather lovely, in spite of the circumstances. When we finally arrived in Salzburg two hours late, Maxine created a new plan on the spot and the group agreed to stay later than scheduled, so that we might enjoy as much of Salzburg as possible.
Maxine's familiarity with the city is certain. Her clear directions and suggestions made it possible for all of us to take in as many of the sites as possible in the limited amount of time available on such a tour. We began our tour at the world's oldest restaurant, the St. Peter Stiftskeller, first documented by Alcuin in the 803 CE, when Charlemagne was king of the Franks! I had traditional Wiener Schnitzel with an absolutely fabulous raspberry sauce.
Thereafter we climbed up to the Nonnberg Abbey, where Maria Kutschera von Trapp was a postulant, and later the inspiration for the Sound of Music. The original abbey was established about the beginning of the Eighth Century, and remains functioning today as the home to several Carmelite Nuns.The architecture is stunning, set against the backdrop of the snow covered Alps. The site is well worth the walk.
We then took the funicular railway up to the Castle. Begun in 1077 CE, it remains Europe's largest fortification. It is virtually intact, never having been conquered in its nearly millennium long history.
Our one regret is we didn't have more time!
May 2016
Great tour! Had plenty of time to roam around but yet our guide provided a detailed tour of the highlights of Salzburg! If you have extra time in Munich I suggest this day trip.

April 2016
This tour was wonderful. The tour guide was quite knowledgeable and alot of fun. We did not realize that there was that much walking and a lot up hill. The part of the tour with the guide should have been in a mini bus. Due to the inclines and distance we were unable to see the monistary or the cathedral. As big Sound of Music fans we were disappointed!
April 2016
We visited Munich in January this year and decided to do this day trip to Salzburg. Our guide was really lovely and welcoming and managed cater for our group in English, German and Spanish! We met her at Munich station and spent the whole day exploring Salzburg. The city is absolutely beautiful, and was covered in snow when we went! I would HIGHLY recommend going up to the top of the Fortress in your spare time on this trip as the views are just breathtaking! The cable car was closed due to the weather when we went, but if you can manage the hike I would definitely give it a go. All in all, a fabulous day trip that I would highly recommend to anybody wishing to explore!
April 2016
Great day out, well worth a visit. Lucia our guide was fab.
April 2016
This was a great fun, our tour guide Lucia Peraza was very helpful and made our experience easy and stress free. She knew exactly where she was going, and edited our trip to suit our needs. I highly recommend this tour and will be using this tour centre again.
April 2016
I really enjoyed this trip. Our tour guide Lucia Peraza was very informative and made the tour easy and stress free. Lucia even edited the tour to suit our interest and needs. I highly recommend this tour and the tour company . I will be using this tour company again
Advertisement
Advertisement