Visit the cities of Rothenburg, Frankfurt and Heidelberg on this 3-day sightseeing adventure from Munich. First, explore the Jewel of the Middle Ages, the picturesque town of Rothenburg ob der Tauber, perhaps the most well-preserved medieval old town in all of Germany. After an overnight stay, travel along Romantic Road before arriving in Frankfurt. The next morning, enjoy a half-day sightseeing tour of Heidelberg, Germany's oldest and most famous university town. Coach transportation from Munich to Rothenburg to Frankfurt, plus taxi transfers, guided tours and a breakfast are included.
Highlights
3-Day Romantic Road, Heidelberg and Rothenburg tour from Munich to Frankfurt

Evening walking tour through Rothenburg, the most perfectly preserved medieval town in Europe
Free time to explore Rothenburg at your leisure
Scenic drive along the Romantic Road
Half-day trip to Heidelberg
Visit the inner courtyard of Heidelberg Castle
Independent multi-day package with transport, transfers, tours and 2 night's accommodation
Why Our Insiders Chose This Tour
You get the best of both worlds on this tour -- fun and informative guided tours plus free time to explore the charming medieval village of Rothenburg on your own.
What You Can Expect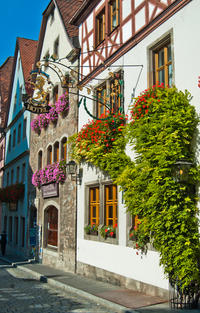 This 3-day tour begins in Munich with a 2.5-hour drive north — along the famous Romantic Road, a world-wide symbol of German romance — to the picturesque town of Rothenburg ob der Tauber. Rothenburg is widely believed to be the most well-preserved medieval old town in all of Germany.
Upon arrival, a taxi will transfer guests to Hotel Spitzweg (or a similar accommodation) for a check in. Then, in the afternoon or evening, join the city walk and follow the guide through the town's winding, cobbled lanes. See the half-timbered houses, the Renaissance Town Hall and the almost fairy tale appearance of the majestic town gates that welcome Rothenburg's many visitors from near and far. Alternatively, take a walk back in time with the Night Watchman tour of Rothenburg.
After breakfast the next day, feel free to explore some of Rothenburg's most popular sites. Then around 4 p.m., embark on a 2-hour trip farther north to Frankfurt, the fifth largest city in Germany. On the way, travel again along Romantic Road, passing Würzburg and the Spessart mountains. Upon arrival in Frankfurt, it's a short walk to InterCityHotel Frankfurt (or a similar accommodation) for an overnight stay.
In the morning, check out of the hotel and store any luggage at the reception desk. A pickup will be arranged for a 9:30 a.m. departure to Heidelberg, Germany's oldest and most famous university town, for a half-day sightseeing trip. See some of Heidelberg's most popular sites. Explore the famous ruins of the Gothic landmark Heidelberg Castle, complete with the world's largest wine barrel, the Heidelberg Tun. Visit the oldest part of the city, the Altstadt, and marvel at the wonderful combination of old and new buildings, narrow streets, market squares and much more.
This Munich to Heidelberg tour concludes with a return trip to Frankfurt.
Itinerary
June 2014
Really like the time to explore Rothenburg, which is a fabulous experience. Highly recommend the night watchman's tour!
July 2015
very good arrangement. Hotel Goldene Rose at Rothenburg is a very nice hotel and the staff offer the best and warmest services.
Rothenburg and Heidelberg is a very good place.
October 2014
Near disaster in that the bus left Munich at 1030 instead of 1050 as listed on the itinerary, but fortunately we were early to the bus station. Driver on first day tried to point things out and played some pre-recorded touring info. Stopped briefly at Augsburg and Dinkelsbuhl. Rothenburg was great and stayed overnight at nice boutique hotel (Goldene Rose). 2nd day driver didn't say squat and no recorded info. Stopped in Wurzburg. Oddly also stopped at upscale outlet mall and more tourists piled onto bus for Frankfurt. Enjoyed Frankfurt and Heidelberg; great, funny tour guide for castle. Intercity Hotel in Frankfurt was ok. Overall I would recommend the tour.
July 2014
We enjoyed this 3 day trip so much. Our tour guide and bus driver were very knowledgable and personable. The bus was comfortable and we even got to buy samples of the wine and beer from the regions we drove through. I would definitely recommend this trip for anyone who visits Germany.
September 2012
Everything was wonderful except the bus ride. You should tell people that it is the local bus and you are going to do a lot of pickups.
Janice C Canada
July 2010
Only 3 hours with tour guides over 3 days. Stops were incredibly short - 30 minutes at Neuschwanstein Castle is pointless. The bus drivers were maniacs, they tailgated and were heavy on the brake. I actually sustained bruises from being flung into the seat in front of me. Not all taxi rides were paid for by the tour and the guide was hard to find in Heidelberg. We were very disappointed as were the other couple on the tour with us.
Advertisement
Advertisement