Discover the delights of Muscat with ease on this Big Bus hop-on hop-off tour. With your 24-hour ticket, explore the city at your own pace aboard an open-top, double-decker bus. Enjoy 360-degree views of the sights as you hear the entertaining onboard audio commentary, and hop on and off at the 10 stops as you please. See top Muscat attractions such as beautiful Muttrah Corniche and the Royal Opera House; hop off to enjoy Muttrah Souk and Qurum Beach; admire the picturesque forts of Muscat Old Quarter, and much more.
Highlights
Hop-on hop-off sightseeing tour of Muscat
Explore Muscat at your leisure

See top Muscat attractions like Ruwi, Muttrah Souk and Qurum Beach
Hop on and off as many times as you wish at any of the 10 stops around the city
Enjoy informative audio commentary in 6 different languages on board the bus
Recent Photos of This Tour
Big Bus Muscat Hop-On Hop-Off Tour
What You Can Expect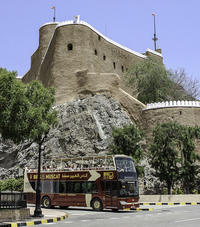 One of Arabia's prettiest cities, the Omani capital of Muscat is a charming blend of old and new, with historical Arabian architecture, medieval watchtowers, atmospheric souks and splendid new mosques clasped between the picturesque Hajar Mountains and Gulf of Oman coast.
Whether you're short on time or not, taking this Big Bus hop-on hop-off bus tour is one of the easiest ways to see the sights and get under the skin of this delightful city.
Simply hop aboard an open-top, double-decker bus and pass all of Muscat's must-sees, from beautiful Muttrah Corniche to the Parliament Building and the business district of Ruwi, with its sleek high-rise towers.
With your ticket, choose to stay aboard for a full loop (roughly 1.5 hours) and enjoy the 360-degree views, brought alive by the enlightening onboard audio commentary, available in six languages. Alternatively, hop on and off at any of the 10 stops and explore the sites that interest you on foot — you're completely free to create your own sightseeing itinerary.
Perhaps hop off in Al Shatti to see the glittering Muscat Royal Opera House or disembark at Qurum to relax on its gorgeous, palm-fringed beach.
Maybe hop out in Muscat Old Quarter to visit its museum and see its forts, and then perhaps finish at Muttrah Souk, diving into its tangled alleyways to browse the stalls for souvenirs and bargains.
Ending your tour is easy — just hop off!

Muscat Hop-On Hop-Off Tour Stops:

Muttrah Souk

Churches and Temples

Hay As Saruj

Shatti

Qurum Park

Central Business District

Parliament Building

Muscat Marina

Muscat Old Quarter

Al Bahri Road (Corniche)
April 2016
Hi, to all concerned about muscat city hop on hop off bus.What can i say. this lovely open top bus will take you to lot,s of lovely places to see in muscat. They,re lovely to get round in. The souks. the parks the coffee shops, it,s all there. so a good price and the perfect way to get round.there,s always they,re very efficent and free water as you wish. Top marks.
April 2016
Great tour although the old town was rather elusive! It would be very useful to know that the tour starts at the cruise terminal when ships are in, which is where we joined it. This info was not on the big bus web site. This also applies to Abu Dhabi
February 2016
April 2015
This tour gives you a great overview of Muscat. This is helpful for planning activities and decide where you want to spend more time.

April 2014
I loved this tour - I enjoyed the freedom of planning my own day and sitting atop the bus with a warm breeze in my face and my eyes fixed on the sights and sounds of a Monday morning in Muscat. The guides were very helpful and advised me when and where to join the buses. They were punctual and comfortable and the commentary was informative. I joined at Jawharat al shatti. (stop 3) - a good place to catch a coffee and watch the early morning beach activity before heading off. I did the round trip listening to the commentary, without getting off and returned to stop 3 for lunch; then i re-joined the bus and really enjoyed the second run without commentary and just took it all in. This time I got off in time to join the 3pm walking tour in the Al Alam Palace district - this was very interesting (albeit quite hot at that time of day) and the guide really knew his stuff and did a good job. Highly recommend the freedom of this tour.
February 2014
It was very good. The young people working there were very helpful and everything went perfect. Thanks Pia Clemens
Barbara H United Kingdom
February 2014
Very informative tour and a good way to see the very extensive city. It is much larger than you anticipate. By the end of the 24 hours we were quite familiar with all the sites. There is an additional free bus tour out to the mosque which is well worth it, a taxi can cost almost £40 depending on where you are stopping. Plan your hotel so you are close to a bus stop to save money.
December 2013
Absolutely the best way to see all of Muscat. Very clean buses and very clear descriptions of all of Muscat.
June 2013
It was really, really good. The sights in Muscat are quite dispersed but the bus journey takes you directly to the best bits. The walking tour around the old town was excellent and the general recorded guide was informative and very interesting. Loved it, will consider going on other Big Bus tours in other parts of the region. Just one point, it's worth booking a hotel near the drop-off points as there is only bus per hour.
April 2016
This was a very pleasant and informative way to see as much of Muscat as I could in one whole day. Ms Aimee was very helpful in getting me set on the tour and I thoroughly enjoyed it and found the commentary excellent, especially as it was through a multi-track device and you could hear it in just one language. I would have liked to be able to see a more detailed map before hand so that if I wanted to hop off I would be able to get around.
Advertisement
Advertisement