Discover Oman's stunning 'wadis' — dry river beds — and coastline on this scenic, full-day private 4x4 trip from Muscat. With a private guide at the wheel, drive south through the Hajar Mountains to the pretty coastal village of Quriyat. Admire the scenic waterfront here, and then venture along mountain trails beside the rock pools, palm groves and shady gorges of Wadi Daiqat. Relax over a picnic lunch by the natural pools, and then continue off road through idyllic Wadi Al Mih and Yiti, passing turquoise waters, craggy slopes and green oases.
Highlights
Your own private 4x4 Safari tour

Discover the beautiful costal town of Quriyat

Follow mountainous tracks through the Eastern Hajar Mountains

Scenic picnic lunch near natural water pools

What You Can Expect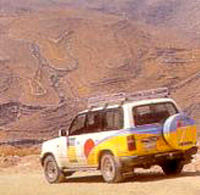 Leave your central Muscat hotel by private, air-conditioned 4x4, with your private driver at the wheel. Settle into the comfortable interior, and begin your day trip with a scenic drive south to the coastal town of Quriyat.

Your itinerary can be tailored to suit your wishes, so let your guide know if there's anywhere you want to see more or less of on your way.

Pass through the rugged foothills of the Hajar Mountains and take a stroll around Quriyat, a fishing village known for its delightful corniche waterfront and restored fort.

Next, head off road into the eastern Hajar range to discover some of Oman's most beautiful scenery. Trundle along unmade roads through a series of palm-coated wadis, passing date groves, tiny villages and idyllic, empty gorges.

Pull up at the natural rock pools of Wadi Daiqat to enjoy a tasty picnic lunch. Revel in the gorgeous setting as you eat, and then continue your scenic journey through the palm-laden canyons and craggy slopes of Wadi Al Mih and Wadi Yiti.

Hear how the wadis were formed and their importance to rural life in Oman, from your guide, and then finish your trip with a hotel drop-off.

Advertisement
Advertisement