You start your private tour in the morning and drive from Muscat to Fanjah. You will stop at Wadi Fanjah and continue to Birkat Al Mawz. Passing the Fort that once guarded the entrance to Jebel Akhdar, you proceed up the most impressive mountain of Oman, Al Jabal al Akhdar in the heart of the Hajar Mountains.
Highlights
Your own private 4x4 safari tour

See the most impressive mountains of Oman

Experience the wonders of Oman

Enjoy a delcious lunch with a view overlooking the majestic mountains

What You Can Expect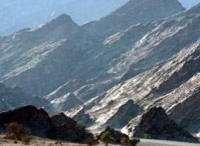 The villages are scattered on the mountainside with picturesque houses built of stones from Jebel Akhdar and the area is well known for its diverse agriculture. Small terraces with fruit trees, cherry blossom, peach flowers, pomegranate, saffron, garlic and much more create an amazing palette of colors and scents throughout the year. With temperatures being considerably lower than in other parts of Oman, the Saiq plateau is famed for its abundance of roses used for rose water and perfumes.
Return to Muscat late afternoon via Birkat Al Mawz. Do not miss this opportunity to experience the wonders of Oman. Lunch is served in Jebel Akhdar Hotel with wonderful views of the mountains.
Note, we require a copy of your passport. Please allow 2 working days to obtain a road pass for Jebel Akhdar.
July 2010
This trip would be better later in the year when the roses were out.
October 2013
We had a friendly and very knowledgeable guide (the most knowledgeable of any tour we took in Muscat) who spoke great english and the 4WD was very comfortable. We had problems as the guides let you explore by yourself and my husband managed to get very lost for 1 and half hours without water in the midday sun. Not the guides fault but maybe a map could be provided so something this serious (in the full sun without water) does not happen again. Not sure the price warrants the tour as although it was a long way from Muscat, there was limited photo opportunities and in reality not a lot to see. The lunch provided was a bit disappointing too and I left most of mine.
Advertisement
Advertisement