Any visit to Myrtle Beach is incomplete without experiencing The Carolina Opry, the only show that has won every major South Carolina tourism award, including the Governor's Cup and Most Outstanding Attraction. Choose from one of three seating packages and settle inside the majestic Calvin Gilmore Theater for a spectacular night of live music — rock, Broadway, gospel and country — as well as comedy variety. Don't miss this unforgettable performance that runs from January to October.
Highlights
Admission ticket to The Carolina Opry show at Myrtle Beach
Enjoy an award-winning performance of live music and comedy variety
Laugh out loud and listen to a variety of music, including Broadway, gospel, rock and more
Sit inside the elegant The Carolina Opry/Calvin Gilmore Theater
Choose from three seating packages
Show runs from January to October only
What You Can Expect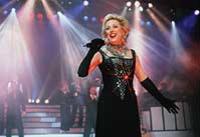 The Carolina Opry has won press accolades from major media across the country:
'The man who is turning Myrtle Beach into a country music capital is Calvin Gilmore' - NBC Nightly News
'A Big Hit' - USA Today
'Calvin Gilmore is given much of the credit for getting Myrtle Beach in tune with the entertainment world' - CNN
'A hot ticket' - New York Post
'Gilmore's new country mecca: Myrtle Beach' - Hollywood Reporter
This show is seasonal and only operates from January to October.
Upgrade
and when you purchase The Carolina Opry tickets you can add also see Good Vibrations at a discounted rate. You must attend both shows within a 14 day period.
June 2015
the carolina opry was great.
March 2014
March 2014
seeing the Carolina opry for the first time was a wonderful time! really enjoyed everything about it and it was close by. heard from 2 sets of friends about it-so glad I got there. I was visiting my sister and brother in law at the time, who were in south myrtle for 2 months-I took them to the show-they also love the place and show! would definelately go again.
February 2014
weather was bad but the show was excellent.
James H USA
August 2013
October 2012
Absolutely a wonderful performance. I was not disappointed!
Elaine G USA
February 2010
This is my fifth time seeing The Carolina Opry & I always find it to be very entertaining. I like the comedy in with the singing & dancing. I admire the fact that they honor our vets as I am a sister of four World War II vets & mother-in-law of a Desert Storm Vet. Their Christmas shows are fabulous & I plan to see it when I return in November.
David H USA
August 2008
It was probably our best entertainment activity while at Myrtle Beach.
LYNNE C USA
August 2008
Our experience was fantastic. This was my husbands first visit to the Opry. We were given fantastic seats.
Anonymous
January 2008
I had seen it in prior years, but it was a 'mother-daughter' weekend and it was her first time - she absolutely loved it also.
Advertisement
Advertisement