Location:

Myrtle Beach, South Carolina

Duration:

Varies
Turn your world on its head at Myrtle Beach's famous upside-down attraction! WonderWorks is an amusement park, featuring more than 100 interactive exhibits for visitors of all ages. Explore the depths of outer space in the Space Zone, play Virtual Air Hockey, design a roller coaster at WonderSimulators, defy gravity in the Inversion Tunnel and more.
Highlights
Admission to WonderWorks in Myrtle Beach
Have some fun at this amazing upside-down attraction!
Enjoy more than 100 interactive exhibits including an Anti-Gravity Chamber, a Hurricane Shack, and Xtreme 360 Bikes

A perfect activity for the whole family
Upgrade to include a game of laser tag!
What You Can Expect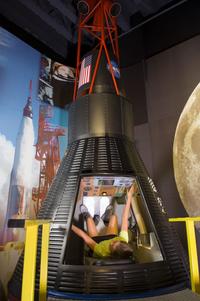 Head to WonderWorks in Myrtle Beach for a day of fun with the whole family! This amazing upside-down attraction features more than 100 interactive exhibits and imaginative displays.
Explore the depths of outer space in the Space Zone, feel the effects of a hurricane, play Virtual Air Hockey, design a roller coaster at WonderSimulators, defy grafity in the Inversion Tunnel, create a musical masterpiece on the floor piano and more.
Laser Tag Upgrade:
Upgrade to include a game of laser tag! Head to the laser tag action and video arcade for some exciting fast-paced fun.
Itinerary
Exhibits include:
Inversion Tunnel
Defy gravity! Professor Wonder and his staff of brilliant scientists invented the Inversion Tunnel to realign and invert your orientation so that you can defy gravity and play with all the exhibits and experiments.

Hurricane Shack
Feel the effects of winds reaching 84 mph! According to the Saffar-Simpson Scale, the hurricane in this simulation is a Category 1. Hang on!

Anti-Gravity Chamber
Water is traveling from the floor to the ceiling, or is it? At the touch of a special button that you control, water will appear to change direction.

Natural Disasters
Twenty-five feet of computers and monitors present dramatic footage of some of the world's most famous natural disasters. These disasters are explained in basic scientific terms and you'll have the opportunity to quiz yourself on what you've learned.

Xtreme 360 Bikes
Pedal your way on tandem bikes to generate enough power to complete a full loop (restrictions apply).
Fun with Light and Sound
Strike a pose and leave your shadow behind, play Virtual Air Hockey, dance to the colors of light, and stomp, kick, and use your feet to play on the Alien Stomper and create a musical masterpiece with the floor piano.

Space Zone
Explore your way through the depths of outer space in the Space Zone. Explore the life-size replica of an Astronaut Space Suit and Mercury Capsule. For a memorable souvenir, you can take your picture inside these phenomenal pieces of history.

Bed of Nails
Feel the sensation of 3,500 sharp nails rise up from under you while lying on this bed of nails. You'll learn why you won't feel any pain...

WonderPark
Have you ever wondered what it'd be like to be on the mound and stare down a Major League Baseball player at the plate? Now's your chance! Select a player to pitch to, such as Chipper Jones, Derek Jeter, Ryan Howard, Sammie Sosa or Barry Bonds.

WonderSimulator
Explore the latest in virtual reality as you design your own roller coaster. If roller coasters aren't your thing, explore the ocean during a virtual submarine adventure (restrictions apply).
Bubble Lab
Kids of all ages love bubbles! Put yourself inside a gigantic bubble that you've created!

Mind Ball
Mind Ball is a challenging bio feedback game for two based on EEG technology. Wear a headband with electrodes and relax your mind in order to move the ball across the table. The most relaxed player wins! The same technology is used as a training tool for cadets at the US Military Academy at West Point.

Far Out Illusion Gallery
Enter a new dimension of reality and explore the unknown. Discover how perception and perspective are used to help you look at the world in a whole new way. You'll see how the unexplainable will come to life and unusual will become the norm...

How Cold Is It?
Feel how cold the water was the night the Titanic sank. How long can you keep your hand in the water once the timer begins?

Indoor Ropes Challenge
Test both your mental and physical abilities on this exciting three-story, glow-in-the-dark rope course designed with the experience of each participant in mind. More advanced athletes will discover new challenges while "just for fun" climbers will experience a great sense of achievement and confidence as they navigate and complete the course.

6D Extreme Motion Theater
This 12-seat theater will take you along an amazing adventure that transcends time, space and imagination by combining the 3D film with special effects and full motion seats. Enjoy a one-of-a-kind experience created by a variety of motion simulation that ranges from subtle sensations to intense vibrations. All combined, the XD Theater 6D experience will virtually transport you from their theatre seats into the big-screen action and adventure.

Advertisement
Advertisement