Book a shared arrival transfer from Nadi International Airport to your area hotel in Fiji, and enjoy a stress-free start to your trip, including a meet-and-greet with a shell lei. It's a simple, cost-effective transport option from the airport to your Nadi, Port Denarau, Coral Coast, Sonaisali or Lautoka accommodation.
Highlights
Shared arrival transfer service from Nadi International Airport (NAN) to your Fiji hotel
Receive a festive shell lei from your driver to welcome you to the island
Enjoy air-conditioned transport by car, minivan or coach
Available 24 hours per day, seven days per week
What You Can Expect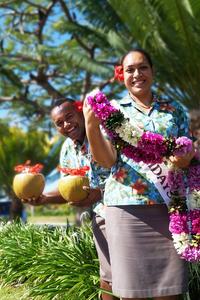 Getting from Nadi International Airport to your hotel in Nadi, Port Denarau, Coral Coast, Sonaisali or Lautoka doesn't have to be complicated. Take the hassle out of renting a car or paying for a taxi after your flight with this convenient arrival transfer — available 24 hours a day, seven days a week.
Just enter your flight and Fiji accommodation details when you book, and your one-way transfer is confirmed instantly. When you land, enjoy a meet-and greet with a shell lei then show your voucher to the driver and hop inside your shared car, minivan or coach.
Please note: There is a maximum luggage allowance of two suitcases per person.
Itinerary
Hotel pickup areas:
Area 1 - Nadi
* Capricorn International Hotel
* Mercure Nadi (Formerly Dominion)
* Novotel Nadi (Formerly Mocambo)
* Gateway Hotel Fiji
* Nomads Tanoa Skylodge
* Dulcinea Hotel Oasis
* Tanoa International Hotel
* Tokatoka Resort Hotel
* Hexagon International Hotel, Spas & Villas (formally known as West Motor Inn)
* Travellers Holiday Apartments
* Trans International Hotel

Area 2 - Denarau* Beachside Resort* Smugglers Cove Beach Resort&Hotel* Club Fiji Resort* Grand West's Villas
* Sheraton Fiji Resort
* Sheraton Denarau Villas
* The Westin Denarau Island Resort & Spa
* The Terraces
* Seaplane Base
* Worldmark by Wyndham Resort (formally known as Trendwest)
* Port Denarau
* Sofitel Fiji Resort and Spa
* Radisson Blu Resort fiji
* Hilton Fiji Beach Resort and Spa
* Double Tree Resort by Hilton Hotel Fiji
* Nadi Bay Resort Motel
* Oasis Palms Hotel
* Club Fiji Resort (Wailoaloa)
* Grand West's Villas (Wailoaloa)
* Smugglers Cove Beach Resort & Hotel (Wailoaloa)
* Travellers Beach (Wailoaloa)
* Blue Water Lodge (Wailoaloa)
* Aquarius Pacific (Wailloaloa)
* Tropic of Capricorn (Wailoaloa)
* Wailoaloa Beach Resort
* Beach Escape Villas (Wailoaloa)
* Edgewater Backpackers (Wailoaloa)
* Horizon Beach (Wailoaloa)
* Driftin Hostel (Wailoaloa)
Area 3 - Resorts* Fijian Resort* Intercontinental Fiji Resort*Yatule Resort
Area 4 - Resorts*Outrigger on the Lagoon* Crows Nest
Area 5 - Resorts*The Naviti Resort *Warwick Resort and Spa*Tambua Sands*Hideaway Resort
Area 6 - Resorts* Lautoka* First Landing* Anchorage Beach Resort* Tanoa Waterfront Hotel
Don't forget to book your Private Nadi Airport Departure Transfer!
May 2016
They were great. there when we got of plane, greeted with shell lei would not hear of us carrying our luggage and we were on our way in no time.
April 2016
August 2015
We have used them on a couple of occasions and they have alway been fantastic. Very friendly and make everything simple.
July 2015
Great service and friendly driver!
June 2015
The shuttle company was very professional and reliable.
May 2015
Friendly greeting. Got information on return pickup at same time. Air conditioned minibus and was taken straight to the hotel. Very efficient.
February 2015
December 2014
The only word that springs to mind is 'perfect' and it was from start to finish, we have never felt so welcomed and looked after, a big thanks to everyone concerned!
December 2014
Was nice n quick n hassle free
December 2014
My only concern was coming out of the airport I was unclear as to who to see. Thinking I was looking for Viator was confusing at first but the locals put me onto Rosie's quickly. It was a little confusing. Service was excellent.
Advertisement
Advertisement