At the end of a relaxing Fijian holiday, get back to the airport the easy way with this shared departure transfer. An air-conditioned car, minivan or coach takes you from your hotel to Nadi International Airport in time for your flight. This one-way transfer service is available 24 hours a day, seven days a week.
Highlights
Nadi Shared Departure Transfer from Hotel to Airport
Worry free transfers 24 hours a day, 7 days a week

Instant confirmation

What You Can Expect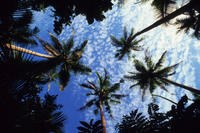 Skip the expense of a private taxi when you book this shared departure transfer to Nadi International Airport. Just enter your accommodation and flight details when you book and pay in advance; your transfer will be confirmed instantly and you will be provided with a voucher to present to the driver.
Travel from your Nadi City, Port Denarau, Coral Coast, Sonaisali or Lautoka hotel by air-conditioned car, minivan or coach, and relax on the journey to the airport with several other passengers. You must call the supplier 24 to 48 hours prior to your transfer to reconfirm exact pickup times and places.
Itinerary
Hotel pickup areas:
Area 1 - Nadi
* Capricorn International Hotel
* Mercure Nadi (Formerly Dominion)
* Novotel Nadi (Formerly Mocambo)
* Gateway Hotel Fiji
* Nomads Tanoa Skylodge
* Dulcinea Hotel Oasis
* Tanoa International Hotel
* Tokatoka Resort Hotel
* Hexagon International Hotel, Spas & Villas (formally known as West Motor Inn)
* Travellers Holiday Apartments
* Trans International Hotel

Area 2 - Denarau* Beachside Resort* Smugglers Cove Beach Resort&Hotel* Club Fiji Resort* Grand West's Villas
* Sheraton Fiji Resort
* Sheraton Denarau Villas
* The Westin Denarau Island Resort & Spa
* The Terraces
* Seaplane Base
* Worldmark by Wyndham Resort (formally known as Trendwest)
* Port Denarau
* Sofitel Fiji Resort and Spa
* Radisson Blu Resort fiji
* Hilton Fiji Beach Resort and Spa
* Double Tree Resort by Hilton Hotel Fiji
* Nadi Bay Resort Motel
* Oasis Palms Hotel
* Club Fiji Resort (Wailoaloa)
* Grand West's Villas (Wailoaloa)
* Smugglers Cove Beach Resort & Hotel (Wailoaloa)
* Travellers Beach (Wailoaloa)
* Blue Water Lodge (Wailoaloa)
* Aquarius Pacific (Wailloaloa)
* Tropic of Capricorn (Wailoaloa)
* Wailoaloa Beach Resort
* Beach Escape Villas (Wailoaloa)
* Edgewater Backpackers (Wailoaloa)
* Horizon Beach (Wailoaloa)
* Driftin Hostel (Wailoaloa)
Area 3 - Resorts* Fijian Resort* Intercontinental Fiji Resort*Yatule Resort
Area 4 - Resorts*Outrigger on the Lagoon* Crows Nest
Area 5 - Resorts*The Naviti Resort *Warwick Resort and Spa*Tambua Sands*Hideaway Resort
Area 6 - Resorts* Lautoka* First Landing* Anchorage Beach Resort* Tanoa Waterfront Hotel
June 2015
The shuttle operator was an excellent transportation company...very reliable
June 2015
Pickup was on time and made very easy
December 2014
This was nice n quick and hassle free
December 2014
Excellent. On time pickup at hotel as arranged.
October 2014
Transport waiting when plane landed. Friendly informative driver. Couldn't fault the service and would recommend it.
March 2014
Great friendly service.. Shared lots of good tips and places to see to make the most of our Fiji adventure. Got us from the airport to our holiday accomodation in no time .

March 2014
Good driver, easy trip.......................
January 2014
Excellent service. Friendly and helpful staff couldnt do enough for you.
January 2014
Face to face customer service with Rosie Holidays was pleasant and extremely helpful. They were able to reschedule the pick-up time last minute (5 hours notice). The driver was early for pick-up. My husband and I have nothing but praises for this team in Fiji.

Jennifer T Australia
October 2013
Just a slow Fiji time trip back to the airport. Nice driver and happy to assist with the baggages. Thank you Rosie Tours
Advertisement
Advertisement