Nairobi may be a bustling urban center, but it's also only a short drive to some of Kenya's finest attractions. This day-long tour takes you away from the city to experience a few of the country's nearby natural and cultural wonders. Embark on a game drive through Nairobi National Park, home to cheetah, gazelle, and lion; travel back in time at the Karen Blixen Museum, located in the former home of the 'Out of Africa' author; and come face-to-face with endangered Rothschild's giraffes — considered some of the world's tallest — at the Langata Giraffe Center.
Highlights
Day trip to Nairobi National Park, Karen Blixen Museum and Langata Giraffe Center
Explore Nairobi National Park with a guide, seeing wildlife like lions and leopards
Enjoy a traditional Kenyan lunch with drinks at a restaurant near the park
Visit Karen Blixen Museum and learn about the Out of Africa novel and film on a tour
See endangered Rothschild Giraffes at Langata Giraffe Center
What You Can Expect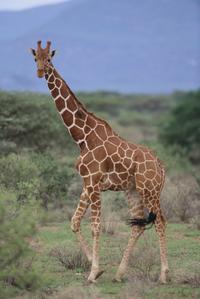 A luxury minibus picks you up at your hotel and whisks you away to Nairobi National Park. Though it's only about 4 miles (7km) from the city, this park is a natural home to some of Kenya's most iconic wildlife. Once here, you'll board a game drive vehicle and set off exploring, keeping an eye out for lumbering hippos and herds of zebra meandering across the grassy plains — a sight that's especially spectacular when viewed against Nairobi's skyscrapers in the distance.
Next up is lunch at a local restaurant, where you'll dine on traditional Kenyan cuisine served with drinks. Full and refreshed, you head to the Karen Blixen Museum, housed on the former colonial-era estate of the Out of Africa author. Much of the auto-biographical book takes place on this once thriving coffee farm, and even inspired an Academy Award-winning film.
Following a 30-minute tour of Blixen's beloved home, you reboard the minibus for a trip to the Langata Giraffe Center, just beyond Nairobi. This non-profit center features a raised platform where you can hand-feed the resident Rothschild's giraffes, learn about conservation efforts, and snap some amazing pics. Afterward you'll met your guide for the drive back to Nairobi, where the minibus will drop you safely at your central hotel.
March 2015
The tour was amazing!!! George, our tour guide, was patient - stopping and starting the jeep to suit our photographic needs. The National Park was enormous with plenty of opportunity for us to see the animals in their natural surroundings. Feeding the giraffes was a treat! The Karen Blixem museum provided great insight into the European influence over Kenyan custom and decor. I highly recommend this tour.
March 2015
Our guide was excellent. Very knowledgeable and nice. I enjoyed the National Park as well as the Giraffe Center but could have easily done without the Karen Blixen Museum. We did ask the guide to take us to see something cultural and were taken to the Bomas. They had a professional dance crew recreating traditional tribal dances, initiations, etc. It was very fun and entertaining. I would recommend that over the museum any day!
December 2014
Michael was very friendly and helpful. They picked me up from a small lodge which a is a little out of way and were pretty nice about it. I ended up on a solo tour since nobody else was scheduled for that day. I asked if I could cut the park trip short and go to the elephant orphanage as well and Micheal agreed right away (of course I paid separately for that ticket). Fun tour! Would recommend to everyone coming to Nairobi. Thank you Michael.
September 2014
Michael was a wonderful guide. He was on time and easy to talk to. He worked very hard to ensure I got the most out of the tour. He was familiar with the park and knew where and when to see the most game. As a result I saw lions, hippos, rhinos,giraffe, water buffalo, ostrich, and hundreds of zebras, antelopes, and gazelles. It was a wonderful experience and I highly recommend it.
June 2014
My trip to Nairobi was fantastic. i had a great time. i went during their raining season which is May-Sep . The weather is good and my tour guide was great
Jungleyell USA
October 2013
I was the only one on the tour the day I signed up and they sent a driver to my hotel in Nairobi. The driver was courteous and knowledgable and friendly. Since I was the only one, I opted to spend most of the day in the National Park. a few minutes in the Giraffe Center and skipped the museum altogether. I enjoyed the park SO much - we saw lions, rhino, zebra, tons of giraffe and impala and gazelles. We saw baboons, ostriches, buffalo - just about like being on a safari without leaving Nairobi! Incredible wildlife and photo opportunities with them. The giraffe center was a bit of a letdown, but anytime you see wildlife actually in the WILD and then see them in captivity it's going to feel like that... But I loved my outing in Nairobi!
December 2014
Great tour! Lucked out and was the only one on the tour this day and this definitely allowed for a personal touch by the guide. Loved the Park, Museum, and Giraffe Center.
December 2014
I was on my own for this tour, so Michael was my personal guide for the day, and very personable he was too. I was surprised how few others were at the National Park so even though it is close to the city you really do feel as though you are getting out into the wild. Saw plenty of giraffe, zebra, ostrich, buffalo, rhino, antelope, gazelle, impala and monkeys. I also really enjoyed the Karen Blixen museum, having read 'Out of Africa', and had an informative and enthusiastic guide there. As others have said, the giraffe centre is a brief stop off that I could easily have done without, and the stop off at the 'curio' shop could also be dispensed with. I hate haggling, but also hate seeming rude, so stupidly ended up paying over the odds for a couple of nick-nacks that I could have picked up for half the price at the airport, but I didn't let that spoil my day. If you've just got a day to kill in Nairobi, I reckon you could do far worse than this pleasant and hassle-free tour.
October 2014
Mostly good girrafe sanctuary overrated
December 2013
Our driver Michael was polite and very friendly. Despite the Nairobi traffic once we were in the park the only animals we would like to have seen but did not see were Lions. We saw most everything else too numerous to mention, some very close by, and whether this was down to Michael the driver or pure good luck we will never know but we were both very impressed with our first Safari. The Langata giraffe tour is a must 'Daisy' being the star. We were unable to complete the Karen Blix tour due to time constraints so maybe next time! I am unable to attach any of our many photo's as at the time of writing I am back in Africa on another mission.
Advertisement
Advertisement