Discover the foodie side of wine country on this 3-hour food and wine tour of Healdsburg with a local guide. The charming town of Healdsburg is one of Sonoma County's hottest destinations for dining, with venues like SHED, Campo Fina and Spoonbar attracting visitors who want high-quality food to go along with their high-quality wine. Find out why as you walk around the town square with an in-the-know, food-loving guide, stopping at six local eateries and shops to sample food and wine, much of which is local and organic. It's the perfect way to enjoy a wine country lunch.
Highlights
3-hour food tour of Healdsburg
Sample some of the best food, wine and cocktails in California wine country
Indulge in enough food for a hearty lunch
Learn about the Healdsburg food scene from a local foodie guide
Visit popular establishments like SHED, Bravas Bar De Tapas and Café Lucia

Small-group tour limited to 8 participants provides a more personalized experience
What You Can Expect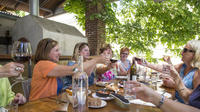 Meet your guide and small group (no more than eight participants) in downtown Healdsburg, and set off on your 3-hour gastronomic adventure. You'll enjoy tastings at six local spots where you'll learn about the area's food and wine culture.
Your local foodie guide is a certified tourism ambassador with a vast knowledge of Healdsburg and greater Sonoma County. You won't just be led from spot to spot — you'll have the chance to meet winemakers and learn how the town's celebrated chefs and business owners have achieved their recognition in the industry. With this insider scoop on one of California wine country's most-loved destinations, you can leave the tour with a list of more places to check out on your own.
This lunchtime tour highlights the Sonoma chefs, winemakers and farmers who are using organic, sustainable and seasonal methods of producing food and wine. Visit a wine boutique to mingle with locals, and meet industry experts and winemakers as you sip a world-class glass of red or white.
Sample list of stops (subject to change):
Bravas Bar De Tapas: One of the country's top 100 tapas restaurants, as noted by Travel + Leisure magazine
Gustafson Family Wines: Handcrafted estate wines made in the heart of Dry Creek Valley
Café Lucia: Celebrating the flavors of Portugal with a modern California twist
SHED: A modern-day take on a communal grange that celebrates local farming and serves up a daily menu of responsibly farmed Northern California dishes
Costeaux French Bakery & Café: Artisan breads baked fresh every day in an open-air bakery since 1923
The Taste of Tea: An immersive taste in the art, culture and culinary properties of teas from around the globe
Moustache Baked Goods: Made famous for their scratch-style baking on the Food Network
Your tour ends in downtown Healdsburg in the early afternoon, giving you time to continue your exploration of the town's shops, restaurants and tasting rooms on your own. Total walking distance is just over a mile (1.6 km).
July 2015
The tour was amazing. Our tour guide Tammy explained every dish, what farms and winery the food and wine came from. Tammy is well versed in the culture and history of Healdsburg. What a better way to sample the local cuisine and tour downtown Healdsburg. I highly recommend this tour.
June 2015
Tammy was fantastic. The tour was great. Wonderful food and wine. We definitely recommend this tour.
April 2015
Tammy did a great job sharing her expertise of Healdsburg and its foods with us. We enjoyed our visit.
December 2014
Tammy was a great guide; very knowledgeable and friendly and will give you recommendations on what to do/eat nearby. We went to 4 delicious food places plus 1 wine tasting. Healdsburg is a charming little town and offers an alternative food/wine destination for Napa if you are in the SF Bay Area. You know need to worry about too much walking since most of the places you visit in this food are close to each other.
December 2014
I loved the tour- Tammy was down-to-earth, friendly and personable and led us in a nicely paced, relaxed tour of four eateries and a wine tasting. The food itself was diverse, delicicious and generously -proportioned. We had a wonderful time and look forward to doing it again soon!
August 2014
The tour was awesome! We had just been in San Fransisco and did a food tour there and this one blew it away. Tammy was great and very knowledgalbe about the town and the food and wine scene. The food on the tour was incredible and the best we've ever had on a tour. We've done food tours in Seattle, New York, etc and this one was the best.
Advertisement
Advertisement