Enjoy a relaxing float down the Russian River on a full- or half-day canoe trip from Healdsburg. Climb aboard a sturdy, inflatable canoe and paddle downstream through the scenic landscapes of Northern California's countryside, stopping to swim at a local beach along the way. Upgrade to include a delicious picnic lunch on the full-day tour, and feel free to bring along your canine companion on the half-day adventure. No canoeing experience is required, and all equipment is provided for a fun and family-friendly day on the water.
Highlights
Easy canoe trip down the Russian River from Healdsburg
Relax and enjoy views as you paddle down the gorgeous Russian River
Stop to swim, lounge on the beach and spot wildlife

Ride a comfortable, stable inflatable canoe, with all safety equipment included
Include lunch for a perfect afternoon on the water
Choose a half-day or full-day tour
Recent Photos of This Tour
Russian River Canoe Trip from Healdsburg
What You Can Expect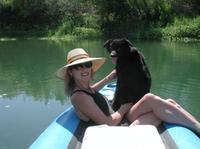 Hop aboard an inflatable canoe for a fun canoeing adventure! These stable inflatable canoes feature a special design to prevent you from flipping. Canoes have bench seats and fit up to 3 people, and dogs are also welcome on board (half-day tour only).
Half-Day TourOnce at the Russian River, your tour operator will set up your canoe and show you the basics of paddling before getting you into the water and sending you on your way!
Settle into your canoe and journey from Memorial Beach to Crow Bar. Take your time as you float lazily along this easy, calm 4-mile (6.5-km) stretch of the Russian River, enjoying views along the way. Stop at a pristine location to take a refreshing dip in the water.
Full-Day TourPack a picnic lunch and your favorite beverages and set off down the most secluded and hard-to-access section of the Russian River.

At your launching spot at Memorial Beach, board your canoe and embark on your 9-mile (14.5-km) journey along the calm, easy-to-navigate waters to Wohler Bridge. Your tour operator will set up your canoe and show you the basics of paddling before getting you into the water and sending you on your way.

Stop at a pristine location to take a refreshing dip in the water or explore up the shore and stop for a pre-packed snack (not included). This is a self-guided adventure so stop wherever and whenever you want along the river.

At the end of your half-day or full-day excursion, your tour operator will be at a designated meeting spot down river to help get you back on to shore and back to Healdsburg.

Optional LunchMake your afternoon complete with lunch on the river. You'll be provided lunch, so you don't have to worry about bringing your own food. At the time of booking, please provide details on what you'd like to eat in the Special Requirements section. Options are -

Pastrami & Provolone Cheese with Red Leaf Lettuce, Red Onion, Dijon Mustard on Light Rye Bread
Turkey & Provolone Cheese with Red Leaf Lettuce, Tomato on Wheat Bread
Roast Beef & Cheddar Cheese with Red Leaf Lettuce, Red Onion on Wheat Bread
Egg Salad with Red Leaf Lettuce on Wheat Bread
Three-Bean Salad. Garlic Hummus with Red Leaf Lettuce, Tomato, Red Onion, Avocado, Cucumber on Wheat Bread
Wrap with Cream Cheese, Roasted Red Pepper, Peperoncini, Red Leaf Lettuce

Each lunch includes: Choice of Sandwich, A Kern's Fruit Juice, Fruit Salad, Orzo / Three-Bean Salad, Sun Chips and A Chocolate Chip Cookie. *in a box style lunch with condiments and flatware. Ice chest and Ice also provided.

August 2015
Friendly staff and great experience for our family of 4!

Ginjabread USA
September 2014
Always a fun option with a bunch of friends. We bought sandwiches and beer and floated for a few hours on the half-day option. would totally do again!
June 2014
Really easy trip. We were able to have one adult and two kids per boat, which was great for me and my friend. We were doing it to celebrate summer with our recent graduates (from 2nd, 3rd, and 5th grades.) The staff was very helpful and the trip had tiny fast parts to make us feel triumphant!

Casey USA
September 2013
This canoe trip from Healdsburg was so much fun!
From the moment you park there are people ready and willing to help you with your bags and point out where to check in, all with a smile and some jokes (helpful on an early morning trip). The canoes are great, though at times a bit tiring to paddle, and have plenty of room for several bags and a cooler - the cooler is a must.
We had a blast switching off between paddling, drinking wine, and hanging out with our fellow canoers. The weather was overcast at first, but when the sun broke through we ditched our sweaters for bathing suits and took plenty of breaks to just float and soak up some sun.
Would definitely recommend this canoe trip!

Melissa H USA
August 2013
I had so much fun! I'm not an outdoorsy-type but it was a blast. Calm water with tiny pockets of faster currents to keep it interesting. The instructor gave good tips on the best way to navigate the river, how to steer, paddle etc. He also gave tips on good places to go ashore and climb out for some swimming--so bring a swimsuit. The water is refreshing; I wish I had thought to wear one.
You don't have to be an Olympic rower to enjoy this tour. I'm was a miserable but enthusiastic captain and while our boat did donuts in the water and ran aground into bushes and rocks, we were having fun and constantly laughing. There's a little shop before you set out in case you forgot your sunscreen or hat (so recommended). Also, wear your flip-flops for sloshing around in the water.
This was a great tour for this beginner/city girl and fun way to explore wine country without the wine. :)

Bandit USA
August 2013
Great time coasting down the Russian River. It wasn't difficult to navigate (so don't be afraid if you've never done something like this before!) and the canoes were very sturdy. The instructor was professional and explained everything in detail before we took to the water. The good thing is that you aren't at a set pace; you can take a cooler with drinks and food, stop to swim or paddle as fast as you like!
August 2013
Amazing day out on Russian River! I did the half day trip and it was a really nice experience. Check-in was super easy and the briefing before we set off was informative. The stretch of the Russian River that we canoed down was beautiful - no buildings really, just great scenery, and super easy for paddling. There was plenty of space in the canoe for a cooler and lots of great spots to stop at along the way. Great for people of all ages!

August 2013
Fun day on the Russian River! The canoes were easy to maneuver and the views were beautiful. Before the trip, the guide gave us an overview of some basic canoe information so that was nice to learn before heading out on the water. I would highly recommend this trip!
Advertisement
Advertisement