10 Reviews
Location:

Calistoga, Healdsburg or Napa, California

Duration:

5 hours 30 minutes

(approx.)
Leave the hustle and bustle of San Francisco and discover the world-renowned California Wine Country! You will sip wines as you bicycle your way through Napa Valley or Sonoma County, and enjoy a Wine Country lunch, typically with local organic salad greens, fresh baked bread, artisan cheeses, seasonal fruit and dessert, as well as other delectable additions.

This is the perfect choice for those looking for a bike tour of California's beautiful back roads at a leisurely pace. As you cycle through the countryside, your local, professional guide will tell you about the history of the area and take you to wineries for wine tastings.
Highlights
5.5-hour fully guided bike tour of California Wine Country

Enjoy a picnic lunch among the vineyards

Choice of three Sip 'n' Cycle tour locations: Carneros, Calistoga or Healdsburg

Easy, relaxing bike ride through the beautiful vineyards of Sonoma or Napa counties

Stop at local wineries for wine tastings

All necessary equipment included, including hybrid bike and helmet

Recent Photos of This Tour
Wine Country Sip 'n' Cycle Bike Tour
What You Can Expect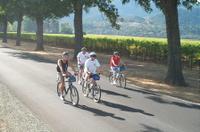 Carneros Sip 'n' Cycle Bike Tour
The Carneros region in Napa Valley is known for its small-batch, family-owned wineries, which are comparable to that of Burgundy, France. You will begin in Carneros and visit one-two wineries along the mostly flat biking terrain. This leisurely route is made up of beautiful, lush vineyards, and nature welcomes you with open arms. Keep an eye out for the local wildlife while you enjoy a Wine Country picnic lunch at a magnificent winery with a lovely view. After your final wine tasting, you will bike back to Carneros.

Calistoga Sip 'n' Cycle Bike Tour
Take an off-the-beaten-path bike tour of the quaint resort town of Calistoga, located in upper Napa Valley. As you travel 10 to 17 miles (16 to 27 km) along country lanes, you'll take in the Palisades Mountains on one side and the grape vines on the other side. Enjoy tastings at approximately three wineries, along with your rest stop for a scenic picnic lunch. The winery that you will stop at for lunch contains an extensive collection of artwork and antiques, and you will admire the wares before hopping back on your bike and heading to your final wine tasting, then back to Calistoga.

Healdsburg Sip 'n' Cycle Bike Tour
This is your chance for a tour of Sonoma County, known for its white wine varietals and spicy reds. On this moderate bike tour, you will ride approximately 18-20 miles (29 to 32 km) in picturesque Dry Creek Valley, home to the town of Healdsburg. Many wineries and fun shops reside in Healdsburg, and you will have the opportunity to have a few wine tastings before your lunch stop at a charming winery. After lunch and maybe a game of bocce ball, you will be off to one-two more wineries, and then your trip will conclude in Healdsburg Plaza. Make a complete day of it and shop the boutiques, browse the antique stores and visit local art galleries, all within walking distance.
August 2015
Amazing! Our tour guide Eric was absolutely wonderful. Such a gentleman and so knowledgeable. He took us to the most wonderful wineries, and prepared an absolutely delicious lunch. I will certainly book another Sip n' Cycle, the next time I'm in Napa.
June 2015
The tour was wonderful and our guide did a wonderful job. Great wineries, delicious lunch prepared by Dustin our guide. I would definitely do another tour w Dustin and recommend highly to others.
February 2015
Randy and Jen were great hosts! We toured 3 different wineries and enjoyed the perfect weather and awesome scenery. The lunch was above and beyond what we had expected - more than a typical sandwich and bag of chips! Would highly recommend this to anyone
December 2014
October 2014
The tour guide was right on with laid back ride and amazing wineries. Thank you for a well put together tour!
June 2013
Need a bit of fitness but this tour is fantastic. Our guide Jason was superb and we visited four wineries BUT, note the tasting charges vary from winery to winery from $10 to $20 which is quite pricey. Unforgettable day with some quality wines and some interesting facts learnt.
April 2013
Casual pace. Great company! Great wine! Great value! Will do it again in the future, but this time will wait until late April when the vines are greener and everything is in bloom. However, don't let that stop you from doing this anytime. The weather was perfect for cycling in March.
June 2013
It was fun and not too exacting. Tom our guide knew lots about 'how to sip' and about the fields and vineyards we passed.
March 2013
I was a little disappointed in that I was told we would ride 5 or so miles and stop at a vineyard and do tastings. Then repeat for 20 miles. Trip was 26. We rode 13 miles before stopping! Didn't get pics along the way due to keeping up with the other 4 people. :( Lunch was great. Guide was ok.:(
June 2012
We have done a lot of traveling, we are very active and experienced
many outdoor activities, but this has to be the worst experience we have
ever had. I called twice to confirm the reservation left messages and they
never returned my call. The instructions had the wrong location to meet them
so we waited 45 minutes, called 4 times and even called your company to find
out where they were meeting...finally Randy-the owner got back to us, when
we left for the tour almost an hour late! Yes, everyone else was waiting on
us and they were told they received an email stating the change in location.
The guide said he did not have any contact information for us but I gave it
to the you and the tour company. Ok, so now we are finally on our way and
their goes our guide way ahead of us enjoying his workout for the day! There
were 10 or so people in the group-a good size and all struggling to keep up
with the guide. The guide would check up on us once in a while but basically
we were on our own!! This trip was NOT worth $149.00 a person. All
(everyone in the group) we did was try to keep up with the guide-crazy! The
guide did not talk about the area he just rode his bike as fast as possible.
The only good thing about the trip was lunch. By the time we got to the
wineries we were tired, sweety and just wanted to rest. One lady (in her
30's) was so tired she feel asleep in a lunge chair at the winery. Another
lady fell off her bike on the road and almost got his by a car! This is NOT
a leasurly tour it is meant for experienced riders that want to go fast and
long distance. This is also not a safe place to ride-a lot of cars and
curvey roads. I can not believe I paid this much for this "tour" We were
on our own most of the time. My husband got the tour guides personal cell
phone number because we were concerned we might get lost because we were
basically on our own in an unfamiliar place. Crazy.
Advertisement
Advertisement