Discover the wonder of Europe's only active volcano on this Mt Vesuvius and Pompeii day trip from Naples. Follow your local guide through the ancient ruins of this UNESCO World Heritage-listed city. Enjoy a traditional Italian pizza lunch with your small group and then hike to the top of the notorious volcano, where you'll find stunning views of the Bay of Naples and the surrounding landscapes.
Highlights
Pompeii and Mt Vesuvius day trip from Naples
Explore the fascinating ancient ruins of Pompeii with a guide
See the destruction of Mt Vesuvius' massive eruption thousands of years ago
Enjoy a pizza lunch with your fellow travelers
Hike to the summit of Mt Vesuvius and peer into the crater
Soak up views of the Bay of Naples from the volcano's summit
Recent Photos of This Tour
Mt Vesuvius and Pompeii Day Trip from Naples
What You Can Expect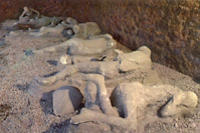 Your guide will collect you from your hotel or train station to kick off this Mt Vesuvius and Pompeii day trip from Naples. Venture into the ancient Roman city of Pompeii on a half-hour coach ride and learn the history behind the area that was infamously covered by ash nearly 2000 years ago.

Follow your guide on a 2-hour walking tour of this UNESCO World Heritage-listed site and learn about Europe's largest archeological grounds. Stop at the Forum, Thermal Baths, Vetti's House and the Lupanare brothel. Your guide will offer historical context and insight into local life here back in 79 AD. Once you've explored the grounds, savor an Italian pizza lunch with your group before enjoying time to wander the shops.

Afterward, travel by air-conditioned coach to Mt Vesuvius and journey on a moderate hike to the top of the active volcano with your guide. At the summit, some 3,900 feet (1,200 meters) above sea level, take in panoramic views of the Bay of Naples. Roam around the volcano's mammoth crater and keep an eye out for plumes of escaping steam. If you prefer to skip the hike, you'll enjoy free time while waiting for the group, but the trip to the top is definitely worth the effort.

After successfully climbing the top of Mt Vesuvius, relax with a ride back to your Naples hotel in your comfortable coach.
May 2016
Excellent! Well organised and informative.

Joydeep Das United Kingdom
April 2016
Worth the money and do both famous attractions in a day, the tour of Pompeii was ideal within 2 hours of the allocated time and the tour guide was very well versed with all the sights and sounds. Vesuvius was largely DIY but the bus does takes you to the entrance and the ticket fees is inclusive so saves you the hassle. Quite recommended when in Naples. Dont forget to wear proper shoes and clothing since it gets very hectic and the heat up on the Vesuvius.
April 2016
You will not be disappointed with Elisa's tour of Pompeii! She brought the ancient site to life in story with fantastically accessible humour. We compared notes with other language groups and they said that all they could hear was us laughing. She managed the group exceedingly well, while you were not made to feel like a number. A very slick and genuine tour. Elisa should be an attraction of Pompeii, she is really that good!
April 2016
An excellently planned tour. Due to airport strikes we had to reschedule at the last minute, and bring our luggage on the tour. Throughout it, the company was very accommodating. Our tour guides were very knowledgeable and entertaining, and we had a wonderful day!
April 2016
Both of our tour guides through Pompeii and Mt. Vesuvius were excellent. I would definitely recommend this tour to other guests.
April 2016
My tour guide was very knowledgable and the trip was great! Be sure to pack water for Mt. Vesuvius. They provide pizza midway through the trip, though it is nothing special, don't expect amazing food. Other than that, I highly recommend this trip!
April 2016
This trip was great. We had considered doing Pompeii and Mt Vesuvius by ourselves, but this trip was such good value I'm glad we chose this one. We were picked up straight from our hotel and taken to Pompeii - which obviously already takes out much of the hassle. We went on a Sunday morning around Easter time, and it was rammed. It didn't spoil the experience but timing might be good to think about in advance, if that's not for you. Gino and Manuela were great tour guides - friendly and good fun, they kept everyone together and painted a brilliant picture of what we were seeing - the history and everyday life of the place, made it all really come to life.
The only small thing i would have preferred is some more free time to explore Pompeii.
But saying that, I think a tour guide is almost essential to appreciate all that you're seeing.
April 2016
We began the day by being picked up at our hotel in Naples in a group of about 7 and headed to Pompeii where we were met by our wonderfully knowledgeable guide, Maria who also had a great sense of humour. We spent around 2 hours being guided around the ruins. What a fascinating experience. Without having a guide, we would not have gained as much insight into the historic content that Pompeii holds. We learnt so much in this short time and found the whole experience fabulous. We then were taken for a lunch of pizza and a drink. From there, we boarded the minivan for our trip to Vesuvius. Just a quick point, there are no toilet facilities at Vesuvius so do use the conveniences when you stop for lunch. There are plenty of refreshment stalls at Vesuvius, make sure you take enough water for your 30 minute climb! We were given an hour and fifteen minutes to climb up and down which was ample time. It was interesting to see the steam coming out of part of the crater. This made us feel that although having been told the volcano is active, this was our proof. It was an unforgettable experience and one we were glad to have been able to enjoy. It was back to the hotel then for a well deserved lie down! All in all, a fantastic day, but not too tiring. There was just enough to do within the time. I would not hesitate in recommending this excursion.
April 2016
Absolutely brilliant, could not have been better.
April 2016
This tour was wonderful. Both sites are worth a visit, and we had an excellent guide for the day, as well as another excellent guide for the tour in Pompeii.
Advertisement
Advertisement