1063 Reviews
Location:

Naples, Italy

Duration:

7 hours

(approx.)
Experience legendary Pompeii and Mt Vesuvius, the only active volcano in continental Europe, on this fully guided day trip from Naples. Visit Pompeii's haunting ancient ruins, enjoy lunch with your group and then hike to the smoking summit of Mt Vesuvius for panoramic views of the Bay of Naples.
Highlights
Pompeii and Mt Vesuvius day trip from Naples
Explore the fascinating ancient ruins of Pompeii with a guide
See the destruction of Mt Vesuvius's massive eruption thousands of years ago
Enjoy a pizza lunch with your fellow travelers
Hike to the summit of Mt Vesuvius and peer into the crater
Soak up views of the Bay of Naples from the volcano's summit
Recent Photos of This Tour
Mt Vesuvius and Pompeii Day Trip from Naples
What You Can Expect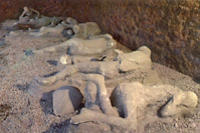 After pickup from your hotel or the Naples train station, take a 30-minute drive to Pompeii, an ancient Roman city that was entirely destroyed by the sudden eruption of Mt Vesuvius in 79 AD. The largest archaeological site in Europe, today Pompeii is a UNESCO World Heritage Site.
When you arrive, your guide will pick up your group's pre-ordered tickets and lead you on a 2-hour walking tour of the fascinating grounds. Witness the destruction first-hand as you visit Pompeii's most famous sites, including the Forum, the Thermal Baths, Vetti's House and the Lupanare brothel, giving you a glimpse into daily life during the Pax Romana. Today you can see shapes of objects — even bodies — that were buried beneath the volcanic ash and pumice.
After your tour, enjoy a pizza lunch with your group followed by some free time to browse the shops. Then board the coach and drive 40 minutes to legendary Mt Vesuvius.
Embark on a moderate hike up the volcano with your guide. When you reach the summit at 3,900 feet (1,200 meters), you'll be rewarded with panoramic views of the picturesque Bay of Naples from east to west. Peer down into the crater and see plumes of steam issuing from the sleeping, but still active, volcano!
There is a rest point where you can choose to wait for your group if you do not wish to climb all the way to the top, but the hike is worth the effort.
After your Mt Vesuvius hike, relax on the drive back to Naples in the early evening.
November 2015
We had a fantastic time ! Really pleased that we saw Pompeii the tour guide really made it and was very knowledgeable also great going up Vesuvius.
November 2015
Everything about this tour was excellent. I was picked up and dropped off from very close to where I was staying, even though it was not an official hotel. The tour guide in Pompeii Sabrina was fantastic, very knowledgeable, very enthusiastic and interesting, and spoke delightful English. The pizza lunch was simple but very good. The drive and then walk up Vesuvius was extraordinary...not an easy walk, though, but well worth all the effort. Overall, this was an excellent experience and I would highly recommend it. Pompeii and Vesuvius can be visited on one's own, but it is so much easier and so much more informative with the tour guides that we had.
November 2015
We were picked up exactly on time. The trip was well organised according to who had booked a particular trip. The guide who took us around Pompeii was very informative and made sure we saw all of the buildings of interest. Could have done with a bit more time at the top of Vesuvius, but the whole trip was amazing.

November 2015
Great trip and great tour guides! Highly recommend!
November 2015
The day was very well co-ordinated, no wasted time, lunch was good fun and more than I expected for the price - the biggest pizza in the world! Tour guides were informative and entertaining. They managed to explain detail in all languages and all ages, they were a hoot!
November 2015
My tour guide for Pompeii was amazing. She was funny, witty, and really knew her stuff. I wouldn't have left Pompeii knowing nearly as much as I did leaving with my tour guide. I HIGHLY recommend this tour. Its worth the money.
November 2015
The tour was great. we saw everything we wanted to see in Pompeii, had a wonderful guide and a splendid experience of Mount Vesuvius.
November 2015
We had the best tour guide for Pompeii! I think her name was Elisia. Best tour of our whole trip to Italy. She was so knowledgeable and gave great info on idioms we use today. She also had one person who only spoke Spanish and did a great job explaining to the whole group in English and then in Spanish as we walked to the one person in our group. She was funny, entertaining, professional, quick to adapt. Just the best. Mt. Vesuvius wasn't really a tour. We just got dropped off and hiked up, so they might want to mention that. But it was beautiful up there.
November 2015
This worked out great, totally worth it. I arrived at 9:45 am at the Naples train station and quickly found the meeting spot for the tour outside Napoli Station for the 10:30 tour. Our driver and guide whisked us away to Pompeii where we had a great tour guide and saw a good chunk of the ruins.
Afterwards we had pizza, pasta and drinks, all included at a nearby establishment.
Then it was a 40 minute drive up the mountain where we were given ample time to hike up to the top and peer into the crater, which is still smoking! And the views from the top are amazing.
Advice: the walk to the top is a bit of a hike, bring a bottle of water and enjoy it. 30 minutes up, 20 minutes down....

November 2015
Great day, no hassles, excellent commentary
Advertisement
Advertisement