Discover the wonder of Europe's only active volcano on this Mt Vesuvius and Pompeii day trip from Naples. Follow your local guide through the ancient ruins of this UNESCO World Heritage-listed city. Enjoy a traditional Italian pizza lunch with your small group and then hike to the top of the notorious volcano, where you'll find stunning views of the Bay of Naples and the surrounding landscapes.
Highlights
Pompeii and Mt Vesuvius day trip from Naples
Explore the fascinating ancient ruins of Pompeii with a guide
See the destruction of Mt Vesuvius' massive eruption thousands of years ago
Enjoy a pizza lunch with your fellow travelers
Hike to the summit of Mt Vesuvius and peer into the crater
Soak up views of the Bay of Naples from the volcano's summit
Recent Photos of This Tour
Mt Vesuvius and Pompeii Day Trip from Naples
What You Can Expect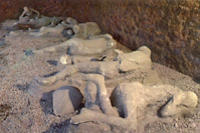 Your guide will collect you from your hotel or train station to kick off this Mt Vesuvius and Pompeii day trip from Naples. Venture into the ancient Roman city of Pompeii on a half-hour coach ride and learn the history behind the area that was infamously covered by ash nearly 2000 years ago.

Follow your guide on a 2-hour walking tour of this UNESCO World Heritage-listed site and learn about Europe's largest archeological grounds. Stop at the Forum, Thermal Baths, Vetti's House and the Lupanare brothel. Your guide will offer historical context and insight into local life here back in 79 AD. Once you've explored the grounds, savor an Italian pizza lunch with your group before enjoying time to wander the shops.

Afterward, travel by air-conditioned coach to Mt Vesuvius and journey on a moderate hike to the top of the active volcano with your guide. At the summit, some 3,900 feet (1,200 meters) above sea level, take in panoramic views of the Bay of Naples. Roam around the volcano's mammoth crater and keep an eye out for plumes of escaping steam. If you prefer to skip the hike, you'll enjoy free time while waiting for the group, but the trip to the top is definitely worth the effort.

After successfully climbing the top of Mt Vesuvius, relax with a ride back to your Naples hotel in your comfortable coach.

Kim United States of ...
May 2016
This was exactly the tour we were looking for to visit the highlights of Pompeii and Vesuvius! We arrived at Naples Centrale train station from Rome and with a quick easy phone call we were able to determine the exact meeting location for this day trip. Our guide on the bus to Pompeii was Manuela and she was very friendly and knowledgeable. Once at Pompeii our guide was Elisa and she was also phenomenal. She was very knowledgeable about the site and she kept the group moving along, but at a decent enough speed so we could take it all in and take photos along the way. We had a group lunch of pizza and a beverage at a nearby restaurant included in the price. Very basic. After lunch we headed to Mt Vesuvius. We had just enough time to climb to the top and down again before we had to meet the bus. But still enough time to enjoy and take photos... and even drink a glass of the local wine on top! A very worthwhile day trip!
May 2016
Great Trip and Very efficient. The walk to the top of the Crater is strenuous and should only be performed if in shape. But the view is breath taking and must. The guide in the Pompeii was very knowledgeable and I didn't realize how large Pompeii could be. I would be lost without a guide. Glad we took this tour and would highly recommend it to everyone.
May 2016
It was a fantastic excursion. I loved every minute of it and both tour guides were phenomenal in presenting the information and taking care of our needs. Sylvie has a great energy and a wonderful spirit, and was very accommodating to my dairy allergy when the pizza lunch, included in the ticket price, arrived. I had an amazing personalized pizza just for me, so delicious. The tour guide for the Pompeii trip was also amazing, and I had a wonderful day visiting these two ancient historical sites. Also, I love Sylvie, she is the best!
May 2016
Great tour, just as what is described. We got a nice explanation of the Pompeii and then really a good exercice in the Vesuvius. For elder people, it would be a bit tough to climb the mountain, but it is worth it to see the crater.
May 2016
We thoroughly enjoyed the tour of Pompeii and the hike to the top of Mount Vesuvius. Our guide, Maria, was exceptionally well organized and informed. She made history come alive for us. Pompeii is quite a large archeological site and worth having a modern Roman explain life in ancient Rome. We were well taken care of with pick up and drop off and pizza at lunch.
May 2016
The pick up point at Naples Station was a bit vague, but it turned out ok. The guide hunted around until she found all the people that she was meant to pick up. The whole tour was run well despite the huge amount of people everywhere. Pompeii was vast, and 2 hours only gives you time for the highlights, but knowing this in advance, it was nice to leave it all in someone else's hands and just enjoy the experience. Vesuvius was amazing. Only an hour to get to the top and back, and you have to be reasonably fit to be able to march up and walk to the opposite end of the crater and back with a bit of time to take photos. But it was the highlight of my holiday and I am so happy to have done it.
May 2016
Amazing guided tour through Pompeii and Mt. Vesuvius. I must say though make sure the shoes you are wearing are comfortable and you have no issues with getting a little dusty from the ankle down mostly. If you are second guessing this one based on the climb up the Mountain, I will say Don't, unless you are handicap or have some medical issue which prevents you. We saw people of all ages making the climb, each at their own pace obviously. Once at the top it is a must see sight.
May 2016
Really pleased with this tour, hotel pick up at 10.15 was 15 mins early, Pompeii highlights tour was very informative and Maria our guide was very funny and made it very interesting, lunch was surprisingly good, choice of margarita pizza or spaghetti with tomato sauce and Parmesan, with choice of beer, juice, water or pop. Then off to Vesuvius where we hiked one mile, 30 mins to the crater, strong walking shoes recommended, quite strenuous but worth the effort, superb views of Naples and the Bay, and the crater. Only down side was we didn't feel we had enough time at the summit to take it in, we had around 20 mins to take our photos and look round then 20 mins to get back down to the coach. We would have liked to have an extra half an hour at least to walk the whole length of the crater's edge and return to the hotel an hour later than we did. Would definitely recommend this tour.
May 2016

May 2016
Fantastic from beginning to end. The lunch was excellent too.
Advertisement
Advertisement