See Naples by night on this informative and fun 3-hour guided tour that includes a visit to one of the best pizzerias in the city. Be shuttled around this bustling city by luxurious coach, stopping by the main sites and even getting a perfect panoramic view from Posillipo Hill. Pass by city must-sees such as Castel Nuovo and Piazza del Plebiscito and then settle into one of the city's famed pizzerias to tuck into a delicious and authentic pizza.
Highlights
3-hour Naples by night tour including a pizza dinner
See the sun go down over Naples' coastline, while traveling around the city by luxury coach
Gaze out over illuminated Naples from Posillipo Hill
Pass attractions in Naples' UNESCO-listed centro storico: Piazza del Plebiscito, Castel Nuovo and San Carlo Opera House
Enjoy an authentic Neapolitan pizza at a top Naples pizzeria
Hotel pickup and drop-off included
What You Can Expect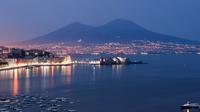 From your centrally located hotel in Naples, hop on a luxurious air-conditioned coach for this exciting 3-hour guided tour of Naples by night. This tour offers a great perspective on the city, seeing it at a time when the streets are less crowded.
Relax on the cozy coach as it snakes its way through the center of the city and up to Posillipo Hill where you'll be afforded one of the best views of Naples, as the lights of the city shimmer and twinkle.
After some time, descend down the hill and head to the centro storico, or historical center, a UNESCO-listed area of town that is crammed with history and arresting architecture. See Piazza del Plebiscito and the palaces that line it. Gawk at the San Carlo Opera House. And gaze at the Galleria Umberto I, with its glass dome.
If all that sightseeing has built up an appetite, have no fear. The next stop: dinner at one of the city's famed pizzerias. In a city that serves possibly the best pizza in the world, it's hard to go wrong in Naples. Indulge in a thick-crust Neapolitan pie knowing you'll just have to come back Naples to eat pizza this good again.
After dinner, hop aboard the coach for the journey back to your hotel.
October 2015
July 2015
This tour is perfect to have a first impression of the city upon landing. My tour guide was polite and knew his history. H
May 2015
Our tour guide was great!!! Very personable and friendly, and knew a great deal about the area and the history! Would definitely recommend to anyone coming to visit Naples. I wish we were here long enough to go on his Almafi Coast tour but we still had a great time. Thank you so much!!
March 2014
Excellent introduction to a wonderful city. Ricardo called the day before to confirm pick up location, then showed us spectacular views of the city as well as sites of interest, combined with a lot of information about Naples. Meal was delicious fresh pizza, also with information about its origins. Highly recommended
December 2014
This is a good introduction to Napoli, pizza dinner was average, perhaps the service colud be faster in the resto
October 2014
the tour was nice but we had to deal several times with the vendor on the pick up location all worked out OK

July 2013
My wife and I signed up for the tour on a Friday evening in Naples. It was just the two of us, so we were picked up near our hotel by our driver in a car instead of a bus. It was a very nice trip. We were able to go down streets and to places not normally driven by bus because it was just the two of us in a car. As we ventured through Naples, we saw places that locals spend time and also where celebrities like to stay when they are there. We went down to the water and were able to get pictures looking out to Mt. Vesuvius and the islands surrounding Naples. We listened to the history of Naples as we rode around. We stopped for dinner at a pizza place. We paid for drinks other than water. The meal was delicious and we continued to sight see afterwards for a little taste of Naples in the dark. We were dropped off back at our hotel. We had a good experience with the driver especially because it was just the two of us. I you're looking for a historical tour, this would not be the one to do. This is truly sightseeing at it's best. The driver was knowledgeable and spoke English fairly well, actually. We would do this tour again!

June 2013
I was disappointed with this tour. There is so much to see but we seemed to just keep going in circles to look at the same thing from a different angle. The guide did not know anything much about the buildings or history either.
November 2014
Not too much to see, Pizza was OK.
Rajiv S Switzerland
May 2013
The guide spoke no English (for all practical purposes). So the sightseeing was pretty much just the name and nothing much else. Roads in Naples are largely cobblestone, and the vehicle clearly needed new shock absorbers! The drive was uncomfortable.
The pizza was good, Naples pizzas taste very different to pizza in other countries!
Advertisement
Advertisement