394 Reviews
Location:

Naples, Italy

Duration:

3 hours

(approx.)
Discover the ancient Roman city of Pompeii — a UNESCO World Heritage site — on this 3-hour tour from Naples. Following your hotel pickup and onward minibus travel to Pompeii, enjoy fast track entry with your guide and explore Italy's most famous archaeological site. Hear of the horrific Mount Vesuvius eruption that coated the city in volcanic ash. See the town's ancient piazza and Forum, the thermal baths and Pompeii's ancient brothel, the Lupanare. Gaze upon beautiful wall frescoes at the Casa dei Vettii (Vetti's House) and discover Pompeii's haunting highlights.
Highlights
3-hour tour of Pompeii from Naples
Visit the centuries-old city of Pompeii, a UNESCO World Heritage site
Enjoy fast-track entry with your guide
Explore the Forum and the city's ancient thermal baths
Discover Pompeii's ancient brothel, the Lupanare
Marvel at the beautiful wall frescoes at the Casa dei Vettii (Vetti's House)
Your tour includes hotel pickup and drop-off from Naples
Recent Photos of This Tour
Pompeii Half-day Trip from Naples
What You Can Expect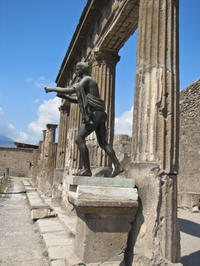 Following an early morning pickup from your Naples hotel, meet your guide and travel onward by minivan for the 35-minute journey to the ancient Roman city of Pompeii, a UNESCO World Heritage site.
It was here — on a summer's day in the year 79AD — that Mount Vesuvius erupted, spewing volcanic ash over the prosperous city of Pompeii. Unaware of the imminent danger, most people continued on with their daily lives. As a result, the entire town and around 20,000 of its inhabitants were buried under tons of ash and burning pumice. Almost 2,000 years later, ancient Pompeii remains preserved and the artefacts on display provide a fascinating insight into life in the Roman-era.
Enter the ancient site with your guide and see first-hand the houses, streets and public buildings locked in time by the volcanic ash.

See Pompeii's ancient piazza and Forum, where business dealings, elections, speeches and processions would have played out during Roman times. Wander the site, marvel at the ancient limestone columns still standing today and capture the centuries-old scenery on camera.
Continue onward with your guide to the thermal baths, where many of the townsfolk would have bathed, chatted and lived out their daily lives before the eruption. Wander down Via degli Augustali and discover the Lupanare, Pompeii's brothel. A 2-storey building with five rooms on each floor, the Lupanare is decorated with some of the city's most lustful frescoes.
Explore the Casa dei Vettii (Vetti's House), a luxury residence in the town. Careful excavation has revealed a number of beautiful frescoes on the walls of the house, evidence of the wealth and stature of its former inhabitants.
Your exact route will depend on the crowds and weather conditions. At the end of your time in Pompeii, travel back to Naples by minivan where your tour will come to an end.

January 2016
Awesome leisurely stroll with an excellent knowledgeable guide.

November 2015
A must see! This tour was perfect to get all the basic information needed about Pompeii. Our tour guide was very informative and enjoyed her enthusiasm and sense of humor.
November 2015
The hotel pickup was nice - I got to see a great deal of the city driving around to pick everyone up! The tour itself was great. The guide spoke perfect, understandable English and she was interesting and engaging. I wish I had more time to spend but I feel the time with the tour was well spent.
November 2015
Our guide, Andreas, was very good. His explanations breathed life into the ruins of Pompeii and made us appreciate Roman life back in the first century AD. The tour was well organized and comfortable.
November 2015
The tour guide Denial? was excellent, with a slightly British accent and in depth history knowledge of the site. Thank you.
October 2015
excellent tour of pompei, excellent well informed guide. Do not miss it!
ilianaramirez USA
October 2015
Enthusiastic tour guide. She was very knowledgeable and funny. It was very hot but she kept us interested. Impressive sight.

October 2015
Andre was one of the best tour guides we had on our trip. He was so funny, personable, and full of knowledge. This was a very organized tour - down to the pick-ups and drop-offs at your hotel. We would definitely recommend this tour to anyone wanting to visit Pompeii.
marikadowling Australia
September 2015
Good guide, interesting tour. Would recommend.

September 2015
Booking process was convenient online, the bus picked us up close to being on time, near our hotel. The guide Alessandro was hilarious and upbeat: what you look for in a tour guide. He was also very passionate about Pompeii, which made the experience even more fun. The historical facts, the sights and the stories were relevant, informative and entertaining. Would definitely recommend this tour if you're visiting Pompeii--- don't go without!
Advertisement
Advertisement