Discover Italy's vivid ancient history on a full-day coach and walking tour of Pompeii and Naples with a local guide. Hear stories about the people who lived in the shadow of Mount Vesuvius as you travel to the archeological site by luxury coach, then explore the streets, homes and public places that were preserved beneath a thick layer of ash. Visit a coral jewelry workshop and store, see Naples' historic downtown on foot and take in the waterfront by coach before finishing your tour in central Naples. Pompeii admission excluded.
Highlights
Full-day tour of Pompeii and Naples
Tour a UNESCO-recognized archeological site
See artisan jewelers at work
Visit Naples' historic center and waterfront
Great overview and orientation of the city
Led by a local guide
What You Can Expect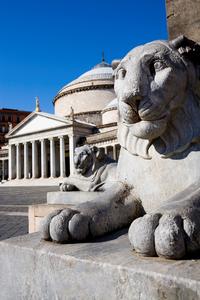 Leave central Naples in the morning and head south to the ancient town of Pompeii by luxury coach – roughly 40 minutes away. Once buried under a sea of Mount Vesuvius' volcanic ash and rubble, the town was 'rediscovered' in the mid-18th century when King Charles III of Naples ordered a new palace to be built.

Hear about the history of this incredible archeological site on a walking tour of its ruins (entry own expense), and learn little-known tales about the people who perished in the ancient town. See fascinating excavations of monuments like the Forum, once the town's bustling main piazza, and Teatro Grande, a colossal 5,000-seat theater.

After your tour, hop back on board your coach and travel to a family-owned cameo and corals factory to see carved coral jewelry being made. Watch craftsmen in work, and then visit the factory's shop where you can browse for gifts to take home, if you wish.

Continue your tour back to Naples and after a break for lunch (own expense), set off on a walking tour around the city's UNESCO-listed historical center. Pass along Spaccanapoli, the cobblestone street that splits the center down the middle, and pose for pictures in front of Gesù Nuovo Church – Naples' famous Jesuit church. See Santa Chiara, a museum complex which houses a monastery, archeological museum and tombs; and then visit Piazza del Plebiscito where four Bourbon palaces can be found.

The last part of your afternoon is spent back on board your coach, visiting districts like Mergellina – Naples' kitsch seafront marina – and Posillipo, its upmarket neighbor with views that match its fancy villas. Pass Caracciolo Palace, marveling at its lavish exterior, and then work your way back to central Naples, where your tour ends.
June 2014
The tour bus picked us up at our hotel right on time and got us to Pompeii in good order. The tour guide gave an interesting multi-lingual commentary on the way, even though this was supposedly an English-language tour. When we got to Pompeii we got a special, English-speaking, guide for the ruins themselves. However, we then somehow wound up with an Italian couple, who only spoke Italian, in the group and the tour was prolonged a lot because the guide kept stopping to translate into Italian for these two people out of 20. It was a very hot day and these delays, with most of us bored stiff since we knew no Italian and had, therefore, signed up for an English-language tour, were very tiring. I think someone messed up and got this Italian couple misplaced and then stuck them in with us. Most of us were not young and waiting in the horrible heat for the Italian patter to end really did wear on us. The city tour guide himself did a good job explaining the ruins and the history and all, it was just the delays for Italian translation that were not fun for us. We had signed up for the combination Pompeii/Naples tour and so we came back to Naples after Pompeii. We finally got something to eat in Naples but the rest of the tour, with the exception of the high-elevation views of the bay, was unexceptional. We had the distinct impression that something got confused at the start of the day and the tour company was trying to make the best of it, with the results as stated above. The tour guide was on the phone virtually nonstop and we changed vehicles three times. Also, we had to take all of our belongings off each vehicle, which would have been a major disaster if we had had full luggage to carry. There was just no place to store it or keep it and we had only come down from Rome the night before to do the one-day tour. Therefore, we had only small packs and could handle them, but if we had had real suitcases it would have been impossible to lug them all over Pompeii
May 2014
The tour was not organized and we stood around waiting entirely too much. However, Pompeii was amazing. We just had too big a group and she had to repeat everything twice. (English and Spanish)
August 2014
Just OK compared to our other tours in Italy. Guide was knowledgeable, but felt rushed as she was translating in 3 different languages. We had booked an " English speaking tour," but we spent a good amount of time waiting for other translations, or for guide to take phone calls from office. Seemed unorganized.
Advertisement
Advertisement