See Naples like a true Italian on this 4.5-hour Vespa tour. Led by an expert driver, hop on the back of a vintage scooter and soak up the city's history, architecture and old-world charm. Pass top attractions including the UNESCO-listed Historic Centre of Naples, Parco Virgiliano and Castel Dell'Ovo, hopping off to relax at a local cafe with a cake and coffee (own expense). Enjoy an intimate look at this southern Italian city before returning to your original departure point.
Highlights
Private Vespa tour of Naples
See Naples' beautiful sights while riding a vintage Vespa driven by your expert guide
Explore the Historic Centre of Naples, Europe's largest historic center and a UNESCO World Heritage Site
View top Naples attractions including Parco Virgiliano, Castel Dell'Ovo and the church of San Francesco di Paola
Bypass traffic and navigate bustling areas that bigger vehicles can't reach
Enjoy coffee and cake at a local café
Take home a complimentary Neapolitan gift
Recent Photos of This Tour
What You Can Expect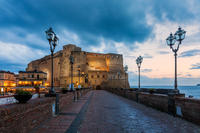 Meet your guide at your central Naples hotel, where you'll snap on your helmet and headset and hop on the back of a vintage Vespa.

Take off into the streets like a local, as you ride down Spaccanapoli and through the UNESCO-listed Historic Centre of Naples. Learn the history behind each architectural gem from your guide as you go, traveling through intimate alleyways that cars and buses can't reach.

Pass the Parco Virgiliano, offering beautiful views from the hill of Posillipo, as well as Castel dell'Ovo, a seaside castle perched on the Bay of Naples.

Afterward, relax with a cup of coffee and traditional Italian cake (own expense) at a local cafe. Refueled, hop back on your Vespa to see the churches of San Francesco di Paola and Gesù Nuovo, the Complesso Monumentale di Santa Chiara, Borgo Marinari and Galleria Umberto (all entrances included).

Get a taste of the local flavor as you wind through the bustling squares of Piazza del Plebiscito, Palazzo Reale, Piazza San Gaetano, Piazza Municipio and more. You may also visit Cappella Sansevero if you wish (entrance not included).

After 4.5 hours of sightseeing, conclude your tour with drop-off at your hotel. Enjoy a small Neapolitan souvenir from your guide to bring back home with you.
Allison z Canada
June 2016
This tour was Fun Fun Fun!!! It was the best way to view Naples!
Our guides were passionate,knowledgeable and very friendly.
Thank You for the LUCKY gift.
We were very very pleased with this tour!
Joe Luis United States of ...
December 2015
This was by far the best tour we ever did. When we booked this it was only myself and my frienf that were on the tour, so it was two Vespas along with our drivers. We go one on one attention on this. I belive the name of our tour guide was Michaelao a very nice, and well informed gentleman. He explained everything on this tour and was so passionate about things. They picked us up on time from our lodging place, we did Air BnB and they actually picked us up and dropped us off at the Apartment. I highly recommend this tour and with this company, it's something you do not want to miss. You will see parts of Naples you would never have otherwise seen. This is a bit on the high end for cost, but it is worth every single cent!
September 2015
Both guides were AMAZING and passionate about Naples. Very interactive and we can't say enough about the excitement of weaving through traffic and being able to see far-flung sites we would have normally missed. A must-do.

August 2015
This Vespa tour was amazing. Mele ? Luca and all our drivers were incredible! They drive very safely and took us on a wonderful tour of naples. My mother is 75 and enjoyed every minute as we all did! So much fun. I highly recommend this!
July 2015
I had a fabulous time on my scooter tour. My guide was friendly and knowledgeable and lots of fun. I enjoyed myself so much that I hated to let him go, I wanted to keep him all day! I am so glad I decided to take this tour, it was a great way to see Naples and enjoy the excitement of the city.
June 2015
Sightseeing by Vespa - definitely a wonderful way to do Naples - the gentleman who took me round was just delightful full of knowledge and really polite. It was a wonderful experience and I would suggest anyone going to Naples to do this - Kat
June 2015
Bellissimo If we could give the Vespa tour TEN stars we would! This was our first trip to Naples and our first ever Vespa tour and we cannot recommend it enough.
It was fresh, exciting and thanks to the Vespa team we got to see more of Naples than we could ever have hoped for it was absolutely stunning.
We were picked up bang on time at 9 am outside our hotel by the team: one Vespa each for my husband and I and the other one for our two charming and lovely tour guides the wonderful Milly and Ambra, who really know their history of Naples and left nothing untold.
Milly was very knowledgeable and gave us in-depth historic knowledge of each location we visited. We were never rushed and had plenty of pit stops in between Vespa rides to discover all the different areas of Naples. Our drivers were Vincenzo and Stefano apologies Stefano if my husband has got your name wrong! both drivers were very hospital, friendly, confident and assured on their Vespas. We felt in good hands at all times and they took great care of us whilst at the same time making sure we were comfortable and having fun. Which we definitely were!
It really was the most fun my husband and I have had in years whilst on holiday. So much so, that I would want to do this every time I visit Italy.
There is simply nothing to think about. DO IT! You will be so glad you did it was worth every penny and we felt we got to see Naples like no one else could and in a very cool way with young vibrant, hospitable and knowledgeable Neapolitans who are proud of their beautiful city and made us feel very special by sharing it. We are in our 50s ... so this is for any age group, you are never ever too young or old for a Vespa Tour! Thank you Ambra, Milly, Vincenzo and Stefano for a wonderful day touring Naples we miss it already! See you next time : Ciao M and G
Chloe Australia
February 2015
Excellent and authentic way to experience Naples overall!
October 2014
A very enjoyable sightseeing trip. The Vespa takes you places you can't get to with a big bus tour, and it's a lot more fun to ride. The guide was very knowledgable and you learn so much about so many places in the city.
September 2014
Advertisement
Advertisement