Go back in time two millennia with this intriguing half-day private guided walking tour of Pompeii from Naples. Get the most out of your visit to this incredibly preserved Roman city, which has been frozen since Mt. Vesuvius erupted in 79 AD. Some of the highlights include, the Forum, a theater, a 'fast food' restaurant and even a brothel. Your private guide will illustrate Pompeii's tragic fate through captivating stories, facts and anecdotes while taking you to the main highlights of the place. Choose to have the guide show you around or opt for the transportation-only option, giving the chance to check out Pompeii on your own.
Highlights
Private tour of Pompeii with round-trip private transport from Naples
Explore the fascinating archaeological remnants of Pompeii with a private guide
Learn about the devastating Mt Vesuvius eruption in the 1st century that wiped out the entire city
Visit the House of Vetti, the thermal baths, the Lupanare brothel and more
Transport-only option available for those who prefer to explore Pompeii independently
Choose a morning or afternoon tour
Recent Photos of This Tour
Private Tour: Pompeii Half-Day Trip from Naples
What You Can Expect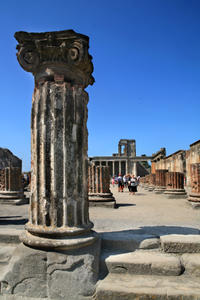 On August 24 in the year 79 AD, nearly 2,000 years ago, the volcano Mt. Vesuvius began erupting. It blanked the nearby town of Pompeii, freezing the 20,000 denizens with its ash and molten lava, thus perfectly preserving this ancient Roman city. With this half-day guided walking tour, you can see the best that the archeological site has to offer.
After your driver picks you up from your hotel in Naples, the railways station in Naples or the Naples cruise terminal, enjoy the ride to Pompeii, roughly 30 miles (48 kilometers) away.
Meet your guide at the entrance and prepare to be dazzled by this UNESCO World Heritage site. See the city walls and the Porta Marina gate that was once the entryway to the harbor of Pompeii. Explore the ancient theater where performances were regularly given. Gawk at what once was a Roman version of a 'fast food' restaurant, where vast vases still stand that were used for storing food. Stop at the Forum and learn about the political system in Pompeii and what the Forum was used for. Walk down the basalt-laden streets and squares of the city.
See the blocks that provided stepping-stones across the often-flooded and sewage-filled streets; and view must-sees such as the Temple of Apollo, the Macellum market, and the public weighing scales.
And, intriguingly, see the casts of victims who were immediately frozen by the volcanic eruption. Stop by the thermal baths, a popular pastime in ancient Roman times. And even visit an old brothel, also a much-enjoyed proclivity among Roman men.
Transport-Only Option
If you prefer to explore the Pompeii ruins independently, the transport-only option offers private round-trip transportation from Naples and lets you spend time in Pompeii on your own. Your driver will wait for you while you wander around Pompeii for a couple of hours, and then take you back to Naples. There is also an audio guide available (additional cost).
May 2016
Simply great. A beautiful big, shiny car picked us up from our hotel and took us to Pompeii with our lovely guide. She spoke excellent English and was very well informed, enthusiastic and friendly too. We learned a lot and enoyed the whole tour very much.
July 2015
Great tour! Our tour guide, Margarita was fun, knowledgeable and willing to answer any questions. Our two kids ages 11 and 14 loved her.
July 2015
We had a great time on this private tour for seven of us. In particular, Paula was excellent as a tour guide--we threaded our way through much larger tour groups and she was knowledgable and interesting in her descriptions.
Many thanks for a great day.
May 2015
Tour was amazing! Mula was sooo knowledgeable! Truly a private tour was so great! We all learned so much! Miula english was great too! Highly recommend! We had ages 11 to 73 and we all enjoyed!
April 2015
Fantastic. Our guide, Sofia, was knowledgable and very engaging. We highly recommend her.
July 2015
Our Pompeii guide, Francesca, was excellent. The skip the line claim is valid she got our tickets in a special line that was very short, so our wait was only a few minutes. Be aware that this tour price does NOT include admission to Pompeii. The only glitch we had was that our driver was late for the pick-up at the port, so this necessitated a call to the local operator, who responded that he is on his way, which meant 20 minutes late.
July 2015
Very professional and well organised. We had a very polite, punctual driver and our guide was extremely knowledgeable and imparted the information in an informative easy to understand manner. We were travelling with children so it was well pitched and well paced. Would definitely recommend.
November 2015
It was not a tour, just transportation from and to the port. Chauffeur was on time.
October 2014
This tour was a major dissapointment. Basically you`ve got a transport, a guide waiting at the Pompei and transport back. All of this for huge price premium. Way different experience from other Viator private tours. Hiring a taxi from Naples and a Pompei guide in advance would do the same for fraction of the price. BTW the guide was good - very good in explanations yet shortened the tour by about 20min. The driver was rude, couldn`t speak english at all, on the way back he left us waiting for 20minutes in front of the car being on phone all the time. Days before the tour we have asked the tour provider to extend it with visit to Vesuv on the way back from Pompei. The tour provider asked about details, we answered and he newer came back to us. There was no contact from the tour provider to us once in Pompei and when we asked about it on the way back (the driver called him) he explained that it is Viator mistake as no of our messages came back to him. Simply a big mess. We`ve had two private tours with Viator this yeare before this one, the last happened just a day before this one in Naples as well and the experience was way different.
Advertisement
Advertisement