See the stunning Amalfi Coast at your own speed on this private, full-day trip from Naples. After creating your own itinerary, sit back and enjoy as a private driver takes you along the coast, making stops in the most beautiful villages in southern Italy: Positano, Sorrento, Ravello and Amalfi. Get a true taste of the region's rich history, architecture, cuisine and more before concluding with drop-off back in Naples.
Highlights
Private full-day tour of the Amalfi Coast from Naples
Choose your own itinerary
The four pearls of the Amalfi Coast: Sorrento, Positano, Amalfi and Ravello
Option to have an English-speaking guide
Private chauffeur-driven car
Hotel pick-up and drop-off
Recent Photos of This Tour
Private Tour: Sorrento, Positano, Amalfi and Ravello Day Trip from Naples
What You Can Expect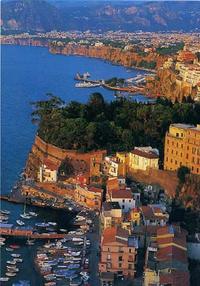 Enjoy crafting your own travel itinerary along the Amalfi Coast without worrying about the logistics on this private day trip. With the help of a private driver, explore as much as you'd like in Sorrento, Positano, Ravello and Amalfi, beloved for their stunning views of the coast, vibrant architecture and small-town charm.

Check out the Itinerary section for more information on each of the towns.

Itinerary
Sorrento
With its cliff-top position overlooking the sea, bustling port, picturesque bays and panoramic views of the Amalfi Coast and surrounding hills, Sorrento has been a favorite resort since Roman times.

Positano
Positano sits in a splendid panoramic position on one of the most beautiful stretches of coastline. Its enchanting town center of delightful pastel-hued houses surrounds the parish church of Santa Maria Assunta, its laneways are lined with quaint, colorful shops and its numerous beaches are world famous.

Amalfi
Amalfi's typically Mediterranean architecture, made up of lanes and characteristic white houses piled one upon the other, makes it one of Italy's most famous resorts.

Ravello
Ravello is situated in a more elevated position than the other pearls of the Amalfi Coast, boasting exceptional views of the coast and its marvelous villas and gardens.
June 2016
We had a fabulous day visiting Amalfi coast. Our driver Mr. Pepe was such a gentleman and altered our trip the way we wanted. We really enjoyed our day.
June 2016
Very nice day. Driver was good and pointed out a lot of interesting items. He stopped to take pictures at great spots.

June 2016
Thank you to Pepe for a wonderful day on the beautiful coastline. It was easy to find him near the hotel in Naples. Though his English was limited, we did not have too much difficulty understanding each other. He was clear about when we would stop for photo ops, how much time we had in each spot, and the best of each destination. The lunch spot we stopped at, La Conca Azzurra, was delicious with stunning views of the coast.
I would recommend this tour to anyone with limited time wanting to see the Amalfi Coast. No one had any issues with motion sickness. I wish we had more time in Positano maybe less in Sorrento would be okay since we really went down to the beach and back up in the limited time we had. It would have been nice to stop into some of the shops there.
June 2016
Great! We had a fantastic time. Johnny, our driver was wonderful. He took us to a fantastic restaurant with amazing views. Johnny even went out of his way to take us back to the restaurant to get something we forgot. We really never made it to Ravello, probably due to a car accident, that delayed us in Sorrento, but everything we saw was amazing!
Anicia Brazil
June 2016
Amazing!!!! Best tour we took around Naples. Our driver, Rosário, was fantastic, a real gentleman. Picked us up at the hotel punctually at a Mercedes E220, really comfortable. He showed and explained the main attractions on the way and told us some local curiosities. When we arrived at each city, he left us some time on our own to explore around. He took great pictures of us too and took us to a great restaurant with fantastic view to have lunch!!! If you want to escape from big groups and have a romantic tour, this is for you. We were on our honeymoon and this was undoubtedly the best tour we took during the whole trip! Thanks Rosario!!
June 2016
Truly, a magnificent day! Facilitated by our most cordial, capable, and friendly driver, it was fantastic!!!!!
June 2016
Fantastic day with our driver Ciro with all the best stops and views of the Amalfi coast with great photo opportunities along the way and a nice lunch at a seaside restaurant in Praiano. A full 9 hours spent in one of the most outstanding places I and #39;ve been to. A must do trip.
June 2016
My favorite day trip! I have always wanted to go to the Amalfi Coast and this private tour was perfect. Savio, our driver, was fantastic! He knew a lot of history, spoke very good English for me that was very good since i don't speak their language and gave us plenty of time in each Town to walk around and explore the beautiful sights! I highly recommend a private tour rather than the buses!
Julie and Bryan
May 2016
In April 2016 we booked the Amalfi Coast Tour Sorrento, Positano, Amalfi and Ravello. Our driver was Rosario. He met us at Star Hotel near Napoli Centrale train station in a nice Mercedes. Rosario was an excellent host/driver and spoke very good English. You also have the option to hire a guide to accompany you, but we chose not to do that because we wanted to be more on our own. Rosario was able to provide information and point out sights to us as we drove. He's been doing this for around 20 years so he is very knowledgeable.
You get a great view of Mount Vesuvius in the distance as you drive to Sorrento and on the way back to Naples.
Half way thru the trip, in between Positano and Amalfi, Rosario brought us to a wonderful restaurant called Calajanara with a picturesque setting overlooking the coast. It's just like you would imagine dining on the Mediterranean should be like. The food and service were fabulous. Note that the meal is not included in the price and it's not a cheap place 82 Euros for our lunch which included 2 glasses of wine, salads and entrees, and of course Lemoncello. We felt it was totally worth the cost. The owner was very nice and greeted us while we had our meal. Make sure you have the Lemoncello after your meal. They also had a shop that had a nice selection of gifts.
Positano shops had a nice selection of the ceramics and linens as well. Amalfi and Ravello are much smaller villages and don't have as many shops, but I did find a nice small water color print of the Amalfi coast to take home and frame.
The drive on the Amalfi coast was very beautiful with lots of twists and turns and very close passing of oncoming vehicles. I can't imagine doing that on a bus! But if you're in a tight budget, you may need to go that route.
However, this trip is definitely worth the splurge of the private driver and Rosario was fantastic. I highly recommend this trip.
April 2016
It was beatiful day trip. Thanks a lot our driver MANUEL, who isnt only driver, but the greatest giude and singer !!!! Well never forget him !!!! Thank you so much MANUEL and your company too. Zdenka
Advertisement
Advertisement