334 Reviews
Location:

Naples, Italy

Duration:

8 hours

(approx.)
Explore the famous Amalfi Coast with your own driver to chauffeur you from town to town on this private full-day excursion from Naples. You'll discover Sorrento, Positano, Amalfi and Ravello, four of the most beautiful villages in the south of Italy. A private visit to the Amalfi Coast is the perfect choice if you want to get a real taste of southern Italy and its exquisite coastal landscapes.
Highlights
Private full-day tour of the Amalfi Coast from Naples
Choose your own itinerary
The four pearls of the Amalfi Coast: Sorrento, Positano, Amalfi and Ravello
Option to have an English-speaking guide
Private chauffeur-driven car
Hotel pick-up and drop-off
Recent Photos of This Tour
Private Tour: Sorrento, Positano, Amalfi and Ravello Day Trip from Naples
What You Can Expect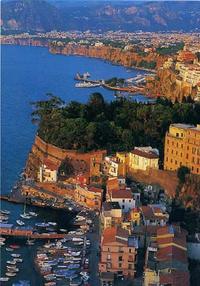 By taking a private tour, you have the option to spend as little or as much time as possible in the picturesque towns of Sorrento, Positano, Amalfi and Ravello, world-famous for their charm and colorful architecture.

The villages scattered along the Amalfi Coast have always attracted visitors, bewitching all who visit. The charm lies not only in the towns themselves but also in their history and rich legacy of fine churches, villas and monasteries.

Sorrento
With its cliff-top position overlooking the sea, bustling port, picturesque bays and panoramic views of the Amalfi Coast and surrounding hills, Sorrento has been a favorite resort since Roman times.

Positano
Positano sits in a splendid panoramic position on one of the most beautiful stretches of coastline. Its enchanting town center of delightful pastel-hued houses surrounds the parish church of Santa Maria Assunta, its laneways are lined with quaint, colorful shops and its numerous beaches are world famous.

Amalfi
Amalfi's typically Mediterranean architecture, made up of lanes and characteristic white houses piled one upon the other, makes it one of Italy's most famous resorts.

Ravello
Ravello is situated in a more elevated position than the other pearls of the Amalfi Coast, boasting exceptional views of the coast and its marvelous villas and gardens.
February 2016
Our driver was wonderful-- friendly, informative, considerate.
November 2015
We had a wonderful private tour with an awesome skilled driver who was able to speak English throughout the entire tour. Thanks so much to Antonio for taking us around the beautiful town, Napoli. He showed us four beautiful cities and gave us a couple of photo-taking and shopping time on our own. He drove us to Sorrento to observe the panorama view of the Sorrento Bay, a nice tourist spot in Positano, a small city called Amalfi, and Ravello our last destination which was absolutely beautiful. For lunch, Antonio took us to an amazing organic family restaurant for delicious seafood and fresh pasta all homemade and freshly caught every morning. Plus, a wide Mediterranean Sea view that took our breaths away. Restaurant is called Ristobar Eurocona with the friendliest service, we had a special tour to see the family's garden. We enjoyed our day trip in Napoli at the top! We totally recommend this tour to anybody.
November 2015
A very long tour in which we saw a lot. A road impressive and wonderful views. A guide and driver at the same time excellent.
October 2015
Gianni, our driver, was VERY GOOD and AMAZING. He is very informative and friendly. He knew exactly where to slow down and show us the breathtaking views. Where possible he will stop the car in order for us to get off and take beautiful pictures. Gianni planned the whole itinerary Sorrento - Positano - Amalfi - Ravello, all we had to do was sit back in the luxury car Benz C-Class and enjoy the day. Gianni recommended a wonderful restaurant for lunch that offered postcard worthy views without the steep prices.
October 2015
This tour was fabulous. Had a tour driver by the name of Giovanni Terracciano who was wonderful. This man was so great and spoke English very well. He was very knowledgeable of the area and took us to great rest areas to take pictures of the beautiful landscapes. He took us to a wonderful restaurant in Positano by the name of Constantino which had a view that was breathtaking and the food was great. We stopped by the roadside to have Italian ices granita which was the best I have ever had. He was never in a hurry and took us to several shopping areas so that we could have time on our own to shop. We bonded with him immediately and he could not have been any nicer. When we come back to Naples I will always ask for him, he was such a gentleman and a great tour guide/driver. Could not have had a better time, we will always cherish the memory. I have been on many tours throughout different vacations and the tour guide/driver always makes it either a good experience or bad experience. This by far, was the best experience we have had. I believe that Project Napoli is the tour company that Viator uses in Naples and I highly recommend Viator and Project Napoli in choosing their drivers. They are the best and Giovanni Terracciano was the best!
Ed USA
September 2015
Wonderful experience! Was just me, my disabled wife, a very knowledgeable, English-fluent and thoughtful tour guide and an equally thoughtful and professional driver. We were out, could pretty much control our own agenda, and the price was a great bargain. I'm going to look for more private tours like this.
September 2015
We wanted to see as much of the Amalfi coast as possible to decide where to go back to and spend more time. Our guide showed up right on time and we started off in a very nice Mercedes van. He had an initial itinerary but we adjusted as we went along. We were able to shop, sightsee, swim, and had an amazing lunch with a great view that we would never have found on our own. The day was amazing and the only way to see the entire coast in a day.

September 2015
This tour was fantastic. The Amalfi coast was definitely worth the visit. We were very pleased with our Tour guide: Arianna and the driver: Antonio. Very knowledgable and pleasant.

September 2015
Fabulous trip, highly recommended. Rosario, our driver, picked us up from our hotel promptly as arranged. His english is excellent, he's a brilliant driver and a real gentleman. This is a great day out if you want to see this beautiful part of Italy in comfort, we had an air conditioned Mercedes for the day! We had plenty of opportunity to take pictures at scenic spots. The town of Sorrento afforded a lovely shopping opportunity. Rosario took us to a really beautiful restaurant for lunch, built into the side of the cliffs overlooking the sea, we dined under lemon trees on fresh seafood and cold white wine. We really enjoyed the day and the scenery was stunning. Thank you Rosario, you're a star.
August 2015
Review of Sorrento, Postiano, Amalfi and Ravello Tour 13th August 2015
We were picked up from our hotel by a very smart and courteous driver who introduced himself as Gianni.
The car was smart and clean. Giannis driving skill and manner was evident from the outset as being exemplary. He made even my daughter, who is quite a nervous traveler, feel comfortable and safe on the sometimes narrow and winding cliff side roads.
Having established with us what and whereabouts on our tour we would like to eat lunch, he called to make a reservation and took us to a lovely and reasonably priced restaurant which served very good food. He had thoughtfully reserved a table with possibly the best view of the hills and sea in the place.
We were given a good length of time in each town we visited and Gianni pointed out places of interest along the way.
His English is very good and his clear love and enthusiasm for his home area was infectious. We thoroughly enjoyed his homemade CD of songs of Naples on the way back to the hotel.
We highly recommend the tour and especially if driven by Gianni.
Advertisement
Advertisement