Step back in time to 1864 and the Civil War's Battle of Franklin on this guided, 7-hour tour from Nashville. The Battle of Franklin was one of the worst disasters of the war for the Confederate States Army. On this tour, see the bullet and cannon ball holes as well as the battle-scarred floors that still bear witness to the carnage of this dark time in history. Spend time in the town of Franklin to shop, eat and view its historic sites. Nashville hotel pickup and drop-off included.
Highlights
Civil War and plantation tour in Franklin from Nashville
Learn from your knowledgeable guide about the Battle of Franklin, known as the five bloodiest hours of the Civil War
Visit the Lotz House and Carter House, which were used in the war and still have bullet holes and blood stains

Tour the Carnton Plantation and learn about its role during the Civil War and in the years that followed

Round-trip hotel transport by comfortable, air-conditioned coach included

Great tour for history buffs!
Recent Photos of This Tour
What You Can Expect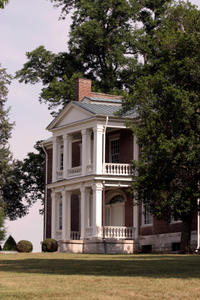 This full-day tour begins with a hotel pickup in Nashville in an air-conditioned coach, followed by a 30-minute drive south to the town of Franklin.
Once in Franklin, visit those sites close to where the Union and Confederate armies fought during the Civil War. Hear stories from the knowledgeable guide about the Battle of Franklin, fought on November 30, 1864 and known by many as the five bloodiest hours of the Civil War.
Visit the Carter House, which served as the Federal headquarters during the battle, and the Lotz House, which became a makeshift field hospital after the war. Both places have been refurbished, but still show their battle scars from the war with bullet and cannonball holes as well as blood stained floors and walls.
Then, spend time in the town of Franklin to shop, eat (own expense) and view some of its historic sites. From there, it's off to the Carnton Plantation, a 48-acre farm which also served as a Confederate field hospital after the Battle of Franklin. A graveyard for the Confederate soldiers that perished remains — the largest private Confederate cemetery in the United States.
A return trip to Nashville ends this historic tour.
May 2016
Don' t miss this tour...fantastic.

May 2016
A must do, so informative, so much history.
March 2016
This was a tour we had planned as a filler for a day when we didn't really have anything to do, but it ended up being the highlight of our trip to Nashville. We are both in our late 20's and thoroughly enjoyed this tour! Educational, entertaining, and thought-provoking! If you are in Nashville, this is a MUST. We learned a lot, were touched by the things we saw...but were also thoroughly entertained. I can't wait to come back to Franklin! Although most of the people on the bus were much older, I think this would be a great activity for people of all ages. Some of the subject matter is a little macabre, just a warning if bringing children. It is a tour I would have enjoyed as a child, though. Just to touch on some points in other reviews: 1 Yes, there are no pictures allowed in the houses, but I am glad that is the case. You are coming here to see something special that you can't witness anywhere else. It is worth coming here to see and experience in person instead of pictures on the internet. Just remain present in the moment. The memories from these houses and the sights that you see will last a lifetime! 2 This tour is NOT redundant or boring! Each stop on the tour has something special and unique to offer. We connected emotionally with each separate family and story presented in each house. 3 The tour guides are INCREDIBLY knowledgable and enthusiastic about the subject matter. Any question that you have, they have an answer that exceeds your expectations! I was very impressed by them. 4 We are not history buffs, but we do enjoy learning and seeing new things. Even being unfamiliar with the story and with the events connected with the area and time period, we were able to appreciate and understand the presentations that day. FIVE STARS!!
November 2015
American history was very well presented. This tour was educational, relaxing and somewhat entertaining which I didnt expect to be entertained We thoroughly enjoyed it, Linda from Arizona
October 2015
It was a very interesting tour. It was unbelievable what went on during that time in our history. So much death and injury.
October 2015
FANTASTIC!!! Guides were super - it was like reliving the past in person
July 2015
This was such a great tour and to hear the history and see the areas where the War was fought was very moving. The tour guides and bus driver were very informative and interesting. I recommended it to everyone I talked to. This is one tour I will remember for a very long time.
July 2015
Our tour guide Terry was amazing and the tour itself was very interesting and we learned a lot. I really enjoyed this tour and would recommend it to anyone visiting Nashville.
July 2015
I had a mixup on this tour... My fault. That said, we ended up visiting two of these houses on our own and thoroughly enjoyed the information. Visiting Franklin Tn to see and hear about the events that took place here is a must. If I go back, I will do this tour because the guides provide so much more information and background.
June 2015
If we all had history teachers like the guides on this tour, we would all know so, so much more about our own country! They are some of the most passionate and knowledgeable people we have ever come across in our travels around the world. They put you in the time and place, as well as the struggles of the people who lived and died in Franklin. I would HIGHLY recommend this tour to anyone who thinks they know the history, who would like to know the history and especially for those who think they don't care at all.
Advertisement
Advertisement