Take a journey back in time to visit two of the most extraordinary and historic homes in the United States on this 7-hour tour of Tennessee. Visit the Hermitage, built as the home of the country's seventh president, Andrew Jackson. Stop for lunch at historic Hermitage House Smorgasbord, a full southern buffet, then travel to Belle Meade Mansion, formerly a world-renowned thoroughbred horse farm. The day ends with a wine tasting at the Winery at Belle Meade Plantation. Transportation, admissions and a downtown Nashville hotel pickup and drop-off are included.
Highlights
A 6.5-hour historic tour of Tennessee, from Nashville
Visit the Queen of the Tennessee Plantations, Belle Meade Plantation
See the stately manor of Andrew Jackson - The Hermitage
Stop for lunch at historic Hermitage Smorgasbord (own expense)
Enjoy wine tasting at Belle Meade
Recent Photos of This Tour
What You Can Expect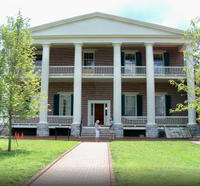 This historic Tennessee tour begins with a downtown Nashville hotel pickup, followed by a 30-minute drive east to the Hermitage, Andrew Jackson's historical plantation home. Explore the mansion, just like President Jackson and his staff did back in 1836. Then visit the museum and its exhibits as well as the garden and grounds, featuring farm buildings, slave sites, a tulip grove, a church and more.
For lunch (own expense), try the onsite Hermitage House Smorgasbord, serving a buffet of Southern staples, including fried chicken and fritters, or the Kitchen Cabinet, with delicious southern-style picnic fare.
In the afternoon, take another 30-minute ride — this time back west towards Nashville — to the Belle Meade Plantation. Known as the Queen of the Tennessee Plantations, this historic mansion was a world-renowned thoroughbred horse farm and nursery in the 19th century. It's a classic example of southern Greek revival antebellum architecture. Tour the original stable, carriage house, dairy, slave cabins and more, then close with a relaxing wine tasting at the Winery at Belle Meade Plantation.
The tour ends with a downtown Nashville hotel drop-off.
June 2016
June 2016
The bus driver was very nice and kept everybody well informed. The bus was very and we had a very enjoyable trip. All the people at each mansion may feel we welcome. the lunch was out standing. I would recommend this tour anyone, young and old.
June 2016
This tour was amazing!! Our bus driver was very knowledgable about history of area and offered insight regarding historical buildings as we drove as well as the history of Andrew Jaxkson an Belle Meade.
June 2016
Guide Steve was awesome...so knowledgeable. Great fun!
June 2016
The Belle Meade Plantation Tour was OUTSTANDING!!! What a house, with ALL the original furnishings.
Rob was an excellent guide... his information and presentation was one of the best I have ever experienced in my travels.
June 2016
As a person who enjoys historical tours and sight seeing I may be a little biased. Viator picked us up at our hotel and brought us out to the first stop which was Andrew Jackson's Hermitage. The tour was self-guided and we started by walking down the hall reading the timeline of significant achievements Jackson has made over his years. We then stepped outside and following the walkway around the property. We lined up for a tour of his mansion which was kept in pristine shape. We also toured his garden which many people were buried including Jackson. From slave cabins to the smokehouse everything was informative and eyeopening. The tour bus stopped for lunch at a plaza with a couple different places to eat additional cost, and then we took off to the next location, Belle Meade. This plantation was also a great tour. The guide gives an informative lesson on horse racing as the plantation owner was a huge fan of racing horses. There was a complimentary wine tasting at the end with about 4 small glasses of wine 3 second pours. Overall, I'd highly recommend this tour if you are narrowed down to choosing one.
June 2016
nice ralaxing tour with much historic information
June 2016
Steve the bus driver was very informative. The docents at the mantions were knowledgeable.
I recommend the fried chicken at Hermitage Smorgasbord.
May 2016
We enjoyed this tour during our recent Nashville trip. Our tour guide, Steve, was very informative, very nice, and a good driver. Both homes were very interesting to see and had nice grounds to walk around. Also, the wine tasting at Belle Meade was fun. We did not have a car while in Nashville and found this tour to be a very efficient and reasonably priced way to see things outside of the downtown area.
April 2016
Your guide was knowledgeable, courteous and prompt. I'd recommend it to anyone.
Advertisement
Advertisement