Relish the festive holiday ambiance of Nashville on this holiday lights tour! Admire the twinkling Christmas lights and decorations as you tour the neighboring cities of Franklin and Brentwood with your guide. You'll cruise through extravagantly decorated neighborhoods, pass dazzling homes, and stop at the lavishly decorated Lotz House for a walking tour. Hot cider and cookies are included! This family-friendly holiday outing is a great way to escape the cold while admiring the holiday displays.
Highlights
Holiday lights coach tour of Nashville

Admire twinkling Christmas lights and festive decorations of Franklin and Brentwood

Explore historic Franklin and take a walking tour of the Lotz House
Enjoy hot cider and cookies at the Lotz House

This is a great holiday outing for the whole family!

Recent Photos of This Tour
Nashville Holiday Lights Tour Including Lotz House
What You Can Expect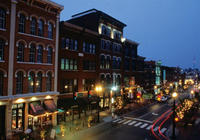 Get picked up from select Nashville hotels where you'll meet your friendly, knowledgeable guide and hop on your coach to begin your holiday lights tour of Nashville's surrounding areas.

Sit back, relax, and enjoy holiday music on board as you explore Nashville's neighborhood cities of Franklin and Brentwood, both extravagantly decorated with Christmas lights.

In Franklin, a historic city a bit south of the Tennessee capital, hop off the coach and take a walking tour of the Lotz House, a historic Civil War museum full of exquisite Victorian furniture and collections.

Admire the beautiful Christmas lights and decorations, which reflect a typical Antebellum Christmas atmosphere, and enjoy hot cider and cookies. After your tour, you'll be taken back to the original departure point in Nashville.
January 2015
Enjoyable tour. Beware, driver was extremely late picking us up.
January 2014
January 2014
Very enjoyable evening. Great to sit back and be driven around to see all the homes decorated for Christmas. We had time to view Lotz house at our leisure. Well worth it.
January 2014
We really enjoyed the tour. Our only complaint was not with the tour itself but with the pick up process. We were told to be in the lobby to wait for pick up at 6:00 pm but we were not picked up until 6:45 pm. We realize it is hard to estimate how many people will participate and where the pick up locations will be but a company who is aggressive with trying to improve business and earn repeat business will find other options. Perhaps a van to pick up participants from hotels that are further away cold meet the minibus. At least we were not driving around for an hour before and after the tour picking up others. That would have been even worse.
January 2015
The lights were nice, however the advertisement said 2.5 hours and the tour ended up lasting 4.
January 2013
Not so much. Enjoyed the company on the bus and visiting the Lotz home but, most of the lights were not as awesome as they are at home.
January 2014
This was an absolutely dreadful tour. The driver nattered on about how big and expensive the houses were and how much money people made. He tried to be "cute" by talking about the "little" houses (which were mansions) before we got to the estates. He should have been quiet and played the holiday music. Then he decided to add drop off stops - presumably thinking that the man he'd been nattering with would tip him more. It was long and painful with minimal interesting lights.
January 2014
My trip was booked for 12/23 and got rescheduled for 12/26. I think because it was after Christmas, there were a lot of homes that no longer had their Christmas lights on. We were very disappointed with the lack of lights we were seeing. Then the windows on the van fogged up and we really couldn't see much at all. There was an annoying couple who talked the entire time, loudly, until the driver finally put the Christmas music on (which was as we left the Lotz house and headed to the final destination,) The last stop was nice as they had many lights, and we were allowed to get off the bus to look at them, which was better than trying to see through fogged windows. Wasn't worth $72 and we won't go again and we definitely won't recommend it to anyone.
December 2013
There were very few houses with lights and they were few and far between. The bus ride to get to the lights was very rough and uncomfortable. We saw maybe 2 houses in each of the 4 subdivisions we went into, that was worthy of being festive. Sorry but over half the bus thought this was a total flop.
Advertisement
Advertisement