Explore the reefs, walls and wrecks of New Providence Island on a 2-tank, half-day scuba dive trip from Nassau, and discover the Bahamas' unspoiled wildlife and remarkable scenery. Discover two perfect dive sites: swim along cliffs that drop into the Tongue of the Ocean trench, visit the ruined hulks of sunken ships, or see a thriving reef. Spot the blue chromis and yellowtail snapper that live in the water near New Providence Island and float above brilliant coral formations as you experience Bahamian diving at its best.
Highlights
2 tank dive off the coast of Nassau
Explore tropical reefs, steep walls and old shipwrecks
Visit the James Bond wreck or the Cessna used in Jaws
Complimentary pickup and drop off from most Nassau hotels
What You Can Expect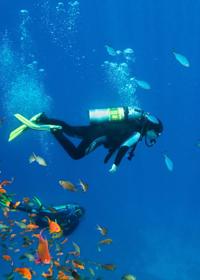 Diving in the Bahamas is a must for any keen diver. With this two tank dive package, you'll depart Nassau and be taken to some of the most famous and renowned reefs known to the diving world! The walls here start at 40 to 60 feet (12 - 18 meters) below the surface and drop 6,000 feet (1,800 meters) into the Tongue of the Ocean. Each site along the wall is different and unique in its own way and is perfect for both new and advanced divers. The wrecks average about 60 feet (18 meters) in depth with some being shallower and others deeper.

You may explore a 100 foot (30 meter) freighter, the famous James Bond wreck or the Cessna used in the filming of Jaws! There are also many beautiful shallow reefs starting at 20 feet (6 meters) with each offering different coral formations and fish life.

Your two dives will be a combination of a wall and wreck, wall and reef or wreck and reef. The exact sites selected will be based on weather conditions that day.

Participant Requirements:
At least 10 years of age.
Certified as a diver or junior diver (must bring certification card at time of check-in).
Good physical health.
Divers who have not logged a dive within the last 3 years will be required to complete a refresher program prior to joining any scheduled dives.
July 2011
Great crew, boat fuller than I.
'd like.
David A USA
July 2010
I arrived as the dive boat was leaving the dock due to a mix up between my wife and diving personnel. They went out of their way to shuttle me out to the dive boat at the first dive site on another boat. The dive guide was attentive to all the divers and paid attention to each diver's experience and abilities. The more experienced divers were allowed to dive to their own judgment of their abilities, while the less experienced divers were given that little bit of special attention.
March 2016
One: There is nothing to see except wrecks. Two: My dive buddies were poor to work with. Three: I became nauseated on both dives apparently because my new 5-mil wetsuit slowed down circulation to the head so that I became sick both times. I paid for three dives but got only two.
Advertisement
Advertisement