See the coral reefs of the Caribbean Sea come alive on this 3-hour SNUBA excursion. SNUBA allows you to dive deeper and get closer than snorkeling, with an air supply coming from a raft that floats nearby on the surface. This technique allows you to descend up to 15 feet (4.5 meters) without all the bulky equipment required for scuba. No certification is required and you will be accompanied by a professional guide.
Highlights
3-hour SNUBA adventure tour in Nassau
Enjoy a boat ride from Stuart Cove to a spectacular spot in the Caribbean Sea
Discover beautiful marine life in the Bahamas with a certified SNUBA guide
Breathe easily underwater with this cross between snorkeling and scuba
Choose a morning or afternoon departure time
Orientation, equipment, bottled water and round-trip hotel transport included
What You Can Expect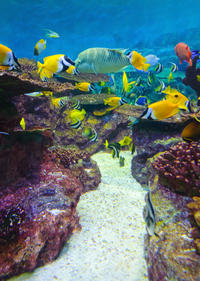 On this 3-hour SNUBA tour, you'll experience the diverse eco-system of the tropical waters of the Bahamas up-close, with no certifications required. This technique is one of the most hassle-free ways to explore below the surface of the sea – all you need is basic swimming skills.

After being picked up from your hotel, you will participate in a 15-minute instruction and safety lesson before boarding the boat. Cruise over the crystal-clear waters to your SNUBA site, then gear-up and jump in! Wetsuits are available to rent for $10.

You will enter the water in groups of four to six people for 30 minutes, accompanied by a professional SNUBA guide. You can dive to your level of comfort, with a maximum depth of 15 feet (4.5 meters). Once below the surface, you'll experience the Caribbean Sea come to life, with vividly colored corals and tropical fish swimming among the turquoise waters. You will be breathing safely through a regulator, attached by a hose to a raft above the surface.

After your dive, you will be head back to the harbor and be transferred back to your hotel.

November 2015
This was a great trip. I highly recommend trying snuba. The close up views of the fish and other sea life was so awesome. The staff was very helpful. You really are feet away from sharks.
Loved it!
October 2015
The SNUBA itself was great. We booked through Viator who is just the middle man for the actual operator. This exact same trip is available as an excursion through Carnival but it was booked full when I went to pick excursions. We actually ended up on the same bus and boat as the people who booked through Carnival. The only advantage Carnival people had was someone took them directly from the ship to the bus. My husband and I had to wander around Nassau for about 20 minutes to figure out where to catch the bus. Carnival acted like it was big secret since we didn't book through them.
The people from the local tour company are fantastic. Patient, knowledgeable, and pleasant. SNUBA is actually a lot harder then it looks. It takes some time to acclimate to the regulator and equalize the pressure in your ears. You have to descend really slowly. The guides are great though and are with you, helping you the whole time. The only negative was the first regulator they gave me had a leak so it ate into my time having to swim back to the boat to get a replacement one.
Otherwise, fantastic experience that I will do again.
April 2015
This tour was amazing!!!! Jody was so patient in explaining how to snuba. Add to your must do list!!!
June 2015
the company that was to do our snuba adventure was called prior to our visit and I was told the morning pick-up time was mot as advertised at 9:30 am but at 8:48 am so I did set it up for the afternoon doing just like I was directed. On the day we arrived I did flag down the transport to company and they had no clue they were to pick us up, they called to the office and the office said they were sorry that they did not tell the driver to get us, we than spent an hour doing nothing at the office waiting. I tried to explain that we had to be back at 4:30 pm to board the ship and i got the ok ok but still did not get going, after the wait we got to see the safety video and we loaded up we than waited for another hour to get going because the owner wanted to get a full crew of snorkelers so at this point it is after 2:00 pm and we have not even left shore. When we got to the place they put all 24 of the snorkel folks into the water than the started to place the snuba folks into the water as i was walking to the rear of the boat i slipped and hurt myself I did not say anything to them but I did crack a rib. When I did get into the water the regulator was not working correctly because I got a mouth full of water and I had an I panicked so they put me back on the boat so I got nothing but the boat ride for my money and my friend got to dive for 10 min's and they then gathered everyone up and went to the second spot and put everyone in and my friend got less than 10 min's to snorkel and I got none, they put us on a different boat and took us back to the office arriving at 3:30 pm we were told they would get a taxi to go back to the ship at 40.00 per person. But we got a brother of one of the employees that took us back, after a tour of the getto and over an hour of driving he dropped us off 3 miles from the cruise ship, so with it being after 4:30 pm and 3 miles from the cruise ship we started running and when we did arrive the ship had already pulled the gang plank up and
Advertisement
Advertisement