Explore Nassau's underwater world in a SUB, or Scenic Underwater Bubble during this 5-hour activity. Allowing you to cruise among the coral gardens and schools of tropical fish without even getting your hair wet, this activity is suitable for swimmers and non-swimmers. Round-trip transportation from Nassau hotels is included in this activity.
Highlights
Underwater cruise in an SUB submarine
Self-propelled Scenic Underwater Bubble
Orientation briefing and guided SUB cruise
Fish feeding and viewing
Option to purchase custom video
Pick-up and drop-off from Nassau hotels
Recent Photos of This Tour
Nassau SUB Bahamas Adventure
What You Can Expect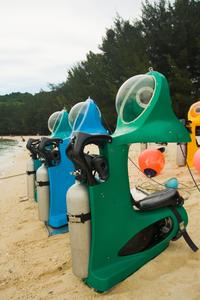 After pickup from your hotel, meet your expert guide for an orientation to your SUB ― a personal self-propelled submarine. Learn basic maneuvers that allow you to pilot the SUB on your own, simple operating instructions and communication gestures.
Climb into your vessel and cruise to one of Nassau's nearby reefs. The SUB will propel you to a depth of 15 feet (4.5 meters,) a great vantage point for checking out the reef and the schools of colorful tropical fish. Motoring along at a quick 2 knots, the guides will accompany you to ensure your safety and point out the highlights of the reef's sights. They'll also feed the fish so you can get up close and personal with them.
At the conclusion of your 5-hour undersea adventure, custom underwater photos and videos will be available for purchase. Your tour ends with drop-off back at your Nassau hotel.
Participant requirements:
Must be at least 12 years of age.
Must have good physical health.
Must be at least five feet tall.
Cannot be pregnant or have asthma, epilepsy, diabetes, a personal history of heart attacks, heart problems or strokes, recently diagnosed high blood pressure, be taking antidepressant medications or other potential contraindicated medications, or have problems equalizing your ears on an airplane or in the mountains. All participants will be required to complete a medical history form to determine eligibility.
April 2015
February 2015
December 2014
This tour was pretty amazing except it took a while since one of the subs fell into the water and we had to get it. Also, the time each group got under water wasn't consistent. Other than that, beautiful experience.

June 2014
Would do this again if ever available on any trip. We were very glad we took the time to go on this excursion.
December 2013
The sub scooter adventure tour was so fun, and the crew was really helpful with assuring me and my girlfriend were safe and guided our group through the many coral and pointed out two 5ft long blacktip reef sharks. I would recommend this for anybody who likes activities in the water.
December 2013
excellent would do it again
August 2013
Great trip! Great staff and an amazing view. I highly recommend this excursion.
June 2013
My Mom doesn't know how to swim, I was surprised that she had such a great time. The crew took very good care of her. The photographer was also excellent..It was beautiful underwater, we saw so many beautiful fishes, sea turtles, I would like to do it again. LOVE THE WHOLE CREW!!!!!!!
June 2013
This was so much fun! The guides did a great job keeping everyone in line but also allowed us to explore a bit as well. When not in the SUB we were able to snorkel while the other half were taking their turn in the SUBs.
March 2013
It was a great company to work with. The crew was very helpful and informative. The Mini Sub adventure itself was super neat. The only thing we would change is the info the Viator site has hotel pick-up times listed, and tells cruise ship patrons to meet at a certain location to be picked up. Be 10 minutes early. And you depart at 9:30. In reality, your pick-up time IS "Downtown Hotels" pick-up time. 9:30 is when the boat leaves the dock at Stuarts Cove. Thankfully, Stuarts Cove was very helpful and worked with us to get on an outing later in the day.
Advertisement
Advertisement