The Nassau Shark Adventure is a 2-tank dive program which introduces thrill seeking divers to wild sharks and provides you a close up look at these magnificent and misunderstood creatures in the stunning waters of the Bahamas!
Highlights
Shark adventure off the coast of Nassau
Swim with reef sharks before watching the feeding display
Choice of dive site
Complimentary pickup and drop off from most Nassau hotels
What You Can Expect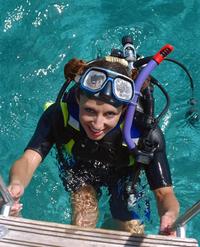 There are currently four sites where you can dive with the sharks. You'll dive either the combination of 'Shark Wall' and 'The Arena' or the combination of 'Shark Wall North' and 'The Runway'. At either location, you'll encounter a gathering of Caribbean Reef Sharks on a consistent basis.

Your first dive is a 'Free Swim' with the sharks on a magnificent wall. The sharks will follow you throughout the dive because you'll be close to the feeding site and they know that dinner time is soon. However, no bait is exposed on this dive. This keeps the sharks curious and creates a very natural encounter for divers - just as you would encounter a shark in the wild.

Your second dive is a shark-feeding dive. Unlike ordinary dives, you'll spend this dive kneeling on the ocean floor. Divers form a semi-circle in front of the professional shark feeder who'll place a bait box on the bottom. Your feeder utilizes the bait box and a pole spear to control the release of food that influences the shark's behavior. Watch exactly how the shark feeder keeps the sharks in a 'polite' feeding posture. The sharks will come very close but they are more interested in the bait than you!

Participant Requirements:
Must be at least 10 years of age
Must be a certified diver (must bring certification card at time of check-in)
Must have good physical health
Divers who have not logged a dive within the last 3 years will be required to complete a refresher program prior to joining any scheduled dives. Each participant is required to wear a full wetsuit or skin (long sleeves and long legs)
December 2014
It's a must do for divers, and if you're not a diver, become one so you can do this.
October 2014
extremely professional and fun excursion. They helped set up equipment and thoroughly explain everything before starting.
the sharks literally brush by you while he is feeding them. This was a once in a lifetime adventure that I will NEVER forget. Best money I've ever spent!
Advertisement
Advertisement