Take a scuba diving course in the warm, clear waters off of Nassau. On this 3-hour course, build your skills and and take your first open water dive with an expert scuba instructor by your side. View the coral reef and schools of colorful tropical fish from up close. Round-trip transportation from most Nassau hotels is included.
Highlights
Diving course off the coast of Nassau
Dive in beautiful waters and swim alongside colorful fish and reefs
Dive in both a swimming pool and open water
Complimentary pickup and drop off from most Nassau hotels
What You Can Expect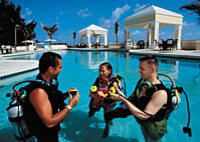 After pickup at your hotel in Nassau, arrive at the course location to meet your expert scuba instructor. While on dry land, listen to a brief lecture on the basics of scuba before getting in the water. Head to the nearby pool or beach for your first experience breathing underwater. Learn basic diving skills and communication signals in the safety of water up to your chest.
Board a boat for your first open water trip. Cruise out to a shallow reef and dive in, accompanied by your expert instructor. With your safety and comfort as a first priority, your instructor will give you a tour of the surrounding reef and introduce you to the feeling of being able to breathe and maneuver underwater.
Participant Requirements:
Must be at least 12 years of age (all children must be accompanied by an adult parent or guardian).
Young children must be of adequate size to fit into the equipment and capable of carrying a 40 pound tank on their back.
Children under the age of 18 must participate with a parent or guardian.
Must have good physical health.
All participants will be required to complete a medical history form to determine eligibility. Cannot be pregnant, no asthma, no epilepsy, no diabetes, no personal history of heart attacks or heart problems, strokes, no recently diagnosed High Blood pressure, no antidepressant medications or other potential contraindicated medications, no problems equalizing your ears on an airplane or in the mountains.
June 2015
I completely enjoyed my dive trip through viator. The initial site was easy to sign up for the trip and pickup at the resort was right on time. The staff/instructors at Stuart's Cove were very friendly and professional and I had a great time. Great job!!!
Matthew R USA
June 2010
The only draw back was the shuttle to the dive shop. Everything else was great. Gary my instructor was very professional and fun. The equipment and instruction was superb. I can't wait to return and dive there again.
Wioletta B USA
June 2010
After surfacing every 2 minutes in the practice pool, I was concerned about not being able to dive in the ocean. The instructors repeated instructions and were very patient with beginners like myself. Scuba diving was the BEST part of my trip to Nassau. In our small group, we explored corals and tropical fish. The instructors looked out for us and made the experience fun and easy. We did not find a better deal on the island. They picked us up and dropped us up for free other tours on the island charge. Would love to scuba dive with them again!
Jana A USA
November 2008
Staff was friendly and fun and very helpful.
Toni L USA
November 2008
I am a certified diver but had never done an ocean dive. I requested the Resort Course. Once arrived the dive guides told me I was too qualified and took me on the two tank dive. It was incredible. They were very helpful and understanding making it so enjoyable. Thanks to all, I will never forget it.
Advertisement
Advertisement