Swim, dance and play with dolphins during this special experience at Dolphin Cove Negril. Learn about dolphins' biology and behavior from an animal trainer, then participate in a Dolphin Swim or a Dolphin Encounter, each of which offer the opportunity to interact with these intelligent, friendly marine mammals.
Highlights
Dolphin Encounter or Dolphin Swim in Negril

Swim, dance and play with dolphins at Dolphin Cove, one of the largest natural dolphin lagoons in the world!

Learn all about dolphins from a local trainer

See a variety of other animals including stingrays and exotic birds

Perfect for the whole family!

Recent Photos of This Tour
Dolphin Cove Experience in Negril
What You Can Expect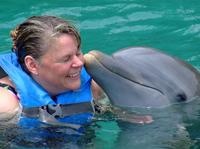 Make your way to Dolphin Cove Negril, a 23-acre (9.3-hectare) marine park and one of the largest dolphin lagoons in the world.

Meet the dolphin trainers and listen as they give you a safety briefing about how best to interact with these intelligent, friendly creatures. Learn about their biology and their behavior, both in the wild and in captivity. Then slip on your lifejacket and wade in to the water.

Dolphin Encounter: Get a handshake and a kiss on the cheek after entering the knee-high water.

Dolphin Swim: Swim with one of the dolphins during this intimate 30-minute interactive session. Enjoy a foot-push ride and a dorsal tow, both opportunities to be up close and personal with these fantastic creatures. Watch the dolphin speed and spiral around the lagoon in a demonstration of its agility and power. The facility's photographers will be on hand to capture images of your experience.

After your dolphin interactions are over, enjoy the day at Dolphin Cove, including opportunities to learn about the marine life of Jamaica and admission to the 'Shark Show,' where skilled trainers interact with the park's different species of sharks.

February 2016
This is an exceptional facility. It's new and welcoming upon arrival. Check in was quick. The grounds are well-groomed and the facility is clean. All of the employees are helpful and glad to assist. The dolphins are beautiful and not threatening in any way. The trainers are knowledgeable and make you feel very comfortable.
The time with the dolphins was great! Don't complain about not taking your camera into the lagoon area. The professional photographers take excellent photographs which could not be taken by you during the experience. I recommend this highly for every age!

February 2016
The kids had a fantastic time.best trip ever
January 2016
Unforgettable experience! Love it!
Expensive too!
Finding our own transportation wasn't hard but added up 40 to the cost. We weren't allowed to take our GoPro or camera with us. We had a photographer who took pictures and then they sold them for 37/1 pic or 89/CD/2 people. So, if you are planning this trip, add at least 130-150 to the initial cost.
October 2015
It was a great time swimming with the dolphins the wife loved it .
September 2015
We had a wonderful time, everyone should do this tour

puga725 United States of ...
May 2015
Dolphin Cove staff were very professional and nice. It was my wife's first time swimming with dolphins and she loved it. Only the experience of 30 minutes is too short, all dolphin places should really think about adding an extra 30 minutes of free play or other activities between the dolphin and patrons. We do pay a good amount of money and only get 30 minutes. Something to truly think about and make the experience better.
December 2014
August 2013
We were only able to afford to buy this tour for the whole family because of Viator's fantastic half price offer that was available for August - otherwise it would have been overpriced. Nevertheless, it was an awesome experience that none of us will ever forget. I was pleasantly surprised by the surroundings when we arrived - such a beautiful, calm little cove surrounded by lush gardens. We began with a fun little encounter with the rays, then our adventure with the dolphins began. I was really nervous about the foot push, thinking I would never be able to stay upright, but we had a good briefing, were equipped with safety jackets and the dolphins are so strong they really keep you up in place! The dorsal fin ride was fun too, and we also got to stroke the dolphins and get a kiss from them. We didn't stay for the other encounters (shark and camel). As other reviewers have mentioned, no cameras are allowed during the dolphin experience and the DVD is very expensive, but there are several packages on offer and the set up is very professional. They allow you to look through the pictures on individual computers before buying. We have some great pictures that I will treasure forever.
October 2012
February 2016
I had this fantasy that I would be swimming with the dolphins but it is more an experience of interacting with them. The dolphin does personalized tricks for you and it is adorable. Being so close to dolphins at some point it was right next to my legs, mouth open, kind of like a pet : is worth the visit. The swim experience was too expansive for my budget. There is not much else to do on the site, there was only one ray, but it was nice to touch it.
Advertisement
Advertisement