Witness the beauty of the Taj Mahal at night during this 2-day private tour of Agra from Delhi. Get an up close look at some of the country's must-see attractions on guided visits to Agra's most-iconic structures like UNESCO World Heritage-listed-sites like Agra Fort
and Fatehpur Sikri. In addition to checking many of the city's sites off your list, experience the once-in-a-lifetime thrill of seeing the Taj Mahal illuminated by the light of a full moon. Your knowledgeable local guide is a wealth of information about India's history of sites, insuring you get the most out of your visit to the city of Agra.
Highlights
2-day private tour of Agra's Mughal-era monuments including moonlight viewing of the Taj Mahal
Explore Itmad-Ud-Daulah, the tomb of a Persian nobleman, also referred to as 'Baby Taj.'

Visit two of Agra's UNESCO World Heritage-listed fortress complexes: Agra Fort and Fatehpur Sikri
See the Taj Mahal under a full moon – an exclusive experience only possible four days a month!
Expert private guide ensures an enlightening and educational experience
Overnight accommodation at a 3-star hotel
Airport/hotel pickup and drop-off, private transportation to and from site locations and some meals are included
Recent Photos of This Tour
2-Day Private Tour of Agra from Delhi including Taj Mahal at Full Moon
What You Can Expect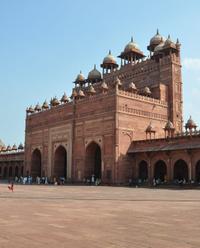 Day 1: Delhi—Agra (L, D)
Enjoy private pickup from your Delhi hotel by a friendly local guide and relax in air-conditioned comfort on the four-hour drive to Sikandra, where you will make your first stop on this multi-day tour from New Delhi. Visit the tomb of Akbar the Great—a famed Mughal emperor and get an up close look at the geometric floral designs that decorate the 5-story tomb and the impressive red sandstone gateway. Marvel in the detail of this historic space as you listen to stories from your guide about this fallen emperor.
Afterwards, join your guide for an informative walk through Agra Fort, where you'll learn about the Pearl Mosque and glass palace of Shish Mahal. Explore the grounds and learn about this iconic structure before enjoying a traditional India lunch at a local restaurant. After your meal, head to Meena Bazaar, where you can comb through rows of local artisans selling marble figurines, precious gems and other rare goods. Take a break back at the hotel, where you'll relax over a savory dinner.
Once the sun sets you will make your way to one of India's most iconic structures and a true highlight of this 2-day private tour of Agra for what can only be described as an experience of a lifetime. Follow your guide to the Taj Mahal, where you will be met with stunning views of this white-marble monument built to honor a fallen wife. Marvel at the shifts of color as the structure changes under the glow of the moon. Because full moons occur only once each month—with a handful of days before and after offering equally bright light—the Taj Mahal at night is an incredible experience not to be missed.
Overnight: 3-star hotel in Agra
Day 2: Agra—Delhi (B)
Enjoy breakfast in your hotel on your second day and then head to the Taj Mahal, where you will witness the mausoleum in all its glory during a guided tour inside and around the grounds. The white-domed monument was constructed by Shah Jahan, a Mughal Emperor, for his third wife. Learn the story of their love and admire the ornate interior designs before driving to Fatehpur Sikri (the City of Victory). Your guide will describe the unique combination of Muslim and Hindu architecture found in the royal residencies, mosques and meeting halls here.
Stop for lunch (own expense) on the way back to Delhi.
Please note: Thursday travelers will do both day and evening visits to the Taj Mahal on day one. All other planned visits will take place the following day (Agra Fort, Fatehpur Sikri and Akbar the Great).
December 2014
Seeing the Taj Mahal is a must for anyone visiting India and this tour lets you see it twice! Our guide was fantastic... we got tons of excellent photos of the Taj, and our guide was very happy to tell us which spots were best, and took photos of the both of us together. She was also very knowledgeable and patient as she was explaining about the Taj and the Agra Fort.
We caved and opted for the "professional" photographer at the Taj. Although most people would probably advise against it, we found it worth the price (100 rupees per pic that you decide to print) as the guide could speak Hindi and was yelling at people in the crowd to move away so that we could get a clear picture with no people in the background! Would have been impossible to do on our own...
This tour is highly recommended, and hopefully you get the same guide we did...a female (I want to say her name is Jaya, but can't remember for sure). Our driver was also excellent and brought me fresh jalebis on the 2nd morning as I had told our guide the previous evening that I wanted to find a place to buy some :)
January 2014
The driver and the tour guide were excellent.
December 2014
While my initial impression of Gets was a rocky one due to the incredibly slow communication during the planning phase of our tour, once I was actually in India, things picked up very quickly. I enjoyed seeing the Taj and the Fatehpur I also have to give Gets some major bonus points for how flexible and willing to please the customer they were. You want a massage in Agra? you got it. You want a private yoga lesson? You got that too. Thank you Tikendra, sir!
My actual guides of the landmarks ranged anywhere from a 4/5 to a 5/5 on the enthusiasm for their craft. I think everyone did a good job overall.
P.S. The full Moon view of the Taj, at least the one I saw was so-so. I wouldn't go out of my way to see it again.
Advertisement
Advertisement