Tour code:
5832DELAGRA2DPVT
Behold the Taj Mahal and three other architectural wonders on this 2-day private Agra tour from Delhi, with accommodation included. Head for bustling Agra to visit Agra Fort and the UNESCO-protected Taj Mahal: the magnificent mausoleum commissioned by Emperor Shah Jahan in 1632 for his wife. Visit another Mughal masterpiece, Akbar's Tomb, and finish with a tour of Fatehpur Sikri, the abandoned 16th-century Mughal capital, and its mosque, Jama Masjid. Overnight accommodation, some meals, and round-trip private transport are included, making this one of the best-value Agra tours available.
Highlights
2-day private tour of Agra from Delhi
Admire unique Mughal architectural with visits to three UNESCO World Heritage-listed complexes: Agra Fort, Fatehpur Sikri and the Taj Mahal
Learn about the Mughal Empire by visiting Akbar's Tomb, the mausoleum of the empire's third emperor, Akbar the Great
Peruse interesting Indian crafts while shopping in Meena Bazaar (own expense)
Your private guide will ensure an enlightening and enjoyable experience
Overnight accommodation, airport/hotel pickup and drop-off and private transportation to and from site locations in an air-conditioned vehicle are included
Why Our Insiders Chose This Tour
Your guide is committed to minimizing our carbon footprint. For every tour, they pay a fee out of pocket to offset the carbon emissions created by the transportation used on this tour. Those funds go to organizations working toward a greener future.
Recent Photos of This Tour
2-Day Private Tour of Agra including Taj Mahal, Fatehpur Sikri and Agra Fort from Delhi
What You Can Expect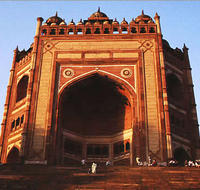 Experience the cream of India's artistic and cultural heritage on this 2-day tour to some of the country's greatest historical and architectural gems. Leave the city sights and bustle of Delhi behind and head straight to Agra — home to the world's greatest monument to love, the 17th-century marble mausoleum that is the Taj Mahal.
Witness this stupendous building and while you're in Agra, pay a visit another UNESCO-listed treasure, Agra Fort. Then, after an overnight stay in the city, visit Fatehpur Sikri, the abandoned 16th-century capital city of the Mughal Empire, before driving back to Delhi where your tour ends.
Your private trip includes guided tours of the Taj Mahal, Agra Fort, Akbar's Tomb and Fatehpur Sikri; overnight accommodation at your choice of a 5-star plus, 5-, 4- or 3-star hotel in Agra; transport in a private air-conditioned minivan, SUV or car (depending on your group size); and select meals.
Itinerary
Day 1: Delhi – Agra (L, D)On this 2-day tour, experience India's cultural and artistic heritage on visits to several of the country's significant architectural sites. Early-morning private pickup in Delhi will take you approximately four hours to the city of Agra by the banks of the Yamuna River. Stop at Sikandra and take guided tour of Akbar's Tomb, a mausoleum built for the third emperor of the Mughal Empire, Akbar the Great. Marvel at the structure's perfect blend of Hindu, Christian, Islamic, Buddhist and Jain designs and motifs.
Head to the hotel for check-in before visiting Agra Fort, a 16th-century red-sandstone fortress. Explore this UNESCO World Heritage Site with your guide to see its remarkable palaces, embellished chambers and marvelous mosques, like the Pearl Mosque.
Enjoy traditional Indian cuisine at lunch in a popular restaurant chosen by your guide before driving 10 minutes to reach the Taj Mahal, one of India's most-renowned monuments. On a guided tour, discover why archaeologists all over the world consider this one of the finest examples of Mughal architecture. Spend the rest of your afternoon in Meena Bazaar, a large shopping paradise where you will find vendors selling quality craft items, jewelry, marble figurines and more (purchases are at customer's own expense). End the night with a relaxing dinner at your hotel.
Overnight: 3-, 4-, or 5-star hotel in Agra

Day 2: Agra – Delhi (B)After breakfast on your second day, visit Fatehpur Sikri (the City of Victory), which was the capital of the Mughal Empire for about 10 years. Walk around inside the inner citadel of the city with your guide and see some of its finest monuments including Panch Mahal, Buland Darwaza and Jama Masjid -- one of India's largest mosques.
On the way back to Delhi, you may stop for lunch at a popular restaurant at your guide's suggestion (own expense)
November 2015
The sites were naturally incredible, especially Fatepuhr Sikri, but the guides really set this tour apart. The driver was exceptionally friendly, kind, and welcoming. He provided a bit of cultural insights while maintaining periods of good conversation. The guides for all three sites were exceptional. They had a wealth of knowledge, history, and insights to offer. They ensured that I was well taken care of, had my curiosity satisfied, and left quite pleased. Overall, I'd definitely recommend this trip.
January 2014
We were a group of 4 germans. I was very surprised regarding to the perfect organization and communication to Aviator. Driver and guide were punctually and also perfect organized and very experienced. The 3star hotel on the trip was new, clean and good. I can recommend thist trip to erverybody and exspecially to visitors from Europe or USA.
February 2013
This was an amazing tour! We were meet at the airport even after a 3 hour delay, then escorted to our driver. we drove the Agra with a very nice driver who even stopped for us to take pictures of things along the way. we were meet at the hotel in Agra by another representative to ensure we got checked in ok. then we were off on a day full of tours with a very nice and knowledgeable tour guide. We had our meals taken care of and the hotel was really nice! The next day we enjoyed another tour before returning back to Delhi. I am currently on another tour in India with a different company and it is not going good at all. I think that Viator really knows how to find good local tour services. I would 100% recomend this tour to others.
January 2013
- Wonderful sights & enough time for floating around and taking photos - Very nice guide, good historical knowledge about sights, - Very good to understand
October 2015
Great driver and good information en route. Hotel and food excellent.
September 2014
Tour met expectations for the most part and is worth doing - with some caveats and room for improvement - we were picked up at Marriott Aerocity Delhi, driven to Agra, and saw TaJ Mahal and Agra Fort that afternoon, Fatehpur Sikri the next morning. A couple issues (minor) - driver was late for pickup; local tour concessionaire in Agra was ill-informed (he did not "know" we were completely prepaid and asked how we would pay for the hotel and the admission fees to each place); the Radisson in Agra was not up to the "5-star" rating they self proclaimed (food there was marginal at best). But perhaps worst was the "obligatory" stop at the "Marble Factory" in Agra for a "demonstration" of the local marble handicraft, and then excess pressure to buy some marble at prices that were exhorbitant even after negotiations . That side-trip should be completely optional and when told No Thank You the tour shouldn't stop there. The car ride to and from Agra is very very long, and the return through Delhi traffic can seem interminable - but it beats fighting the crowds on the trains and was perfectly safe.
April 2013
Thanks for arranging the two day Agra tour. Everything went quite smoothly, though I did not expect such a long journey to and from Delhi. The driver however was always prompt or early and pleasant, treating me with great courtesy and very concerned for my comfort. He was friendly and despite limited English, he communicated very well. The guide was OK, but seemed to be a little low energy and repeating a script, rather than leading a tour. He asked questions, but did not really listen to the answer. He did a nice job at the Agra Fort, explainng the history of this site. I really, really appreciated his assistance at the Taj Mahal, where we arrived around 4:30 pm and he whisked me past the hawkers and long lines and into all the important places at the site then he left me on my own for 30 minutes just as the sun was bathing the monument in sunset colors to just take it all in.We then went to the obligatory Marble factory visit. The next day's visit to Fatehpur Sikri was pretty cursory. Overall found him not good at relating to the customer. The three star hotel was OK and the meals also were just average.
December 2012
Excellent value and great tour guide. Very nice hotels.
January 2015
The tour guide in Agra primary interest was in getting me to purchase high-end products from the vendors she chose. Our visit to the Taj was very brief due to the way she scheduled the day. She was very insistent that I purchase more photos than I had agreed to and expected me to select my choose of photos in the dark.
October 2014
Overall the tour went very well. Lodging was very comfortable and restaurants selected at the Hotels in Agra were very nice and food was good. Tour guide for Fort Agra and Taj Mahal was exceptional. I was Very displeased with tour of Fatehpur city. Tour guide was rude and made me feel very uncomfortable with his anti-American attitude. Felt we were rushed through the tour with little explaination. Then taken to his "family's" store to purchase their items and we we didnt want to spend an additional $100 US on souvineers he stood up, ripped the curtain open and stomped out of the room saying nothiing to us. I would highly not recommend to anyone to visit this city.
Advertisement
Advertisement