21 Reviews
Location:

Delhi, India

Duration:

2 days, 1 night
Admire the beauty and extravagance of 18th-century architecture in India as you visit incredible palatial complexes, forts and temples on this 2-day private tour of Jaipur. Discover the opulence of India's earlier maharajas (princes) as you marvel at the extensive scope and elaborate designs of the palace of Hawa Mahal and City Palace. Learn about Hindu-Rajput and Islamic-Mughal styles of architecture on guided visits to the Amber Fort and the Jal Mahal and take an elephant ride! Overnight accommodation, private transportation and an English-speaking guide included.
Highlights
2-day tour of Jaipur's grand temples from Delhi with your own private guide
Explore India's world-renowned grand temples and palatial complexes
Be mesmerized by the marble exterior of the Lakshmi Narayan Temple illuminated at night
See the Jal Mahal reflected on Man Sagar Lake
Travel like a maharaja as you ride on the back of an elephant adorned with ornamental covers!
Tour the Amber Fort, a Rajput-style fortress on a hill overlooking Maota Lake
Learn about the fusion of Hindu-Rajput, Islamic-Mughal and European architecture of Hawa Mahal palace and the City Palace's Chandra Mahal and Mubarak Mahal
Hotel/airport pickup and drop-off and transportation to and from site locations included
Recent Photos of This Tour
2-Day Private Tour of Jaipur from Delhi: City Palace, Hawa Mahal, Amber Fort and Elephant Ride
What You Can Expect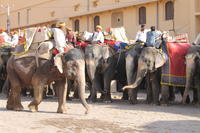 Make the most out of your visit to India on this 2-day private tour to see some of Jaipur's incredible historical structures.

Day 1: Delhi – Jaipur (L, D)
After pickup in Delhi by your guide, drive 4 hours (approx.) to Jaipur, the vibrant capital of Rajasthan, also known as India's 'Pink City' because of its buildings painted a terra-cotta pink color. First, see Jal Mahal, an architectural beauty located in the middle of Man Sagar Lake. Admire how the red-sandstone palace seems to be floating in the middle of the lake, a testimony to the ambitious nature of early Indian architecture.
Transfer back to the hotel and enjoy lunch here. Spend the rest of the afternoon either relaxing and taking advantage of the facilities in the hotel or see the interesting pink buildings of Jaipur on your own.
In the evening, meet your guide at your hotel at a predetermined time and drive to Birla Temple (Lakshmi Narayan Temple), a Hindu temple dedicated to the god Vishnu (Narayan) and the goddess of wealth, Lakshmi. Walk around the temple with your guide and admire the white marble exterior brightly illuminated against the night sky. Inside, see shrines of Hindu gods and goddesses and panels decorated with paintings of mythological events.
Return to your hotel to dine at its elegant restaurant and spend the night.
Overnight: 3- to 4-star hotel in Jaipur (see below for list of possible hotels)
Day 2: Jaipur – Delhi (B)
After breakfast, check out of the hotel and relax on the drive to the Amber Fort, a Rajput-style fortress situated atop a hill overlooking Maota Lake. Climb up the hill in a unique and exciting way – on top of an elephant outfitted with an ornamental covering and saddle!
The formidable palatial complex was built with red sandstone and marble and is divided into four main sections, which you will tour with your guide. You will find it hard to peel your eyes off of the ornate decorations consisting of mirror works, paintings, carvings and murals.
Then, drive to Hawa Mahal, a palace built in the form of the crown of the Hindu god Krishna. See the careful intermingling of Hindu-Rajput architecture on its domed canopies and Islamic-Mughal architecture on its arches featuring delicate metalwork patterns.
You will then be taken to the heart of Jaipur to visit City Palace, a palace complex with impressive gardens and historical buildings, including the Chandra Mahal and Mubarak Mahal. See the fusion of Rajput and Mughal architecture with European architecture. Visit the museum in Chandra Mahal with your guide to see its rich collection of royal costumes and Rajput weapons.
After, relax on your journey back to Delhi and arrive around nighttime.
May 2015
Highlight of our India Tour ! We absolutely ask that anyone visiting New Delhi and Agra Taj Mahal not overlook the amazing sights of Jaipur !!! You cant leave india without an elephant ride up to see the Amber Fort ! We decided on the 2 day option so we would not be rushed and this was a very good choice - Viator enlisted the services for our tour company and they were excellent ! We had Mr Sanjay as our guide and Nr Narender as our driver- they were with us every step of the way. We had our choice of hotels in Jaipur and we chose a Taj property the Taj Mahal Palace - wonderful palatial property. We had a detailed city tour and an in depth tour of the City Palace and Hawa Mahal. Mr Sanjay was extremely knowledgeable , affable and on top of that a great photographer ! he knew all the right angles and picture opportunities. Lunch and dinner were included and were at tripadvisor recommended restaurants which was perfect. The Amber Fort visit and elephant ride takes a whole half day to do it justice and our tour went at our own pace- There was plenty of opportunity to visit any arts and craft shops and the company was completely open to our decisions. We elected not to visit any shops as we had already done our shopping and this was respected by Mr Sanjay - he was open to any suggestions we had on what to see and kept reinforcing the company motto that he was there to make this a memorable visit for us. The drive to delhi takes at least 4-5 hours depending on the time of day but the car was very comfortable and air conditioned and Mr Narender stopped along the way as we needed for food and rest stops.
We did Agra in one day from Dehli but this trip to Jaipur definitely needs the 2 day option - I highly recommend the tour company and this Viator tour -
February 2015
Our tour guide Rinkoo was amazing. He was very enthusiastic and his tours and history lectures were very easy to understand. He is highly recommended and this tour was phenomenal!
December 2014
Wonderful and relaxing tour.Since we stayed overnight in Jaipur , it was easy going to complete the tour at ease.The City palace , Hawa Mahal in the lake , Hawa Mahal in the town were wonderful. The trip to Amber Fort was marvelous and new experiencing riding on the top of elephant.
February 2014
Reservations over the choice of hotel yet everything else was SUPERB The driver was very friendly and the tour guide (compared to others I have been with) was friendly too, knowledgeable, and very professional.
January 2014
July 2013
This was a fantastic tour! I am so glad I visited Jaipur!! The city and sites are not to be missed. The driver and guide were both great and very professional and punctual. They went out of their way to make sure I had a good experience. The tour operator was very responsive and handled my numerous inquiries. I really enjoyed the dinner that was included in the tour package. I was very satisfied overall and I would recommend your company to others!
June 2013
This was a really great way to see Jaipur! It's a long drive but well worth it. I stayed at the Peppermint hotel, really great, Sunjay my guide was so knowledgable on the history! The palace and amber fort were fantastic. I wish I had another day to explore. Thank you
April 2013
I confirmed this trip via email about 5 days prior from the US and got a response right back. Our driver met us at our hotel right on time. The car was just fine with air conditioning and seat belts. I want to emphasize that our driver was excellent - but note that driving in India is not for the faint of heart. I guess you just have to experience it. We met our guide in Jaipur who took us to our hotel which was nice. We checked in and then toured some sights. The next day we took an elephant ride to the top of the Amber Fort. Great pictures. The pink city is not to be missed.
February 2013
Well it's a long drive no way around that but driver made good time and had a nice midway stop for breakfast. Tour guide and Driver were good and we had a great time. The Elephant Ride was definitely a highlight.
February 2013
Great tour. The highlight is the elephant ride. Be careful with the guide, the ride is included, ours insisted it wasn't and I paid for it. When I notified Viator, they inmidiately refunded the cost.
Advertisement
Advertisement