Get an in-depth look at the rich architectural history and cultural heritage of Jaipur on this 3-day tour of the vibrant and dynamic capital of Rajasthan in India. With your expert private guide, discover the advanced nature of early Indian architecture with visits to remarkable structures, from a museum to a palace to even a UNESCO World Heritage-listed solar observatory! Ride an elephant at Amber Fort and enjoy an authentic cultural experience as you participate in traditional practices at a Rajhasthani village. Your tour includes meals, entrance fees, private transportation and knowledgeable commentary from your expert guide.
Highlights
3-day tour of Jaipur with a private guide
Ride on an elephant outfitted with traditional coverings at the famous Amber Fort
Discover the lavish lifestyles of India's early maharajas as you tour the City Palace and Hawa Mahal
Admire the Jal Mahal beautifully reflected on Man Sagar Lake
See British architectural influences as you visit the UNESCO World Heritage-listed solar observatory, Jantar Mantar
Witness the fusion of Rajput and Mughal styles at sites like the Lakshmi Narayan Temple
Immerse yourself to Rajasthan's rich culture and arts on a visit to the Chokhi Dhani village resort
Transport by a private vehicle, meals, overnight accommodation and hotel/airport pickup and drop-off included
What You Can Expect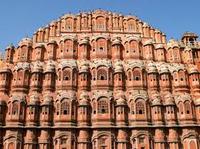 On this 3-day tour, explore the city of Jaipur with your guide and visit some of its most prominent and celebrated sites. Discover the opulence of India's maharajas with visits to the palatial complexes of Hawa Mahal and the City Palace. Learn about the Hindu-Rajput and Islamic-Mughal styles of architecture of the Amber Fort, the Jal Mahal and the Lakshmi Narayan Temple (Birla Temple). Visit the UNESCO World Heritage-listed Jantar Mahal solar observatory; ride an elephant; and dive deep India's heritage at the village resort of Chokhi Dhani, representing a traditional Rhajasthani village.
Throughout your tour, your expert guide will provide informative commentary on India's rich culture and history. With meals, accommodation, entrance fees and private transportation included, your experience in Jaipur is sure to be comfortable, enjoyable and enlightening.
Please see the Itinerary below for a more detailed schedule.
Itinerary
Please see the below itinerary for a detailed schedule.
Day 1: Delhi—Jaipur (L,D)
Your driver will collect you from your Delhi hotel and take you in the air-conditioned comfort of your private vehicle to the colorful city of Jaipur, the capital of Rajasthan. Notice the bright pink terra-cotta buildings that give this place known as the 'Pink City' its name.
Your first stop will be Jal Mahal. Located in the middle of Man Sagar Lake, this historical structure is an architectural masterpiece that showcases India's early advancements in construction. Take in the beauty of the Aravalli Range and revel in the beauty of this massive structure's reflection cast on calm waters.
Check into your hotel and enjoy lunch and relaxation before meeting your guide in the evening in your hotel lobby. Drive to Lakshmi Narayan Temple (also known as Birla Temple), which is dedicated to the god Vishnu (Marayan) and the goddess Lakshmi.
Take an up close look at the intricate carvings on the temple's exterior and listen as your guide explains how the impressive marble domes represent the three major religions of India. Once inside, experience the wonder of the colorful panels that showcase mythological stories and end your evening with a traditional meal at your hotel or at a nearby restaurant.
Overnight: 3-star hotel in Jaipur
Day 2: Jaipur (B, L, D)
Enjoy breakfast at your hotel before heading to the Amber Fort overlooking beautiful Maota Lake. Ride an elephant decorated in a traditional outfit and saddle as you take in the wonder of this opulent complex.
Follow your guide through the fortress, which is divided into four sections. Learn about the paintings, carvings, murals and mirror work that decorate this breathtaking site.
Drive to the red-sandstone structure of Hawa Mahal, which resembles the crown of the Hindu god Krishna. Some 953 jharokhas (small window) adorn the exterior. Your guide will explain the fusion of Hindu-Rajput architecture along the domed canopies and the
Islamic-Mughal architecture evident in the stunning archways.
Next, head to the City Palace by car for a picture-perfect example of India's architecture and art. Wander through the well-kept gardens, through historical building like Chandra Mahal, and marvel at the royal costumes and Rajput weapons that are proudly displayed.
Between sites, enjoy a typical Indian meal at a local restaurant of your guide's choice.
Continue to one of the best-preserved solar observatories in India, the UNESCO World Heritage-listed Jantar Mantar. Built by Maharaja Jai Singh II in the 1700s, this unique site is home to a vast collection of astronomical instruments used to predict eclipses and chart the stars.
From there, make your way to Rajasthan's oldest museum—Albert Hall Museum. Learn about the Indo-Saracenic-style architecture that was introduced by the British in the 19th century. Wander the galleries and exhibit halls where carpet weaving, cultural artifacts and bits of history are on display.
An evening visit to Chokhi Dhani, a popular resort, offers a unique taste of the local lifestyle of villagers in Rajasthan. Your guide will take you through the authentic pastoral village, where you'll see traditional dance performances and handmade crafts. It's even possible to ride a camel, horse or elephant (at own expense).
Your day ends with truly authentic Indian hospitality. Enjoy a traditional dinner at one of the local village restaurants, where you will sit on low stools and savor lovingly prepared dishes before returning to your hotel.
Overnight: 3-star hotel in Jaipur
Day 3: Jaipur—Delhi (B)
Enjoy a typical breakfast before checking out of your hotel. Return to Delhi in the air-conditioned comfort of your private vehicle and listen to your guide share more information and insight into the cultures and traditions of this vast region.
June 2015
This was a great way to get to see Jaipur if you're spending time in Delhi. The drive is a bit long approximately 5 hours each way but certainly worth the trip once you get to Jaipur. The highlight is the elephant ride up to Amer Fort. The guide and driver were very accommodating and wanted to make sure we had a pleasant experience. The hotel staff was also excellent. It was worth the money spent.
February 2014
Tours were informative, hotel nice, guide very good, driver friendly.
April 2015
I gave this worth doing because Jaipur itself is amazing, a nice relief from Delhi, and one of the best places in India - really a 5 star place. However, the tour guide was awful - not really interested in being a tour guide. He left me on my own for 2 of the stops on the tour, so I had no information about the places, and could not really communicate with the non-english-speaking people working in those places. Two days is enough - I took the 3 day tour, and it was relaxing, but overly so.
The driver was great, and thankfully skillful - the drive from Delhi is long and hazardous. He stopped at a rest stop going and coming, which was a good thing.
October 2014
The tour guide modified a lot of the itinerary to visit shops we weren't interested in? so I didn't get to see most of the places I thought I would. Also he didn't take us to the resort the last night which was a major disappointment. I think the tours overpriced for what I received
Advertisement
Advertisement