17 Reviews
Location:

Delhi, India

Duration:

5 days

(approx.)
Marvel at the many architectural wonders of India on this 4-night private tour of the Golden Triangle: Delhi, Agra and Jaipur. View the impressive monuments of Delhi such as India Gate and Raj Ghat — Gandhi's memorial — and travel by private air-conditioned vehicle with an expert guide to see remnants of the Mughal Empire. You'll visit UNESCO World Heritage sites in Agra including Taj Mahal, Agra Fort and Fatehpur Sikri. Then, ride an elephant to Amber Fort and enjoy a city tour of Jaipur's royal past that takes you to the City Palace. Luxury 5-star accommodation with complimentary buffet breakfast is included.
Highlights
4-night private Golden Triangle tour of India from Delhi
Visit the palaces, fortresses and monuments of Delhi, Agra and Jaipur
See three UNESCO World Heritage sites: the Taj Mahal, Agra Fort and Fatehpur Sikri and learn about the architectural marvels of the Mughal Empire
Enjoy an elephant ride to Amber Fort and stop by the City Palace of Jaipur
Travel with a private driver by air-conditioned vehicle to and from locations
Your private guide ensures an enlightening and enjoyable experience
5-star accommodation with breakfast plus airport/hotel pickup and drop-off are included
What You Can Expect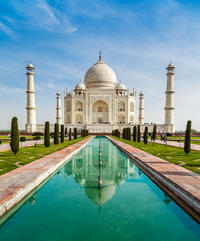 Experience three amazing cities on this 4-night private Golden Triangle tour of India. Benefit from the personalized expertise and knowledge of a private guide, who will explain the historical and architectural significance of each location visited.
With pickup and drop-off at Indira Gandhi International Airport or your Delhi hotel as part of the package, your tour also includes convenient transport by private, air-conditioned vehicle. Your 5-star luxury accommodation includes buffet breakfasts, and your guide will recommend local restaurants for lunch and dinner.
Itinerary
Day 1: Delhi
Whether you're already in Delhi or arriving at the airport, you'll be picked up and transferred to either WelcomeHotel Dwarka or Oberoi Maidens Hotel to check in. If arriving at Indira Gandhi International Airport, a tour representative will greet you as you exit the arrivals terminal.
Spend the rest of your day at leisure before your itinerary begins the following day.
Overnight: WelcomeHotel Dwarka or Oberoi Maidens in Delhi
Day 2: Delhi – Agra (B)
After breakfast, meet your guide and embark on a private tour of Old Delhi and New Delhi, beginning with a visit to Raj Ghat: a memorial to Mahatma Gandhi. Driving past the Red Fort, continue to the Jama Masjid, one of Asia's largest mosques. Built in 1656 with the help of 5,000 craftsmen, it was the last architectural wonder of the Mughal Emperor, Shah Jahan.
Hop back in your private vehicle and pass under the World War I memorial of India Gate as your guide shares interesting commentary. You'll drive along Rajpath (King's Way), a boulevard leading to Rashtrapati Bhava. View this residence of the president, flanked by the houses of parliament and the government secretariat buildings.
After your tour, travel to Agra, located 130 miles (205 km) away. After an approximate 4-hour drive, check in to your hotel and relax for the evening.
Overnight: ITC Mughal or Trident Hotel in Agra
Day 3: Agra – Jaipur (B)
Enjoy breakfast, followed by a half-day private city tour of Agra, including three UNESCO World Heritage sites. First, visit India's most iconic landmark, the Taj Mahal, that was built in the mid-17th century by the Mughal Emperor Shah Jahan as an expression of love for his third wife, Mumtaz Mahal.
Hear stories about the impressive monument that took some 22 years and 20,000 men to construct. Marvel at the white-domed mausoleum, and learn how the marble was quarried hundreds of miles away and transported to the site by a fleet of some thousand elephants. Enjoy close-up views of the intricate marble inlay — perfect from almost any angle — and make the most of ample time to be mesmerized by this outstanding piece of architecture that combines Persian, Turkish and Indian styles.
Your next stop is Agra Fort, another outstanding example of Mughal architecture. The seat of the Mughal Empire, the 94-acre (34-hectare) brick fort dates back to 1080 AD. The present structure owes its origins to the Emperor Akbar the Great, who erected the walls, gates and buildings on the eastern banks of the Yamuna River. Shah Jahan later added the impressive quarters and the mosque while Aurangzeb added the outer ramparts.
Visit the fort's Hall of Public Audience and Royal Pavilions with your guide before your 6-hour drive to Jaipur in the afternoon. Along the way, visit Fatehpur Sikri, a deserted red sandstone city built in the late 16th century by Emperor Akbar as his capital and palace.
Abandoned 15 years after it was built when the wells went dry, Fatehpur Sikri remains in much the same condition today as it was hundreds of years ago. While walking around with your guide, discover the points of interest in this magnificent city that was once larger than London, including palaces, pavilions and mosques. As you wander around and gaze at the buildings, you'll be amazed by their near-perfect condition.
After the visit, continue your drive to Jaipur where you'll check in at your hotel for the evening.

Overnight: ITC Rajputana or Trident Hotel in Jaipur
Day 4: Jaipur (B)
Enjoy a buffet breakfast at your hotel before your guide takes you just outside of Jaipur to the ancient capital of Amber, for a visit to Amber Fort. Along the way, make a photo stop at Hawa Mahal, translated as the 'Palace of Winds' — one of Jaipur's best-known landmarks. This 5-storey palace was built in 1799 and shows off an elaborate façade, behind which the ladies of the court used to watch the daily goings-on in the street below. Admire the intricate pink sandstone carving of the building and more than 900 small windows that are decorated with intricate latticework.
When you arrive at Amber Fort, you'll see that it is surrounded by fortified battlements and overlooks Maota Lake. Ruins and remains are spread over the Aravalli Range and crenelated walls lattice the surrounding area.
From the bottom of the hill, a ride on an elephant — outfitted with traditional coverings — will spare you the trouble of reaching the fortress on foot. (Alternatively, you may travel by Jeep.) Once at the top, stroll through the sprawling complex of courtyards and halls on a private tour with your guide.
The17th-century architectural wonder, built by Raja Man Singh I (Emperor Akbar's most successful general), is known for its artistic style that blends both Hindu and Mughal elements. Many of the rooms have delightful wall paintings with precious stones and mirrors inlaid in the walls. Most fascinating, perhaps, is the Sheesh Mahal (Hall of Mirrors) where a single lamplight is reflected in the many mirrors, lighting up the room.
Afterward, head back down the hill with your guide by Jeep and reboard your private vehicle for a sightseeing tour of the city. Among the highlights to be seen while touring Jaipur are the City Palace, which became the seat of power after Amber Fort. This overwhelming complex features exquisite palaces, gardens and courtyards along with decorative art and carved doorways. In the palace museum, find collections of rare manuscripts, armor, costumes, carpets and miniature paintings.
Walk to the adjacent Jantar Mantar, an astronomical observatory built by the Maharaja of Jaipur in 1726. One of five such astronomical wonders constructed by Sawai Jai Singh, the observatory makes accurate predictions even to this day.
Take some time out to wander around the local markets of Jaipur before returning to your hotel for a relaxing evening.
Overnight: ITC Rajputana or Trident Hotel in Jaipur
Day 5: Jaipur – Delhi (B)
Following breakfast, travel back to Delhi (an approximate 6-hour drive) and finish with a drop-off at Indira Gandhi International Airport for your onward flight. Alternately, request a drop-off at your hotel if you choose to stay on in Delhi.
October 2015
This tour was a great deal for the money and the hotels we stayed at were excellent! The guides we had were very passionate about India withpride for their country and history. The tour company we used made us feel like VIP the whole time from when we arrived to when they dropped us off.
August 2015
Thoroughly enjoyed the trip. Driver and the guides were very kind and helpful. Look forward to many more.
July 2015
The experience was amazing, it was all well organized from day 1 and they even arranged for us the extra hotel days we needed. Our driver, Mr. Satsh, was really helpful and all the hotels were just incredible. Tour guides were very good and the overall service was outstanding. Definitely a great option for a very good price.
July 2015
Amazing and worth it. Yes you will drive a bit but there are stops along the way. Hotels are nice, clean, friendly with pools and wifi for purchase. Restaurants at hotels are decent and the guides and drivers are second to none. This was the best way to see the golden triangle and I wouldn't change a thing. Your get to see all the sites, stay in amazing hotels and the service was just the best!
June 2015
I would absolutely recommend this tour! In a short amount of time, we were able to see several historic and beautiful sights with great guidance. Our guides offered us great history and told us the best places to take pictures.
May 2015
Nice place to visit, the hotel was very clean and upgraded quality and service
Guide was very friendly
The driving by car from Agra to Jaipur which is 6-8hours is very stressful and I ended up having a severe headache. I wish we went by airtransport
April 2015
this was a great way to see the Golden Triangle. Honestly, when I add up all the associated costs, I'm amazed that they can provide this tour for this price. It is an outstanding value. This was my first multi day tour booked through Viator though I use their day tours EVERY time I travel. It was a fantastic tour I would recommend to anyone.
Everything went off without a hitch. Hotels were acceptable. The car and guides were nice. I'm very pleased.
April 2015
This was a very rewarding trip. Everything was extremely well organized, tours and guides were excellent, driver was excellent, time was well managed. We got so much out of every day. The hotel properties we're excellent. You could not improve on this trip.
March 2015
If you want an excellent sampling of Indian culture, history, and architecture, then this is the perfect tour for you. My husband and I had an amazing experience in India during Dec. 2014, thanks to Viator. Everything was perfectly organized from stepping out of the airport till the end of the tour, when we opted for a lift to our "post-tour" Delhi hotel rather than a lift to the airport. I have rarely gone on multi-day tours (usually opt to go it alone or take a 1/2 day tour, etc.); however, going to India felt a bit overwhelming because of all of the accommodation options, transportation concerns (never drive there!), and limited time. I had used Viator in the past for a couple different day tours (once to the chateaux country and another around Milan) and always liked what they had arranged; this multi-day package was even better. Accommodations were top-notch and allowed for decent down-time after a busy day of sight-seeing; tour guides were extremely knowledgeable, helpful, and "tweaked" activities or sites to suit our needs. "Hari" in Delhi, Mueen in Agra, and Hitesh were excellent, yet slightly different in style; this kept 3 days of intensive exposure to history and architecture interesting and fresh. The hero of the trip was our driver, "Gerwil", an extremely talented young man who can drive like no other. Because he escorted us throughout the whole tour, we got to chat with him a bit; he was punctual, professional, looking out for our best interests, and calm no matter the road conditions. The pace of the tour was quick, as it should be with so much to see in so few days. There was one issue that arose because our tour was over the Christmas holiday; Viator graciously worked things out with the company in India, and it was resolved before we even left home. Excellent customer service! We have already talked about returning to Jaipur or perhaps venturing to Kerala on another trip: We hope by then Viator will have multi-day tours there as well! Thank you.
March 2015
Would highly recommend this tour. Is very well organised, guides are superb. Driver was brilliant - when you see the driving you appreciate the skill of the driver. Hotels excellent especially in Agra and Jaipur. The monuments and history associated with each are breathtaking. The first two days require quite long drives - 4 hrs - after the sightseeing which can make for long days but absolutely worth it. We loved the trip.
Advertisement
Advertisement