Experience the best of India's historical and architectural highlights on this 6-day private Golden Triangle Tour of Delhi, Agra, Jaipur and Mandawa with a private guide. Begin your adventure in Delhi, where you'll visit one of the world's largest mosques before continuing on to Raj Ghat, which commemorates the life of Mahatma Ghandi. Check out Taj Mahal in Agra and visit the famed Qutub Minar on this multi-day tour. Take an elephant ride at Jaipur's famed Amber Fort and wander the streets of Mandawa where incredible 'havelis' (mansions) house the elite. Breakfast is included in this best-of excursion, with an option to upgrade for lunch and dinner.
Highlights
6-day India tour, round-trip from Delhi with a private English-speaking driver and an expert guide


Discover the palaces, fortresses and mansions of the Golden Triangle -- Delhi, Agra, Jaipur -- plus Mandawa

Marvel at the UNESCO World Heritage Sites of the Taj Mahal, Fatehpur Sikri, Qutub Minar and Humayun's Tomb
Ride an elephant to Amber Fort in Jaipur and explore havelis of Mandawa
Visit Raj Ghat, the memorial of Mahatma Gandhi, and drive through India Gate in Delhi
Breakfast included plus optional lunch or dinner upgrades
Hotel pickup and drop-off included
Why Our Insiders Chose This Tour
Your guide is committed to minimizing our carbon footprint. For every tour, they pay a fee out of pocket to offset the carbon emissions created by the transportation used on this tour. Those funds go to organizations working toward a greener future.
Recent Photos of This Tour
6-Day Private Golden Triangle Tour: Delhi, Agra, Jaipur and Mandawa
What You Can Expect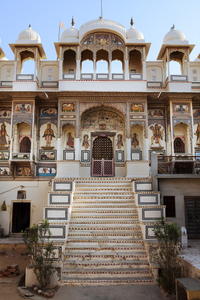 Explore four diverse and fantastic cities on this 6-day private tour of the Golden Triange. Venture out with your guide for an insider's look at Agra, Delhi, Jaipur and Mandawa and gain a deeper understanding of what makes each of these destinations unique. Choose from Delhi airport or hotel pickup and drop-off in a comfortable, air-conditioned vehicle with a local English-speaking driver.
This multi-day tour has plenty of options. Choose from 3-, 4- or 5-star accommodations with breakfast included, and opt to eat on your own, or upgrade to include lunch and dinner at your hotel. Transportation to local restaurants recommended by your helpful guide is included. (Please provide a day's notice if meal plans change.)
Itinerary
Day 1: Delhi
Kick off a half-day sightseeing tour of Delhi at your hotel or airport. Ride in air-conditioned comfort to check into your hotel if arriving by plane. Eat lunch on your own and then meet your guide for a tour of some of Delhi's major highlights.
Ride with your driver to Jama Masjid. This large mosque is one of the largest in the world and worth exploring with your guide. Learn how this impressive structure was built by Shah Jahan and check out an ancient copy of the Qur'an before making your way to Raj Ghat, where Ghandi was cremated. Along the way your guide will point out monuments like the Red Fort, Khari Baoli spice market and the Chandni Chowk Bazaar.

Make your way to Qutub Minar, a UNESCO World Heritage Site built of red sandstone and white marble. See the highest spire in all of India before heading to Humayun's Tomb. This second UNESCO World Heritage Site is the final resting place of the 16th-century Mughal emperor.
Ride in the comfort of your private vehicle past India Gate, an iconic monument built to honor fallen soldiers of World War I.

Overnight: 3-, 4-, or 5-star hotel in Delhi

Day 2: Delhi—Agra
Enjoy breakfast in your hotel before venturing out on the 4-hour drive to Agra for an afternoon of sightseeing. Travel in air-conditioned comfort to your accommodation, where you'll enjoy lunch before heading to the iconic Taj Mahal.

This UNESCO World Heritage-listed structure is one of the Seven Wonders of the World. Built by Shah Jahan to commemorate the love he had for his third wife, the Taj Mahal took some 20 years to erect. Your guide will provide insider information about the impressive white marble structure and the architectural influences of Turkey, India and Islam that can be seen on its façade.

From there, head to the red sandstone Agra Fort, where you'll see more Islamic and Hindu architecture. Look out over the Yamuna River and explore the landscapes of this impressive complex, which was built by Emperor Akbar. Enter the ornately decorated rooms with your guide and learn about the significance of the Diwan-I-Khas (private audience hall) and Diwan-I-Am (public audience hall) on your tour.

The final top of your day in Agra is the Tomb of Itmad-ud-daulah. Known by locals as the Baby Taj, this architectural masterpiece was built in the 1600s and is filled with precious stone detailing and stunning marble work.

Overnight: 3-, 4- or 5-star hotel in Agra

Day 3: Agra—Jaipur
Enjoy breakfast in your hotel before departing in air-conditioned comfort to Jaipur—approximately a 5-hours drive from Agra. Make a stop at Fatehpur Sikri along the way, where you'll learn about the history of this UNESCO World Heritage Site, which was built by Emperor Akbar in the 1500s. Marvel at the Hindu and Muslim architectural influences as you explore the walled complex and visit Jama Masjid, Panch Mahal and other buildings located on the grounds.

Return to your vehicle and make your way to the city of Jaipur, where you'll check into your hotel and enjoy the evening as you wish. Your driver can deliver you to the local market, where it's possible to explore the stalls selling fruits, vegetables and crafts without your guide.

Overnight: 3-, 4- of 5-star hotel in Jaipur

Day 4: Jaipur
Relax over breakfast in your hotel before heading out to explore the famed Amber Fort with your guide. Ride an elephant to the top of the hill where this impressive palace looks out over the city. Take in incredible views of Maota Lake and learn about the history and design of this fortress from your guide.

After lunch, experience the kinetic energy of Jaipur on a city tour of this diverse destination. Follow your guide through the City Palace, where you'll see traditional textiles, armor and costumes.

Once you've learned about the reign of Jai Singh II during this informative tour, head to the Palace of the Winds—Hawa Mahal—which looks similar to the crown of the Hindu god, Krishna. Make a stop at the historic stargazing observatory, Jantar Mantar. Your guide will unlock the beauty and charm of this 'Pink City' as your tour the gardens, palaces and temples that make Jaipur truly memorable before returning to your hotel.

Overnight: 3-, 4- or 5-star hotel in Jaipur

Day 5: Jaipur—Mandawa
Enjoy breakfast in your hotel before making your way to Mandawa. Relax in air-conditioned comfort for this four-hour car ride in your private vehicle. Check into your hotel and head out to the streets, where you'll visit upwards of 20 havelis—beautiful mansions owned by the city's elite. Admire the extravagance evident in each of these old buildings and uncover the history of places like jhunjhunwala haveli, which was abandoned and left to ruins.

After touring the town, stop at Mandawa Fort. This 18th-century structure offers stunning views of the town and beautiful gardens filled with colorful peacocks make for a relaxing afternoon of wandering. Your guide will highlight key elements of this historic structure as you explore the beauty of the interior's rooms and quarters.

Overnight: 3-, 4- or 5-star hotel in Mandawa

Day 6: Mandawa—Delhi
After enjoying breakfast in your hotel, spend the morning sightseeing at your leisure or relaxing in your room. Your private driver is available to take you wherever you wish in Mandawa without your guide. In the afternoon, settle in for a 6-hour ride to Delhi, where you'll be dropped off at your airport or hotel.

The following hotels (or similar) will be used in each city:

Delhi:
3-star: Madhuban Peppermint or Grand Sartaj4-star: The Royal Plaza or Country Inn & Suites Saket5-star: Hilton Garden Inn or WelcomHotel Sheraton

Agra:
3-star: Raj Mahal Hotel or Amar Hotel4-star: Clarks Shiraz or Four Points by Sheraton5-star: Radisson Blu Hotel or Hilton Double Tree

Jaipur:
3-star: Redfox Hotel or The Wall Street Hotel4-star: Fortune Metropolitan or Ramada Jaipur5-star: ITC Rajputana or Trident Jaipur

Mandawa:
3-star: Desert N Dunes or Udai Vilas Palace4-star: Vivaana Culture Hotel or Castle Mandawa5-star: Vivaana Culture Hotel or Castle Mandawa
May 2016
I can not be more positive about the tour we did with Dehli Airport Service Pvt. Not only did it make our arrival into India so smooth and thoroughly enjoyable, but we were particularly impressed by the professionalism of all those we met along the way. Our driver, Balbir was a wonderful travel companion, all our city guides very well informed and the overall service provided by tour manager Jasmeet throughout our trip exceeded all our expectations. Thank-you.
April 2016
Fabulous time touring around parts of the Rajasthan Region / Golden Triangle! Our Drive, Mr Singh, was the best, forever helpful even though he didn't speak great English. Majority of the guides at each stop where fabulous, knowledgeable and helpful with local delicacies and souvenirs. Mandawa was a blast from the past, a step back in time and the Haveli fresco's unbelievable, should be UNESCO listed. Vivaana Historical Hotel are real treat in this area, a must stay. Agra with the Taj Mahal was enchanting, Jaipur with the Pink City, majestic Amber Fort and Jantar Mantar where fantastic. The history and sites are unbelievable, the people friendly warm and welcoming. While the drive to each destination can be a bit of drag, we totally loved our time seeing some of India's wonderful culture.
October 2015
Excellent! I have nothing but positve remarks about this tour company. I originally booked the 6 day Golden Triangle Tour because as a solo, female traveler, safety was a big concern for me. Thanks to this tour, I always felt safe! Having a private driver and tour guide allowed me to do everything I wanted to do while safe and in comfort. The guide would change with each place, but the driver stayed the same. My trip was well organized, on time, and everyone was very polite. I thought it was a great balance of sightseeing and resting time. All shopping stops were by my choice. I had frequent contact with booking before my trip and easily had all my questions answered, as well as tailoring the itentairy to meet my wants. I encourage others to stay in 4 star hotels, all were very comfertable, but 3 star and below were too basic for my taste. The only change I would have made is not pre-purchasing the hotels' buffet each night. (While good, no problems) I thought restaurants were cheaper and tastier, the convenience of eating at hotels though was fantastic. I highly recommend Delhi Airport Service Pvt Ltd to other travelers, if I return to India, I will happily choose to use them for booking my next trip again!
September 2015
Namaste.. We truly had an incredible experience.! Such a wonderful surprise.! Amazing hospitality from arrival to the time we depart.. People are so humble and natured.. Our tour companion/driver Mr. Ravi Sharma is more than excellent.. We are treated as VIP and felt very secure the whole time.. The hotel accommodations are exquisite.. Taj Mahal is surely breath taking and should be at everyone's bucket list.. Built out of pure love.. It echoes through time.. No amount of pictures can describe its real beauty.. Our tour guide Mr. Sanjay Shukla is very knowledgable and will definitely make you see Taj Mahal as what it should be.. A symbol of unmeasurable and eternal love.. Fatehpur Sikri, Qutub Minar and Amber Fort are also a must see.. Complete with an Elephant ride.. We are truly amazed with their glamorous designs and unique architecture.. Overall this tour is worth more that what we expect it to be..
March 2015
The trip was all that we had hoped. Our driver, Ravi Sharma, particularly, was important to the trip's success. He not only navigated in such a way that we felt safe at all time, he answered our questions on many topics about India and helped us find particular stores that we wanted to visit to buy organic teas, sandalwood soap,and books about the history of India. Our guides in each city were helpful. The hotels were excellent.
March 2015
We had a great time on this trip. It was well worth our time and money.
Our driver was very friendly and attentive to our needs. The van was tidy and even had WiFi.
The Taj was impressive even on a rainy day and Jaipur was amazing. Mandawa is an unknown gem that takes you back to the days of the caravans on the silk road. The havelis are very interesting.
We definitely recommend this trip.
September 2014
India was a unique Experience! An incredible mixture of world wonder and life reality check!
The Taj Mahal is certainly a must in everyone's bucket list! Also Jaipur should be added to that list!
Our driver was amazing; truly dedicated! A different guide per city/ all very knowledgeable and friendly
May 2014
I really enjoyed this tour. My guides were excellent at each of the cites. Hotels were clean and comfortable. Resaurants served great food. My driver took very good care of me (I am a solo traveler)...always felt safe. Saw the Taj, rode an elephant, and walked in the footsteps of kings.
November 2013
The three of us on our tour had an amazing time. The vehicle used was extremely comfortable, the driver was lovely, very friendly and super informative as well as on time. All the guides used were really informative and helped us to have a wonderful experience in India! Would highly recommend this tour as an excellent way of seeing the beauty that India has to offer in a short time frame as well as staying in some of the most amazing hotels (we did it all 5* at a very reasonable price) the hospitality was amazing! Highly recommend this tour!
Anonymous
August 2013
We were very, very happy with our driver Malket and his partner Rom. The tour at Mandawa could have been a bit shorter to allow us more time at the Vavaana Culture Hotel. We were treated very well at every stop and enjoyed our time in India tremendously. This was a very well-organized trip. This tour had stops at busy places - Delhi, Agra, Jaipur, followed by a very relaxing time in the small village at the Vavaana. This was a perfect sequence of travel.
Advertisement
Advertisement