Explore many of India's best historical and architectural landmarks with an expert guide on this 6-day private tour of Delhi, Agra and Jaipur -- the Golden Triangle -- plus Mandawa. Starting in Delhi, visit Jama Masjid, one of the world largest mosques, and Raj Ghat – Gandhi's memorial site. See the UNESCO World Heritage Sites of Humayun's Tomb and Qutub Minar as well as other marvels of design like the Taj Mahal in Agra. Enjoy an elephant ride to Amber Fort in Jaipur before exploring the marvelous 'havelis' (mansions) of Mandawa. Breakfast is complimentary, with optional upgrades to include lunch or dinner.
Highlights
6-day India tour, round-trip from Delhi with a private English-speaking driver and an expert guide


Discover the palaces, fortresses and mansions of the Golden Triangle -- Delhi, Agra, Jaipur -- plus Mandawa

Marvel at the UNESCO World Heritage Sites of the Taj Mahal, Fatehpur Sikri, Qutub Minar and Humayun's Tomb
Ride an elephant to Amber Fort in Jaipur and explore havelis of Mandawa
Visit Raj Ghat, the memorial of Mahatma Gandhi, and drive through India Gate in Delhi
Breakfast included plus optional lunch or dinner upgrades
Hotel pickup and drop-off included
Recent Photos of This Tour
6-Day Private Golden Triangle Tour: Delhi, Agra, Jaipur and Mandawa
What You Can Expect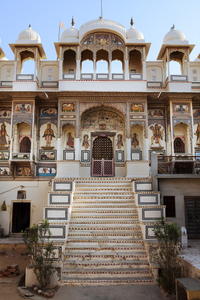 Your 6-day private Golden Triangle tour of India includes four fantastic cities with a private guide, who will shed light on the cultural influences and architectural styles of each palace, monument and fortress you visit. With pickup and drop-off at the Delhi International Airport or your Delhi hotel, enjoy convenient transportation by private, air-conditioned vehicle with an English-speaking driver.
Choose 3-, 4- or 5-star accommodation including breakfast plus optional upgrades for lunch or dinner at your hotel. If you choose to eat on your own, your guide will recommend local restaurants and your driver can transfer you there at midday or during the dinner hour. (Simply give your guide one day's notice if you plan to change your meal itinerary from day to day.)
Itinerary
Day 1: Delhi
Begin your half-day sightseeing tour of Delhi with pickup at your hotel or Delhi International Airport. Your driver will transfer you by private, air-conditioned vehicle to your accommodation to check in. After lunch, meet your private guide for your tour of some of the city's top cultural landmarks.
On the drive to Jama Masjid, one of the biggest mosques in the world and India's largest, your guide will point out the Red Fort, Chandni Chowk Bazaar and Khari Baoli spice market. When you reach the mosque, built by Shah Jahan to overlook Dehli, get out to explore the interior with your guide. View an antique copy of the Qur'an and other historical relics before heading to Raj Ghat – a memorial built to honor the site where Mahatma Gandhi was cremated.
Next, visit India's highest minaret, Qutub Minar, a UNESCO World Heritage Site constructed with marble red and sandstone. See its inscriptions with verses from the Qur'an, and then stop at UNESCO World Heritage-listed Humayun's Tomb – the burial place of the 16th-century Mughal emperor.
Hop back in your private vehicle and drive along Rajpath (King's Way), passing under India Gate, a tall stone archway built as a memorial to Indian soldiers who died in World War I. Take this official boulevard toward the Indian presidential state of Rashtrapati Bhavan as your guide shares interesting commentary along the way.
Overnight: 3-, 4- or 5-star hotel in Delhi
Day 2: Delhi – Agra
After breakfast at your hotel, your guide will take you by private vehicle on a four-hour drive to Agra for more sightseeing in the afternoon. Once you've settled in at your hotel, enjoy lunch and then head out to the UNESCO World Heritage-listed Taj Mahal, considered one of the Seven Wonders of the World!
Taking 20 years to complete in the mid-17th century, the domed mausoleum was commissioned by Shah Jahan as a memorial to his third wife, Mumtaz Mahal. This impressive structure, constructed of white marble, is considered one of the most extravagant monuments ever built for love. Your guide will discuss this exemplar of Mughal architecture – a style borrowed from many traditions including Islamic, Turkish and India – and share knowledge about its Persian designer.
Afterward, learn about the intricate design of the 16th-century Agra Fort, which combines both Islamic and Hindu architectural styles. Built by Emperor Akbar on the banks of the Yamuna River, the fort is constructed of red sandstone. Walk around the complex to see the beautifully designed rooms like the Diwan-I-Am (public audience hall) and the Diwan-I-Khas (private audience hall), added by Shah Jahan.
The last stop on your Agra tour is the Tomb of Itmad-ud-daulah, built between 1622 and 1628 by Empress Nur Jahan for her father. The mausoleum, situated on the opposite bank of the Yamuna from the Taj Mahal, is more commonly known as the Baby Taj and is often described as a jewel box. Admire the trelliswork and precious stone inlay as you listen to your guide's commentary and learn about the strong Persian influence on the tomb's design – the first in India entirely made out of marble.
Overnight: 3-, 4- or 5-star hotel in Agra
Day 3: Agra – Jaipur
Taking an approximate five-hour drive to Jaipur after breakfast, stop along the way at the red sandstone compound of Fatehpur Sikri. This UNESCO World Heritage Site, built in 1569 by Emperor Akbar, was abandoned 15 years later due to water scarcity. Your guide will enlighten you about the Hindu and Muslim architectural styles as you walk within the walled complex, visiting Jama Masjid, Tomb of Salim Chishti Chisti, Panch Mahal and other buildings.
Afterward, check in at your hotel upon arrival in Jaipur, and enjoy your evening at leisure. If you'd like to stroll the local market, your driver will transfer you there and back, unaccompanied by your guide.
Overnight: 3-, 4- or 5-star hotel in Jaipur
Day 4: Jaipur
Start your day in Jaipur with a guided exploration of Amber Fort after breakfast. Enjoy the unique experience of riding atop an elephant outfitted with traditional Indian draperies, as you climb up to Amber Fort. When you reach the 16th century hilltop palace, explore on foot and admire breathtaking views of Maota Lake. Learn about the palace's ornate design and Rajput architectural elements from your guide as you tour the fortress.
After lunch, enjoy an afternoon city tour of bustling Jaipur, a metropolis whose origins can be traced back to the reign of Jai Singh II in the18th century. Your guide will accompany you to Jaipur's top attractions, starting with the fine collection of textiles, costumes and armor at the City Palace.
Next, visit the beautiful Palace of the Winds -- Hawa Mahal -- built to resemble the crown of the Hindu god, Krishna. Finally, view the stargazing observatory of Jantar Mantar, built by the renowned astronomer, Maharaja Jai Singh. Your guide will help you appreciate this city's historical charm as you tour the magnificent palaces, temples and lush gardens. Admire the pink plastered stone that gives Jaipur its popular name -- "Pink City" -- before heading back to your hotel.
Overnight: 3-, 4- or 5-star hotel in Jaipur
Day 5: Jaipur – Mandawa
After breakfast at your hotel, embark on an approximate four-hour drive to Mandawa, a busy market town fortified in the 18th century by wealthy merchant families of Rajasthan. These businessmen constructed the havelis and baolis (stepwells), and commissioned artists to paint the building walls with their elaborate designs.
After you check in to your hotel, your guide will take you to visit around 20 to 25 havelis, remarking on the cultural splendor of this bygone era. At mansions like jhunjhunwala haveli and hanuman prasad goenka haveli, learn about what happened to these architectural wonders after their owners abandoned them to obscurity, and admire the extravagance as you explore each complex.
Then, head to 18th-century Mandawa Fort, and enjoy a sense of discovery at every turn. See battlements with spectacular views of the town below, a whimsical weather vane in the design of a peacock, and an arched window that overlooks a lush garden visited by the showy birds.
As you explore the palace, your guide will point out that no two rooms are alike. In the women's quarters, find antique murals in one room and a marble fountain in another. Look out the window of the turret room with its seven-foot (two-meter) thick walls, and imagine the marauding bandits that once roamed freely.
Overnight: 3-, 4- or 5-star hotel in Mandawa
Day 6: Mandawa – Delhi
Following breakfast at your hotel, your morning is free for sightseeing. Your driver will be on hand to drive you to wherever you would like to go within Mandawa, unaccompanied by your guide. Then, in the afternoon, you'll be taken back to Delhi (an approximate six-hour drive) and directly transferred to the airport to board your flight for your onward destination.
The following hotels (or similar) will be used in each city:
Delhi

3-star: Madhuban Peppermint or Grand Sartaj

4-star: The Royal Plaza or Country Inn & Suites Saket

5-star: Hilton Garden Inn or WelcomHotel Sheraton


Agra

3-star: Raj Mahal Hotel or Amar Hotel

4-star: Clarks Shiraz or Four Points by Sheraton
5-star: Radisson Blu Hotel or Hilton Double Tree


Jaipur

3-star: Redfox Hotel or The Wall Street Hotel

4-star: Fortune Metropolitan or Ramada Jaipur

5-star: ITC Rajputana or Trident Jaipur


Mandawa

3-star: Desert N Dunes or Udai Vilas Palace

4-star: Vivaana Culture Hotel or Castle Mandawa

5-star: Vivaana Culture Hotel or Castle Mandawa

October 2015
Excellent! I have nothing but positve remarks about this tour company. I originally booked the 6 day Golden Triangle Tour because as a solo, female traveler, safety was a big concern for me. Thanks to this tour, I always felt safe! Having a private driver and tour guide allowed me to do everything I wanted to do while safe and in comfort. The guide would change with each place, but the driver stayed the same. My trip was well organized, on time, and everyone was very polite. I thought it was a great balance of sightseeing and resting time. All shopping stops were by my choice. I had frequent contact with booking before my trip and easily had all my questions answered, as well as tailoring the itentairy to meet my wants. I encourage others to stay in 4 star hotels, all were very comfertable, but 3 star and below were too basic for my taste. The only change I would have made is not pre-purchasing the hotels' buffet each night. (While good, no problems) I thought restaurants were cheaper and tastier, the convenience of eating at hotels though was fantastic. I highly recommend Delhi Airport Service Pvt Ltd to other travelers, if I return to India, I will happily choose to use them for booking my next trip again!
September 2015
Namaste.. We truly had an incredible experience.! Such a wonderful surprise.! Amazing hospitality from arrival to the time we depart.. People are so humble and natured.. Our tour companion/driver Mr. Ravi Sharma is more than excellent.. We are treated as VIP and felt very secure the whole time.. The hotel accommodations are exquisite.. Taj Mahal is surely breath taking and should be at everyone's bucket list.. Built out of pure love.. It echoes through time.. No amount of pictures can describe its real beauty.. Our tour guide Mr. Sanjay Shukla is very knowledgable and will definitely make you see Taj Mahal as what it should be.. A symbol of unmeasurable and eternal love.. Fatehpur Sikri, Qutub Minar and Amber Fort are also a must see.. Complete with an Elephant ride.. We are truly amazed with their glamorous designs and unique architecture.. Overall this tour is worth more that what we expect it to be..
March 2015
The trip was all that we had hoped. Our driver, Ravi Sharma, particularly, was important to the trip's success. He not only navigated in such a way that we felt safe at all time, he answered our questions on many topics about India and helped us find particular stores that we wanted to visit to buy organic teas, sandalwood soap,and books about the history of India. Our guides in each city were helpful. The hotels were excellent.
March 2015
We had a great time on this trip. It was well worth our time and money.
Our driver was very friendly and attentive to our needs. The van was tidy and even had WiFi.
The Taj was impressive even on a rainy day and Jaipur was amazing. Mandawa is an unknown gem that takes you back to the days of the caravans on the silk road. The havelis are very interesting.
We definitely recommend this trip.
September 2014
India was a unique Experience! An incredible mixture of world wonder and life reality check!
The Taj Mahal is certainly a must in everyone's bucket list! Also Jaipur should be added to that list!
Our driver was amazing; truly dedicated! A different guide per city/ all very knowledgeable and friendly
May 2014
I really enjoyed this tour. My guides were excellent at each of the cites. Hotels were clean and comfortable. Resaurants served great food. My driver took very good care of me (I am a solo traveler)...always felt safe. Saw the Taj, rode an elephant, and walked in the footsteps of kings.
November 2013
The three of us on our tour had an amazing time. The vehicle used was extremely comfortable, the driver was lovely, very friendly and super informative as well as on time. All the guides used were really informative and helped us to have a wonderful experience in India! Would highly recommend this tour as an excellent way of seeing the beauty that India has to offer in a short time frame as well as staying in some of the most amazing hotels (we did it all 5* at a very reasonable price) the hospitality was amazing! Highly recommend this tour!
Anonymous
August 2013
We were very, very happy with our driver Malket and his partner Rom. The tour at Mandawa could have been a bit shorter to allow us more time at the Vavaana Culture Hotel. We were treated very well at every stop and enjoyed our time in India tremendously. This was a very well-organized trip. This tour had stops at busy places - Delhi, Agra, Jaipur, followed by a very relaxing time in the small village at the Vavaana. This was a perfect sequence of travel.
Advertisement
Advertisement