Follow the popular Golden Triangle route between Delhi, Agra and Jaipur on this private 7-day tour of India's headline acts, including 3-, 4-, or 5-star hotel accommodation. This jam-packed itinerary is full of highlights, from visiting the iconic Taj Mahal to riding an elephant to Jaipur's Amber Fort. You'll also explore UNESCO sites like Humayun's Tomb and Fatehpur Sikri; tour the magnificent Brahma Temple in Pushkar and browse the colorful stalls at Delhi's Chandni Chowk Bazaar.
Highlights
7-day private tour of India's Golden Triangle with round-trip transport from Delhi
Visit top cultural sites in Delhi, Agra, Jaipur and Pushkar, and learn about Muslim, Hindu and Mughal architecture from an expert guide
Drive from India Gate to Rashtrapati Bhavan along Rajpath (King's Way) in Delhi
Admire the beauty of four UNESCO World Heritage Sites like Taj Mahal in Agra, and visit the world-famous Brahma Temple in Pushkar
Enjoy an elephant ride into the hills at Amber Fort in Jaipur
Hotel pickup and drop-off included
Why Our Insiders Chose This Tour
Your guide is committed to minimizing our carbon footprint. For every tour, they pay a fee out of pocket to offset the carbon emissions created by the transportation used on this tour. Those funds go to organizations working toward a greener future.
What You Can Expect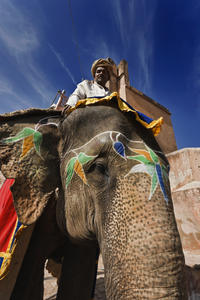 Your 7-day private tour of India's Golden Triangle includes your choice of 3-, 4- or 5-star accommodation with breakfast plus optional upgrades for lunch or dinner at your hotel. If you choose to eat on your own, your guide will recommend local restaurants and your driver can transfer you there at midday or during the dinner hour. (Simply give your guide one day's notice if you plan to change your meal itinerary from day to day.)
With pickup and drop-off at your hotel or Delhi International Airport, enjoy hassle-free transportation by private, air-conditioned vehicle with an English-speaking driver. Tour four fantastic cities with a private guide, who will shed light on the cultural influences and architectural styles of each palace, fort and monument you visit.
Itinerary
Day 1: Delhi
Upon your arrival in Delhi, your driver will greet you at Delhi International Airport or your hotel and transfer you by private, air-conditioned vehicle to your accommodation. After check-in and lunch, meet your private guide for a half-day sightseeing tour of Delhi.
Drive past some of the city's cultural landmarks like the Red Fort, Chandni Chowk Bazaar and Khari Baoli spice market on your way to visit Jama Masjid. One of the largest mosques in the world and the largest in India, it was built by Shah Jahan to dominate the city. Explore the mosque with your guide to see several cultural relics, including an antique copy of the Qur'an. Then, make your way to Raj Ghat, a memorial built to commemorate the site of Mahatma Gandhi's cremation.
Continue on with a visit to the UNESCO World Heritage-listed Qutub Minar, India's tallest minaret, made of red sandstone and marble and inscribed with verses from the Qur'an. Stop next at Humayun's Tomb, another UNESCO World Heritage site, tomb of a Mughal emperor dating back to the 1500s.
Next, pass under the high stone archway of India Gate – constructed in the memory of Indian soldiers who died in World War I – and drive along Rajpath (King's Way), the ceremonial boulevard heading toward Rashtrapati Bhavan, official home to the President of India. Along the way, your guide will point out architectural and cultural features of these important monuments.
Overnight: 3-, 4- or 5-star hotel in Delhi
Day 2: Delhi – Agra
After breakfast at your hotel, drive to Agra by private vehicle -- an approximate four-hour drive. After lunch and check-in at your hotel, enjoy more afternoon sightseeing with your local guide.
First, visit the Taj Mahal, a UNESCO World Heritage Site and one of the Seven Wonders of the World. Constructed from 1631 to1651 by Shah Jahan as a memorial to his third wife, Mumtaz Mahal, the domed mausoleum – built from white marble – is considered one of the most extravagant monuments ever built for love. Your guide will share information about its principle Persian designer, and discuss this exemplar of Mughal architecture – a style borrowed from many traditions including Islamic, Turkish and Indian.
Next, head to the 16th-century Agra Fort, built by Emperor Akbar on the banks of the Yamuna River. Admire its construction from red sandstone and its intricate design combining both Islamic and Hindu architectural styles. Explore the complex to see the beautifully constructed rooms like the Diwan-I-Am (public audience hall) and the Diwan-I-Khas (private audience hall), added by Shah Jahan.
Your city tour ends with a visit to the Tomb of Itmad-ud-daulah (more commonly known as the Baby Taj), built between 1622 and 1628 by Empress Nur Jahan for her father. Admire the marble trelliswork and precious stone inlay of the mausoleum, situated on the opposite bank of the Yamuna from the Taj Mahal. Hear from your guide about the strong Persian influence on the monument's design – the first tomb in India entirely made out of marble and often described as a jewel box!
Overnight: 3-, 4- or 5-star hotel in Agra
Day 3: Agra – Jaipur
Enjoy breakfast at your hotel, followed by an approximate five-hour drive to Jaipur. En route, visit the UNESCO World Heritage red sandstone complex of Fatehpur Sikri, built in 1569 by Emperor Akbar and abandoned 15 years later due to water scarcity. Take a walk inside the walls of the complex as your guide enlightens you about the Hindu and Muslim architectural style of the sprawling construction, including Jama Masjid, Tomb of Salim Chishti Chisti, Panch Mahal and other buildings.
Afterward, continue to Jaipur and check in at your hotel upon arrival. With your evening free to spend at leisure, you're welcome to stroll the local market. (Your driver will transfer you there and back, unaccompanied by your guide.)
Overnight: 3-, 4- or 5-star hotel in Jaipur
Day 4: Jaipur
Your day in Jaipur begins after breakfast with a guided exploration of Amber Fort. Feel like a maharaja from the past as you ride up to Amber Fort on an elephant outfitted with traditional Indian draperies! As you walk around the hilltop palace, constructed at the end of 16th century, learn about this excellent example of Rajput architecture from your guide. Admire breathtaking views of Maota Lake from the fortress as well as the palace's ornate design and unique architectural elements.
After lunch, enjoy an afternoon city tour of Jaipur, whose origins can be traced back to the 18th century during the reign of Jai Singh II. Prepare to look beyond the bustling metropolis to find its historical charm, such as the magnificent palaces, temples, lush gardens and pink plastered stone that gives Jaipur the popular name "Pink City."
Your guide will take you to visit the top sights of Jaipur, starting with the City Palace with its fine collection of textiles, costumes and armor. Then, admire the exquisite Hawa Mahal, or Palace of the Winds, built to resemble the crown of the Hindu god, Krishna. Last, see Jantar Mantar, the extraordinary stargazing observatory built by the renowned astronomer, Maharaja Jai Singh, before heading back to your hotel.
Overnight: 3-, 4- or 5-star hotel in Jaipur
Day 5: Jaipur – Pushkar
After breakfast at your hotel, embark on a three-hour drive to Pushkar and check in at your hotel. After lunch, take a journey to nearby Ajmer with your guide.
First, visit the Dargah of Moinuddin Chisti, a renowned Sufi shrine that draws Muslim pilgrims from all parts of the world to Ajmer. Next, learn about the 12th-century Afghan conqueror that converted Adhai-din-ka-Jhonpra from a Sanskrit school into a mosque by adding a seven-arched wall in front of the pillared hall.
Continue to beautiful Ana Sagar Lake, built north of Ajmer by King Anaji. See Daulat Bagh Gardens, located next to the lake, and its nearby marble pavilion. Afterward, return to Pushkar, which devout Hindus aspire to visit at least once in their lifetime.
Your guide will accompany you to the Brahma Temple, the only temple in the world where a life-size, four-armed idol of Lord Brahma is worshiped. Admire the marble floors and stairs, and see the coins placed there by devotees to mark the births or deaths of their loved ones.
Afterward, head to Pushkar Lake and hear the legend about its formation – when a lotus fell from Lord Brahma's hands and dropped into the picturesque valley. The entire lake, surrounded by 500 temples, 52 palaces and 52 bathing ghats, is considered holy.
Overnight: 3-, 4- or 5-star hotel in Pushkar
Day 6: Pushkar – Delhi
Following breakfast at your hotel, head back to Delhi on an approximate seven- to eight-hour drive, stopping for lunch along the way at Neemrana Fort-Palace, perched on a plateau and surrounded by the Aravalli Mountains. Explore the fort, now converted into the Neemrana Fort Heritage Hotel, and enjoy an optional ride on the onsite zipline if you'd like (own expense).
Then, relax on the remainder of your air-conditioned drive to Delhi. After checking in at your hotel, rest during your free time and enjoy personal activities such as last minute shopping. Your driver will take you wherever you'd like to go (unaccompanied by your guide).
Overnight: 3-, 4- or 5-star hotel in Delhi
Day 7: Delhi
Enjoy breakfast at your hotel before transferring to the airport to board your flight for your onward destination.
The following hotels (or similar) will be used in each city:
Delhi

3-star: Madhuban Peppermint or Grand Sartaj
4-star: The Royal Plaza or Country Inn & Suite Saket
5-star: Hilton Garden Inn or WelcomHotel Sheraton

Agra

3-star: Amar Hotel or Raj Mahal Hotel
4-star: Clarks Shiraz or Four Points by Sheraton
5-star: Hilton DoubleTree or Radisson Blu Hotel

Jaipur

3-star: Redfox Hotel or The Wall Street Hotel
4-star: Fortune Select Metropolitan or Ramada
5-star: ITC Rajputana or Trident Jaipur

Pushkar

3-star: Gulaab Niwas Palace or Pushkar Bagh
4-star: Pushkar Palace or Aaram Baagh
5-star: Ananta Spa Resort or Pratap Palace
February 2016
This tour was just incredible!
All guides were very interesting, the places visited were amazing, the driver was very proficient.
I deeply recommand that tour!
January 2014
Tour was good and well organised. The hotel in Agra (Raj Mahal) was a bit poor, bathroom falling apart and smelly. There was no hot water, either. The Red Fox Hotel in Jaipur was poor service, we got pestered for tips. Here and in the Peppermint/Delhi they tried to charge us for dinners even though we had the half-board option and thus prepaid everything. Guides were knowledgeable, friendly and basically good, even though some could speak better English to avoid misunderstandings. Some tried to take us shopping rather than sightseeing and brought us to emporiums even though we had clearly said we were not interested. Car and driver were excellent, very reliable and we always felt save and had to objections to leaving valuables and our luggage in the car. I would recommend this tour anybody who intends to go to India, it is a comfortable way to see everything in good time. Having the guides to show us around and buying tickets aswell as having the car and driver saved us a lot of time and hassle. We did fit sightseeing and shopping in perfectly without missing out on anything and went home with good memories.
Advertisement
Advertisement