Follow your local guide on a thrilling walking tour of Old Delhi at night and uncover the hidden sights, flavors and landmarks of this bustling city as the sun goes down and the lights turn on. In addition to exploring the 17th century capital of Shahjahanabad, you'll venture into Chandni Chowk, one of the oldest markets in this part of the city. Follow your guide along Ballimaran Street, where Old Delhi feels most alive and make your way to a traditional dinner at the famous Karim's restaurant. You friendly guide will share stories about the history of this walled city and explain the changes that have taken place over thousands of years at Old Delhi has transitioned from the Mughal Empire to modern times. A small group limit of six people ensures a truly personalized experience for travelers.
Highlights
Old Delhi walking tour at night
Walk within the old city walls of Shahjahanabad, capital of the Mughal Empire
Follow your local guide on foot through the bustling market of Chandni Chowk and past shops along Ballimaran
Visit Sisganj Gurdwara and Sunehri Masjid (Golden Mosque)
Enjoy a sumptuous dinner of typical Indian dishes at Karim's restaurant
Small group tour with a maximum of six people ensures a personal experience
Recent Photos of This Tour
Delhi by Night: Chandni Chowk Tour with Dinner
What You Can Expect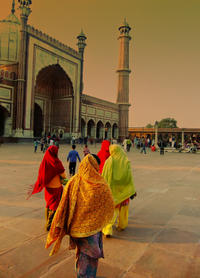 Meet your guide at your city hotel and drive to Old Delhi to kick off your thrilling night tour of this populated and electric city. Located within the gated walls of Shahjahanabad, this old world capital was founded by Mughal Emperor Shah Jahan. Your guide will share plenty of stories and history as you navigate through the streets and sites.
Begin at Sisganj Gurwara, one of the nine historical gateways to the guru. This famous monument commemorates the martyrdom of Sikh Guru and is located in Chandni Chowk, an old market whose name means 'moonlit square'. Learn how local Sikhs travel to this square for worship even to this day.
Head to nearby Sunehri Masjid, the entrance to the famed Red Fort, which is just outside Delhi Gate. The salmon-colored stones that make up this Golden Mosque are a stunning sight that dates back to the mid-18th century.
Stop to sample traditional Indian sweet and savory namkeens at well-known Kanwarji's (own expense) before you head off with your guide to the back alleys of New Dehli. Stroll past the bakeries and chai shops of Ballimaran Street near Chandni Chowk and
experience the buzz of the city at night.
Make a visit to the last wonder of the Mughal Empire—Jama Masjid. This famous mosque was erected in the mid-1600s and the bazaars that surround it stay open until the early morning hours. Finally, head to the legendary Karim's restaurant for dinner. Enjoy a traditional Indian meal with your guide before returning to your hotel for the evening.
June 2015
October 2015
Nice guide! Going on rickshaw at night was a fun experience. I felt that the stop to the spice store was meant for me to make purchases though.

Alexander D United States of ...
March 2015
Did not see much because the guide said most stores were closed (especially the spice stores which I wanted to see). The site seeing was no longer than two hours, including a quick cheep dinner.
September 2014
My first complaint is that you get charged more then advertised cost on web site, think it should have been sixty for two people but ends up being 155. If you want to see the market and the hustle and bustle this is a safe way to do it. But in general would skip this tour , they don't do good job of explaining area much and is more just walk through crowd to take you to their friends shop and the worse food I had in Delhi resturant. I wanted to try a small mom pop place not anymore!
February 2016
Tuesday I did the Delhi by night tour. I would like to express my disappointment at the tour and the fact that is it not worth the amount of money I paid.
Tour cost 93 dollars 65 approx 6200 rupees approx
1st - communication was bad
After booking the tour at approx 4.30 pm on Monday 21st Feb, I didn't receive email confirmation until Tue 22nd at approx 11.30.
I Didn't know what time I was being picked up, Emailed 3 times had no response, phoned constantly for 1 hr 15 mins and number busy throughout. I did however find a note in my hotel room when I came back about the pick up time but I didn't receive this before going to wait in reception for you guys.
Your emails do not contain any contact number for you guys its only in the voucher you sent, and when you are out and about sight seeing it's quite difficult to obtain wifi, to read this.
2nd - tour details
Driver turned up at 5.45, the tour started at 5.30 and the voucher said I would be picked up prior to start time we arrived in Chandni Chowk at 7pm, rickshaw ride around, had dinner and back in taxi at 8.30pm, back at hotel at 9pm approx.
3rd - cost information
Taxi approx 800 rupees
Rikshaw approx 200 rupees
Dinner approx 400 rupees
Approx total cost 1400 rupees not including 2.45 hrs guide
There is no way this tour is worth 6200 rupees and I'm extremely disappointed and sad I wasted my only night in Delhi with you guys.
Advertisement
Advertisement