Relax and unwind before your connecting flight from Delhi with a 3-, 6- or 12-hour pass for the Plaza Premium Airport Lounge at Gandhi International Airport. Enjoy the Wi-Fi, TV and selection of international newspapers; take a hot shower; or tuck into a selection of food and complimentary non-alcoholic drinks. Lounge access is available 24 hours a day and alcoholic drinks, a nap suite and massages are also available (extra cost).
Highlights
Relax in the Gandhi International Airport Lounge

Choose from 3, 6 or 12 hour passes

Enjoy amenities such as food, beverages, wireless internet connection and shower facilities (all included)

What You Can Expect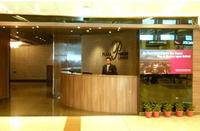 Escape the hectic airport atmosphere and head to the Plaza Premium Lounge at the Gandhi International Airport. After arriving in Delhi, enjoy high-quality service, relaxation and comfort at the lounge. Choose from two lounges: one for domestic arrivals and another for international arrivals. Depending on your need, choose from 3, 6, or 12 hours of relaxation at the lounge facilities.
The lounge operates 24 hours per day, and provides amenities and services to ease your fatigue after a long day of travel. Restore your physical being, and revitalize your senses in preparation for your next destination. The lounges provide superior service to meet the demands of all travelers and provide a hassle-free transit from New Delhi to any destination.
Service and Facilities:
Food and drinks including freshly brewed coffee, tea, espresso and cappuccinos
Comfortable seating area (nap suite not included)
International newspapers & magazines
Shower with amenities
Free wireless internet access
Free local calls
Flight information
Anonymous
October 2012
Great for transit!
November 2012
Made a 12-hour layover much more palatable. Big, clean showers. Excellent massage. Would have given 5 Stars if there had been a comfortable spot to sleep, too. Even a reclining chair would have nice. More than 1 location in this big airport and smaller lounge has no showers. Good wireless internet.
October 2012
comfortable and welcoming - a quiet oasis in the middle of the night. food good too - just a little difficulty in finding our way to the correct lounge
January 2013
If you choose this lounge, remember to bring a hard copy of your Viator confirmation. The website says electronic copies will be accepted. Mine was not.This resulted in roughly an hour of confusion and inconvenience.That said, the showers and great breakfast spread made this lounge booking worth it.
August 2015
Firstly They did not have the reservation of mine in the system. This is after providing proof of purchase.
Secondly there are two Plaza on the same floor...they gave me run around twice. Only after raising my voice and retorting to anger did they accept my booking.
Thirdly the person incharge at the main plaza told me that in future come to us directly rather than booking through Viator.
Place we stayed had a nice receptionist and it was clean. They did take care of us for the duration f our stay.
December 2014
Due to lack of communication between Sri Lanka Airlines and Air India regarding our confirmed reservations from Delhi to Colombo, only four of the six of us could use the lounge and only for a few minutes. My wife and I had to be rushed to the Air India flight to Chennai and had to skip the lounge all together.
October 2014
The toilets and showers were at one end and the lounge at the other.
After flying for 24 hours ,tired body and tired legs the walk from one end to the other several times was not convenient. I wish everything was at one place.
October 2013
I was NOT impressed at all.... we were poorly welcomed and the receptionist was unable to communicate that there was a booking issue.
The shower drain was blocked, the toilet seat was not on properly and the mirror was cracked.
The general toilet in the airport are drop loo so that was the plus.
Advertisement
Advertisement