Special Offer
We'll get you in the door for cheaper. Save when you book with us. Price displayed includes a 32% discount off the local admission price!
After arriving in Delhi, refresh and recharge in the Plaza Premium Airport Lounge before boarding your connecting flight. Take a hot shower, use the wireless network and enjoy delicious food and beverages. Choose from several options depending on the length of time you need to relax.
Highlights
Relax in the Gandhi International Airport Lounge

Choose from 3, 6 or 12 hour passes

Enjoy amenities such as food, beverages, wireless internet connection and shower facilities (all included)

What You Can Expect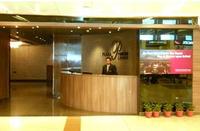 Escape the hectic airport atmosphere and head to the Plaza Premium Lounge at the Gandhi International Airport. After arriving in Delhi, enjoy high-quality service, relaxation and comfort at the lounge. Choose from two lounges: one for domestic arrivals and another for international arrivals. Depending on your need, choose from 3, 6, or 12 hours of relaxation at the lounge facilities.
The lounge operates 24 hours per day, and provides amenities and services to ease your fatigue after a long day of travel. Restore your physical being, and revitalize your senses in preparation for your next destination. The lounges provide superior service to meet the demands of all travelers and provide a hassle-free transit from New Delhi to any destination.
Service and Facilities:
Food and drinks including freshly brewed coffee, tea, espresso and cappuccinos
Comfortable seating area (nap suite not included)
International newspapers & magazines
Shower with amenities
Free wireless internet access
Free local calls
Flight information
Anonymous
October 2012
Great for transit!
November 2012
Made a 12-hour layover much more palatable. Big, clean showers. Excellent massage. Would have given 5 Stars if there had been a comfortable spot to sleep, too. Even a reclining chair would have nice. More than 1 location in this big airport and smaller lounge has no showers. Good wireless internet.
Advertisement
Advertisement