Follow in the footsteps of Indian legend, Mahatma Gandhi and learn about his message of non-violence and truth. Visit all the historical sites associated with the 'Father of the Nation' and hear stories of his courageous life. Assassinated in 1948, Gandhi left an enduring philosophical legacy that still resonates with millions of people worldwide.
Highlights
Discover and be inspired by Gandhi's Delhi on this Small Group Experience
Learn about the life and times of the Mahatma Gandhi "Father of the Nation"
Explore the streets of Delhi

Traveling in a small group allowing a unique and intimate experience
English-speaking guide

Recent Photos of This Tour
Gandhi's Delhi Small Group Adventure Tour
What You Can Expect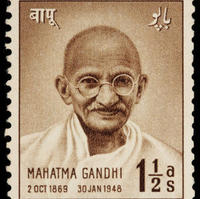 Traveling in a small group through Delhi, this is the ideal opportunity to learn more about the life and time of Indian legend Mahatma Gandhi. Your journey begins with a visit to Gandhi Smriti in New Delhi where Gandhi spent the last 144 days of his life and where he was assassinated on January 30, 1948. View the preserved room where Gandhi lived and see the grounds where he was shot during his nightly public walk. The museum here houses various articles associated with Gandhi's life and death.
Your next stop is the 'Gandhi Memorial Museum', commonly known as 'National Gandhi Museum'. The origin of this museum dates back to the period soon after the assassination showcases personal relics, manuscripts, books, journals and documents as well as photographic and audio-visual material.
Continue to Raj Ghat. Located on the west bank of the Yamuna River and set in the midst of deep green lawns a simple square platform marks the spot where Mahatma Gandhi was cremated. Raj Gat is a memorial to Gandhi inscribed with the words "Hey Ram", the last words uttered by Gandhi before collapsing after being shot.
Your local guide will lead you through the life and times of Mahatma Gandhi, learning more about his message of truth, non violence and peace. Traveling in a small group, maximum 12 people, allows for an intimate and informative experience.
At the end of the trip you are free for personal exploration or alternatively your local guide can assist with arranging a taxi back to your hotel.
August 2015
This was the highlight of our trip to India. We did a few tours during our brief five day stay in New Delhi. Visiting Gandhi's memorial sites was a very meaningful moment. Our tour guide was very knowledgeable and he speaks English which was helpful. He was patient and shows us everything we looked for in the visit. This is a tour we would like to do again when in New Delhi.
June 2013
We saw all the major sites and our young guide was sooo nice.
January 2013
Excellent guide, friendly and very informative. I really enjoyed this tour and learnt so much more about Gandhi who is truly an inspiration
January 2013
An excellent experience. The tour guide Audesh C. Mishra was a great guy who went out of his way to make our trip special and memorable, and even longer than the schedule as we were taking our time to see and indulge in the experience. He was very knowledgeable. Highly recommended on every level.
August 2012
We enjoyed our Gandhi Tour very much! The sites were very interesting and our tour guide, Indira, was very knowledgeable and friendly. We wanted to spend the morning learning as much about Gandhi and his work as possible and we were very pleased with our tour. Highly recommend! Jim G.
March 2013
Interesting, informative.
May 2015
Not great. Would not recommend.
January 2012
Tour started 1,5 hours late and lasted 3 hours (instead of promised approx. 5 hours) and consisted of 3 places of visit: Gandhi museum, Gandhi funeral place, and Gandhi house all of which can be entered free of charge in any case. It was cold on an open tuck-tuck in January morning in Delhi, and very uncomfortable with three people sitting in the back. Vianor promised an "airconditioned" vehicle, it sure was. I tried to cover my ears for not getting cold. The guide took us to these places and we did ourselves all the readings on the posters. Definately, not worth the money. Do it independently .
January 2012
If our group could give this a zero we would. The guide, though pleasant, knew nothing more than the briefest amount in a guidebook--really the worst guiding information I have every experienced! Also, the guide's Indian accent was so strong it made understanding very difficult (and my family is Indian, so I am used to hearing accents . . .) Raj Ghat was closed, as the Japanese PM was visiting the next day, but the guide could not offer an alternative site to visit. When we asked to return to a garden we had passed on our way to Raj Ghat, he and the driver got lost, which was hard to believe, and we landed up driving to India Gate for a brief visit. This tour operation does not have their own cars and drivers and hires those. The cars were not clean and drivers were poor (and I say this with knowledge as we had a car and driver for most of our stay in Delhi, who drove the same kind of vehicle, but clean and knew how to get to places. The guide and cars also arrived 30 min late and the first car had problems and they had to bring another for part of our group while we waited along the side of the road.
AVOID this tour group and AVOID this tour!! It is a total disaster. There were 8 in our group and we wasted our money.
Advertisement
Advertisement