25 Reviews
Location:

Delhi, India

Duration:

Varies
Special Offer
We'll get you in the door for cheaper. Save when you book with us. Price displayed includes a 11% discount off the local admission price!
Need a place to relax before your departure from Delhi? The Plaza Premium Airport Lounge provides you with a comfortable oasis to stay before boarding your domestic or international flight. Check your email on the wireless network, enjoy delicious hot food and beverages and take a refreshing shower. You have the flexibility of selecting from several options depending on the length of time you need.
Highlights
Relax in the Plaza Premium Lounge at Indira Gandhi International Airport before your departure

Choose a pass for 3, 6, or 12 hours
Enjoy hot food, beverages, wireless connection and a quiet place to relax (all included)

What You Can Expect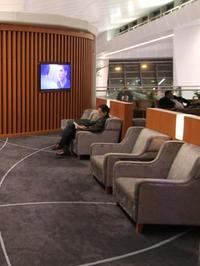 Sit back and unwind in the Plaza Premium Airport Lounge at Indira Gandhi International Airport before catching your departure flight. Make yourself at home as you enjoy the superior service, tranquility and comfort of the lounge. Depending on your flight, choose from four lounges -- two domestic departure lounges and two international departure lounges. Choose one of three passes and relax for 3, 6 or even 12 hours at the lounge facilities.
The lounges provide amenities and services to rejuvenate your senses in preparation for your next destination.
Service and Facilities:
Accessible 24 hours a day
Hot food, sandwiches, cookies and salad bar
Freshly brewed coffee/tea, espresso & cappuccino
Comfortable seating area
International newspapers & magazines
Shower with amenities (Only available at the International Departure Lounge located at Terminal 3, Level 4)
Free wireless internet access
Free local calls
Flight information
Click on "View Additional Info" for the Plaza Premium Lounge location map

December 2014
After 18 days touring India - it was lovely to relax in the quiet lounge which had lovely food and drinks and also wi fi!
October 2014
This lounge is quite handy when no business class with an airport lounge was available for purchase to fly from Delhi to Jaipur. The waiting time at Delhi airport was 5 hours and this lounge gave me a nice and comfort place to relax and recharge. I highly recommend this place for any refreshment or connect with internet etc.
March 2014
tour with great railways to golden triangle India fantastic. Well worth a visit excellent tour from start to finish
October 2013
Excellent! Worth every cent!
June 2013
Bathrooms are very clean and modern.
food is hot and flavorful.
I wish I was not on antibiotics, I would have liked to have a glass of wine or a cocktail.
It was quiet until later in the evening (after about 9 pm), then it became quite loud and busy.
If you have several hours to spend before your next flight, I would recommend this lounge.
June 2013
This was a great day in Old Delhi! Because Delhi is so chaotic, it was great to have someone lead us around and explain the history and significant of the sites we visited. Our guide was excellent - friendly and informative. There was a little pressure to do some shopping, but we wanted to shop.
March 2013
Good food, drink and peace and quiet.
Would do it again.
June 2012
This was a most restful and pleasant way to spend waiting time. staff were most pleasant and helpful throughout my 9+ hours in the airport. the food was OK and of course drinks were readily available
June 2012
Great place to chill out, the price was right and the service great. I recomend this if you have many houers at the airport
May 2015
Highly recommended as a restful oasis before leaving india - However - there are some important details I want every traveler to know - All international passengers must wait until about 3-4 hours before the flight in a general boarding area before you can check in - - therefore the 6 hour option will not work for this lounge - departing passengers should use the 3 hour option which we did - the lounge is very nice with a free buffet - plenty of electrical outlooks - TVs - sofa chairs and even showers - they announce all departures in English and on a large screen - the airport is very modern and has plenty of shops and eating areas but if you need to wait 2-3 hours before leaving then this lounge is a nice option - we definitely were able to relax and get ready for the long flight back to the US.
Special Offer
$27.78 Save $3.44
Advertisement
Advertisement