36 Reviews
Location:

Delhi, India

Duration:

3 hours

(approx.)
Discover the diversity and color of Delhi's action-packed streets, learn about India's struggle for independence and visit Hindu temples on this small group tour. From the labyrinthine backstreets and the striking Jama Masjid, to the bustle of Chandni Chowk, this old-world walled city within a modern metropolis is fascinating. Get an insight into local life and unearth the secrets of Old Delhi.
Highlights
Stroll through the streets of Old Delhi on this cultural morning tour
Enjoy the famous paratha wali gali, delicious stuffed fried bread, with fresh creamy curd and home made pickles

Sip a cup of Chai tea

Traveling in a small group allowing a unique and intimate experience
English-speaking guide

Hotel pickup from centrally located Delhi hotels

Recent Photos of This Tour
Old Delhi Half Day Small Group Tour
What You Can Expect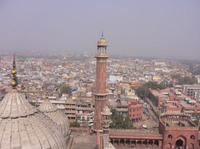 Travel on the metro to the old part of Delhi with your local guide. There's a chance to kick start the trip with a cup of chai before diving into the sights, sounds and smells of Old Delhi. This part of town includes street food, vibrant bazaars, temples and living historical sites which you'll visit. Goods on offer range from wedding paraphernalia to chains of Marigolds. Continue on foot, walking through narrow alley ways to visit the people, sites and smells of Old Delhi and no two trips will be the same as there is always something happening in this part of town. Your local guide will take you on a real life experience.

For lunch you'll will stop at the very famous Paratha Wali Gali to taste the delicious stuffed fried bread with fresh creamy curd and home made pickles. This is a feast for the eyes as well as the stomach as the fresh ingredients are flipped over tawa (hot plates). Stops include significant historical sights linked to the 1857 Mutiny, also known as India's First War of Independence. Your local guide will provide you with a background into India's more recent history and struggle for independence.Visit local temples dedicated to the various Hindu gods get an insight into Hinduism.

At the end of the trip you are free for personal exploration or alternatively your local guide can assist with arranging a taxi back to your hotel.
March 2015
Yajnabalkya Chatterjee was absolutely amazing! We had a wonderful morning with him walking around Old Delhi. He was incredibly knowledgable, not only about sites on the tour but Indian culture, food, government, music and everything in between. We wish we could have had him for a longer tour or hung out with him again.
January 2015
An excellent way to explore Old Delhi. The guide was great.
December 2014
I took this tour at a recommendation of a local friend. Turn out to be one of the best tours I have ever done.
My guide, Sabyasachi picked me up at my hotel which happens to be near where he stays. Our tour starts with the subway. I had a great time discussing political and cultural issues in Delhi in the train with him. Sabya is smart, fluent in English and aware of current issues.
In Chandni Chowk we visited a Hindu temple where he explained the various different deities, festivals and practices. We went on to a Gurudwara next, again Sabya was well aware of the practices explaining the customs as we went along. We also managed to see the huge soup kitchen run the Gurudwara and I even tried my hand in making roti! We visited Jama Mosque which was awe inspiring. Being a Muslim, I was not aware that such a magnificent mosque exist in Delhi and is one of the world's biggest! It even housed some of the Prophet Muhammad's (PBUH) artifacts. Sabya was able to point out to me the architectural significance of the mosque and its history.
I think one of the best parts of the tour was being able to sample the street food, samosas, rotis and marsala chai. We also have many interactions with the local vendors. I loved going through the narrow streets looking at fabrics, meeting locals, learn about spices and tea. The rickshaw ride through the area was quite the highlight for me. One of the best experiences of my travels.
I wanted to say thanks to Sabya and Tushar who made my India trip so wonderful. Sabya was commendable as a guide, personable, insightful and very respectful to everyone we met. I really value this experience as I know I would not be able to do it on my own. I felt that I learnt so much so thank you for a wonderful time and for sharing your beautiful India with me.
December 2014
this was probably the best money I spent in India! Our tour guide Sabyasaghi (Sab) was unbelievable! he was so well respected with everyone that we met. He took us everywhere. he introduced us to the Metro and what to look out for and where to eat. He let us know about the different histories and rituals of India. Take this tour as your first introduction to India. Fingers crossed you get Sab as he is one of a kind!
November 2014
Very well done. Very good guide. Took more time than allocated. Explained and showed us everything. Very patient. Very informative. Would do it again
September 2014
An excellent tour, we really felt that we had experienced something of the real city. All the organisation was straightforward and the tour company were helpful. Our guide Sabya Sachi was good company and knowledgeable. Unless you are in some way infirm it is possible for anyone to do this tour and I would highly recommend it.
April 2014
I was a single woman traveler, it was my first visit to Delhi. This tour was a great introduction to the city's shopping alleys. I got to ride the subway, eat samosas from a food stall as well as eat at a popular local open air restaurant - so, go on this tour hungry. The Sikh Temple was great. The people very friendly. We stopped by the spice market and I purchased spices and tea. I had a really good time and most of all, I feel comfortable enough now to go again to Old Delhi by myself. And I didn't get Delhi Belly.
December 2013
Our tour and guide were both excellent. The young man that arrive at our hotel to pick us up was very couteous and friendly. He happily guided us through the metro system and pointed out any number of items and was so happy to accompany us to the sites, smells snd sounds of Old Delhi. He stopped at a favorite resturant and we all enjoyed a delicious lunch. I cannot say enough good things about our experience.
November 2013
Wow Highly recommended with Avdesh our tour guide. He made us feel Chaotic Old Delhi so close, good information, we tried some traditional food. The Sickhe temple was a good experience. Overall, the best
February 2013
The tour was great! It was just me and another guy, plus the guide, Ashish. Ashish was really friendly, helpful, and extremly knowledgeable about Delhi and Indian history. We went through the narrow streets of Chandni Chowk, to Jama Masjid and to a Sikh temple, and we had an awesome lunch.
Advertisement
Advertisement