Uncover the beauty and mystery of the Mughal Empure on this private day tour of the walled city of Agra. Enjoy the experience of navigating the countryside by private vehicle and train from Delhi to this famed destination. Make stops at Agra Fort and the Taj Mahal—two UNESCO World Heritage Sites (and arguably some of India's most iconic structures). Visit Itmad-ud-daulah's Tomb and enjoy a rare look at highlights of the Mughal Empire on a heritage walk through the village of Kachhupura. Transport via railway, plus two meals (on train) are included in this day trip from New Delhi.
Highlights
Full-day trip to Agra with a private English-speaking guide
Visit two of India's UNESCO World Heritage Sites, the iconic Taj Mahal and Agra Fort, plus see Itmad-ud-daulah's Tomb
Take a walk through the rural village of Kachhpura – watch a street play and admire the traditional art form of Sanjhi
Learn about the golden Mughal era as you explore lesser-known monuments and study their architecture
Enjoy three full meals and complimentary bottled mineral water
Round-trip transport by train and private vehicle included
Why Our Insiders Chose This Tour
Your guide is committed to minimizing our carbon footprint. For every tour, they pay a fee out of pocket to offset the carbon emissions created by the transportation used on this tour. Those funds go to organizations working toward a greener future.
What You Can Expect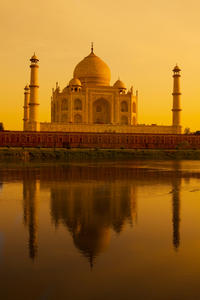 Get an early jump on the day with a 4:30 or 5:30 am pick up from your Delhi hotel. Travel in air-conditioned comfort to the city's rail station, where you'll catch the Shatabdi Express for a scenic ride (with breakfast) to Agra station.
Meet your driver upon arrival and make your way through Agra's top Mughal-era highlights in the comfort of your private vehicle. Your expert guide will share stories and information about the empire's history, culture and significance in contemporary India. Begin your Agra experience at the red sandstone and white marble Agra Fort. Wander the decorative chambers, rooms and palaces with your guide and learn about the fort's impressive mosques, like the Pearl Mosque (Moti Masjid).
Make your way from Agra Fort to the iconic Taj Mahal with your guide and private driver. This stunning example of Muslim art in India is comprised of a white-domed marble mausoleum built to honor the third wife of Shah Jahan. Learn about the Mughal architecture, which blends Indian, Turkish and Persian influences and gain a deeper understanding of the 20-year period it took to erect this jewel of India.
Enjoy a typical Indian lunch before visiting the tomb of Itmad-ud-daulah (pillar of the state). This mausoleum was the inspiration for the Taj Mahal. From there, make your way to Kachhupura. Enjoy a heritage walking tour of this quiet village, where your guide will lead you through Mughal-era monuments like the historical wells of Baoli and the Humayun Mosque. Look out over the River Yamuna, where you can take in views of Agra Fort after admiring Gyarah Sidi, carved from a single stone.
You'll follow your friendly guide on foot through the village of Kachhupura, where locals will welcome you with a traditional Aarti ritual that includes colorful floral garlands. Gain insider access to authentic, rural Indian life and catch a street performance by village youth. Watch as young girls trace paper stencils on walls—a traditional form of art known as Sanjhi—and hear stories about typical rural life from your guide.
Take in picture-perfect views of the Taj Mahal and For Agra from atop the village tea terrace before taking a quiet walk in the Mehtab Bagh for more stunning sunset views of the iconic Taj Mahal.
Return to the Agra rail station with your guide in time for the 8:30 pm train to Delhi. Relax with dinner en route and meet your private driver upon arrival for a comfortable return trip to your hotel.
Itinerary
In order to confirm your train reservations, please verify the following information with local operator upon booking:

Full Name
Gender
Age and Date of Birth
Passport Number and Nationality
February 2016
Excellent tour with informative and friendly guide .
Village walk is great.
September 2015
The tour of the village was totally different, and did not really fit in with the rest of the tour. It was really a walk through total poverty, which was already evident from driving through the countryside. Unnecessary.
Warren K USA
May 2015
The Taj Mahal ! There is nothing else to say ! This is the moment we looked forward to and it is everything you have imagined - Stunning, inspiring and the memories of a lifetime- Viator used a tour company for our tour and they did an excellent job - however please read about the Kachhpura option below to see if this specific tour is for you -
We were picked up at 5 am because our trip to Agra was by way of the direct train that leaves at 6 am and takes 2.5 hours. This is a great option as compared to driving - you get a reserved seat and its a comfortable ride all the way there - they serve some snacks on board but we brought food from the hotel. We were met at the train station and off we went for the tour. Nothing can compare to the WOW factor of the Taj Mahal - Our guide Sanjay has a History degree and was a fountain of information - extremely professional and friendly - he clearly is an expert in his field and his explanations were very clear and interesting. We bought the photo package at the Taj Mahal - for about 100 US we had personal photographer take 60 photos of us that were developed, printed and put in an album before we left - he posed us and got us the most incredible memories. Most importantly you get the jpg images on a computer disc so you can make your own prints and load them to your computer that night ! this was well worth it for a trip of a lifetime - we spent plenty of time at the Taj Lunch was included and was a buffet at a 5 star hotel in Agra and was delicious. We went to the Agra Fort and had an extensive tour of the palace and also toured the mini Taj - Now the Kachhpura Village is an interesting option - it is billed as a Mughal heritage walking tour but in reality it has a little bit of Mughal relics but more importantly it is a walk into a typical rural village - its not easy to see the way of life and poverty but the people are friendly and their spirit is inspiring. We were glad we did it - Ask for Sanjay !
January 2015
Great trip, tour guides spoke perfect English and were very adept at handling some of the difficult cultural obstacles. I will book with Viator again.
August 2015
Excellent tour the guide was very knowledgable. The train reduced travelling time and was easy enough to do although we finished the tour at half 4 and the return train wasn't until 9.20 the evening meal included was on the train. We sat around at a hotel (5*) for over 4hrs expensive drinks bill!

July 2015
For those visiting India, Taj Mahal is a must see, and this day tour was a great way to see it. The Express train was definitely a great option for traveling to Agra - and the tour operator made it very easy to navigate both in Delhi and in Agra, even for a solo traveler. Agra provided for many sights beyond the Taj - and the tour guide was very knowledgeable about each site. Kachhpura Village was a great add to get the local flavor. Only caution - be prepared to be shown final products for sale when visiting the cottage industries to see how certain crafts are done...
May 2015
I would not take the train if you are at all squeamish about dirty surfaces. I would suggest luxury bus instead. Our guide in Agra was terrific, very knowledgeable. The Taj Mahal was incredible - not too be missed.
December 2014
Know what you are getting into, this is a very very long day! Driver from hotel to train station, train to Agra with breakfast on board (I'd pass...), but then Agra! Once there this was fantastic, all the sites to see, easy / direct access with a knowledgeable guide, good lunch / rest spot, and ability to add the show if finishing up early enough before the train back with dinner on board (I'd pass...).
Advertisement
Advertisement