Ensure you have a smooth beginning and end to your stay in Delhi by booking your private airport transportation ahead of time! Let a friendly, professional driver look after you with comfortable, air-conditioned transport to and from your hotel. In addition to avoiding the hassle of waiting for public transportation, you can enjoy an even better experience by upgrading to the VIP option, which includes assistance through immigration and customs for both arrival and departure at Delhi's Indira Gandhi International Airport .
Highlights
Private round-trip transfer between Indira Gandhi International Airport and your Delhi hotel
Enjoy efficient and comfortable air-conditioned transportation in Delhi with a friendly and professional driver
Avoid the hassle of waiting for public transportation or taxis
Transport service available 24 hours a day, 7 days a week
Upgrade to the VIP option for immigration and customs assistance and in-terminal transport for both arrival and departure at the airport

What You Can Expect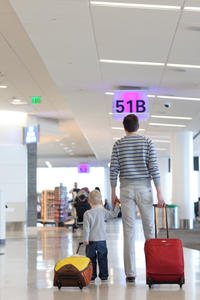 Whether you're traveling as a single, couple or group, your airport transfer needs are covered with this private transfer. After arriving at Indira Gandhi International Airport in Delhi and clearing customs, meet your driver (just look for your name) and relax on the ride by private vehicle to your hotel in the New Delhi, Gurgaon, Noida or Ghaziabad area.
When it's time to leave the city at the end of your stay, your driver will meet you in the lobby of your hotel at a prearranged time to take you back to the airport for your departing flight. It's that easy!
When making a booking, you will need to provide your flight details (flight numbers and times) and your Delhi accommodation details (hotel name and address). Your round-trip transfer will be confirmed instantaneously and you will be provided with a travel voucher to present to the driver.
Upgrade to VIP Assistance!
Arrival:
After arriving at the airport and exiting your airplane, you'll be met by a representative and taken to the immigration counter in an electric vehicle. Receive help with completing the immigration and customs process, and be assisted with your baggage. Enjoy complimentary water, coffee or tea while you wait for your private vehicle and driver, who will take you to your hotel.
Departure:
After your driver drops you off at the airport, be met immediately by a representative who will take you to security and assist you with immigration and the check-in process. Then enjoy speedy transport to your departure gate by electric vehicle.

Price is per person, based on 6 adults per car/vehicle.
November 2015
The pick up was very smooth. Delhi is a very busy place and it pays to have a car waiting for you to take you to the hotel and pick you up to take you back. Traffic is VERY congested and it is advisable to have your return to the airport as early as possible! We particularly enjoyed this service because we had them take us to one hotel - we left the city for sightseeing and returned to a different hotel for the airport return!
November 2015
Our driver, Sanjay Gupta, picked us up promptly from the airport and drove us to our hotel. He was very kind and knowledgeable, pointing out landmarks along the drive and offering us complimentary bottled water and soft drink. There was also free wifi in the air conditioned car, which was wonderful. It was our first time in India and Sanjay made our transition into Delhi life as easy as possible. Thank you!!
September 2015
I can honestly say I don't know if I could ever go back to a regular transfer with non-VIP airport assistance. Especially at DEL, where things can get hectic during peak hours. Transfer was fantastic and during my departure, my VIP attendant was always at my side, getting me quickly through check-in, immigration, and, because my flight was boarding soon, he also escorted me via the in-terminal tram (think luxury stretch golf cart) and got me to my gate just in time. Definitely won me over.
September 2015
I tried the optional VIP assistance service and was astonished by the high level of service I received. Both arrival and departure were so smoothly assisted and staff and driver whom greeted me were very professional. I thought Japanese provided the best service but oh man, these guys definitely surpassed Japanese (I was born in Japan so I'm pretty shocked by this, in a good way). The departure in-terminal cart service was a clutch, because Delhi airport is HUGE! Thanks for all the help!
December 2014
The tour company were prompt in fetching us from the airport to the hotel on arrival and vice versa on departure.
November 2013
Anonymous
June 2013
Super smooth! Highly recommended!
September 2013
The driver was at the airport for pick up and was on time at the Hotel for the return trip on time.Was professionally done.
May 2013
I got to my hotel efficiently and was met with a sign with my name directly exiting the baggage claim
April 2014
We were met immediately as we exited the plane by the representative who then took up via electric cart to the Customs area and baggage. Then out to where we met our transportation to our hotel. For the departure, again the driver was right on time to pick us up at the hotel. However there was no one to help us when we got to the airport. We had to checkin and get to our gate by ourselves. When we asked the driver where we met the airport guide, he just shrugged his shoulders and knew nothing and just left us there. That was a disappointing since it was a service we paid for. It wasn't worth the price. The Delhi airport is virtually brand new. While it is a distance from the gates to Customs, free electric carts are available for those who need them. Customs was easy for arrival and departure. Use the free electric carts, book just the transfer to hotel and save your money! Overal it wasn't worth the cost.
Advertisement
Advertisement