Discover the best of Varanasi and Khajuraho on a private 5-day tour from Delhi. Visit Varanasi, the most sacred city in India, and see where Hindus practice their spiritual rituals before heading to Khajuraho to view the impressive temples with intricate carvings. This 5-day itinerary offers insight into India's religious culture, great sightseeing with a local guide and plenty of time for your own exploration.
Highlights
5-day tour of Varanasi and Khajuraho from Delhi

Take an early morning cruise on the Ganges River and watch the daily rituals

Marvel at the intricate sculptures of Khajruaho Temple

Plenty of free time to explore on your own

Private guide for a personal and unique experience

What You Can Expect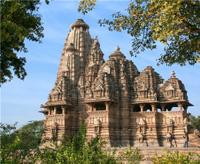 Day 1: Delhi – Varanasi
Transfer to the airport for your flight to Varanasi. On arrival, transfer to your hotel. In the afternoon enjoy a guided tour of Sarnath, one of the holiest Buddhist's sites. See the Dhamekha Stupa where the voice of Buddhism was first heard and many Buddhist dignitaries visit to pay homage to Buddha. Spend the rest of day exploring Sarnath at your leisure before returning to Varanasi. Overnight: Varanasi
Day 2: Varanasi (B)
Discover the holy city of Varanasi, an important pilgrimage destination for Hindus for thousands of years. Take an early morning boat cruise on the sacred Ganges River and witness the daily rituals. See the long string of ghats (steps) that line the river, where locals practice yoga and Hindus perform morning prayers before bathing in the river to wash away their sins. After breakfast, visit Bharat Mata temple, Banaras Hindu University, Vishwanath Temple, Hanuman Temple and Old City market. Overnight: Varanasi

Day 3: Varanasi - Khajuraho (B)
This morning, transfer to the airport for your flight to Khajuraho. On arrival you will be transferred to your hotel. Khajuraho is renowned for its erotic sculptures that adorn the many medieval Hindu and Jain temples. There are many interpretations of the risque carvings, and your guide will provide you with more insight into these architectural marvels. In the afternoon, visit the Chandela Temples. Overnight Khajuraho
Day 4: Khajuraho – Delhi (B)
For travel dates between May 1, 2013 and August 31, 2013:
After breakfast, drive approximately 3 hours northwest to Jhansi. En-route, stop at Orccha, a medieval city that lies on the banks of the Betwa River. Here, your guide will lead you on an exploration of its forts, palaces and temples that still retained their ancient grandeur.
At around 6pm, collect your packed dinner from your guide and board the train to Delhi. Arrive in Delhi at around 10:45 and be met by your driver, who will transfer you to your hotel.

For travel dates before May 1, 2013 and after August 31, 2013:
Explore Khajuraho at your leisure before transferring to the airport for your flight to Delhi. On arrival you'll be transferred to your hotel. The remainder of your day is free. Overnight Delhi

Day 5: Delhi – Departure (B)
Transfer to the Delhi airport where your tour concludes.
Itinerary
Hotel Accommodation:

Standard Hotels: (3-star)
Clean, comfortable value-for-money accommodation with own bathroom
Varanasi: Hotel Ideal Tower
Khajuraho: Hotel Radisson
Delhi: Hotel Ramada Plaza

Superior Hotels: (4-5 star)
Superior properties with an emphasis on comfort, well located with personalized service
Varanasi: Taj Gateway Ganges
Khajuraho: Hotel Radisson
Delhi: Hotel Metropolitan
September 2014
We enjoyed the tour, all the guides and drivers were excellent. My suggestion is instead of the train trip at night when we could not see anything from the train. Stay somewhere perhaps Orcha and come back to Delhi by train on the friday through the day. This would not change your costing and would be more relaxed and your clients would enjoy the train trip much more.
Anonymous
November 2012
5 stars experience and 5 stars guide! I love the hotel choices as well. The Varanasi visit is def the highlight of my India trip. Highly recommended!
October 2014
November 2012
We really enjoyed Khajuraho, it's a small town away from the hustle and buzzle of the city. The hotel Radisson was pretty nice. The tour guides were very courteous and knowledgeable. Varanasi was very hectic and quite dirty. We loved the tour guide and the gateway hotel. But the experience inside Vishwanath temple was not quite desirable. The security guards are not very nice people. We had a different guide, actually a shop keeper to accompany us to the temple. He was not doing his job keeping us safe from the crowd. Other than for that experience, I would've given 5 stars.
Advertisement
Advertisement