Go back in time to India's Mughal era on this private Delhi to Agra tour that takes you to two World Heritage–listed sites, the Taj Mahal and Agra Fort. In the company of a private guide, gaze in wonder at the grandeur of the Taj Mahal, one of the New7Wonders of the World, and admire the architecture of the enormous Agra Fort. With a private day trip, you can be sure you'll enjoy an in-depth and personalized experience.
Highlights
Explore the World Heritage–listed Taj Mahal and Agra Fort on this full-day tour from Delhi
Enjoy the comfort and convenience of traveling by air-conditioned private vehicle with a driver

Benefit from the personalized service of a private guide
Entrance fees are included

Recent Photos of This Tour
Private Tour: Agra and the Taj Mahal Day Trip from Delhi
What You Can Expect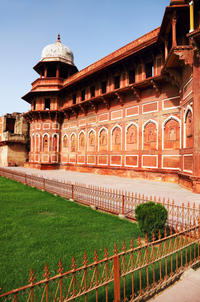 Your day trip to Agra starts with the 124-mile (204-km) drive from Delhi, admiring the views of India outside the window of your private vehicle. When you arrive, your first stop is the Taj Mahal, the world's biggest symbol of love.

Commissioned by Mughal Emperor Shah Jahan in dedication to his wife, this mausoleum and World Heritage site is known for its white marble façade. While you take in the opulence of the structure and its surrounding garden, hear stories about love, loss and stunning architectural accomplishments from your guide.

Then head to your second stop, Agra Fort, located across the Yamuna River. Enter the walls of the huge fortress with your guide, and explore the maze of structures that form this city within a city, built by Emperor Akbar in the late 1500s. While you walk, learn from your guide about the fort's history, as well as art and architecture in India at the time. Your day trip then ends with return to Delhi in your private vehicle.

Please note: The drive between Delhi and Agra is typically four to five hours each way, but the duration can vary depending on unpredictable traffic conditions on the day of your tour. Please be prepared for a long tour.

April 2016
Driver was great as was the guide.
April 2016
Brilliant tour with a great guide and driver
March 2016
Excellent car, driver, and guide. This is an excellent way to see the Taj Mahal and Fort in a one day excursion from Delhi. Our guide was terrific, and was fine when we politely informed him we had no interest in purchasing a rug or any other craft item in Agra. Be prepared for horrendous traffic on your re-entry to Delhi, but, that's Delhi!
March 2016
We would recommend this magical trip to anyone , exceptionally well organized , brilliant driver of our luxurious mini bus and our guide was wonderful, he knew everything about the Taj Mahal and the Fort at Agra , he answered all our questions and was very informative . Congratulations on a fabulous trip !!
February 2016
Incredible tour of Taj Mahal and Agra fort. The Taj Mahal must be seen in person to get the total perspective of its beauty. The transport driver and tour guide were very good. They also took me to a few artisan shops where I saw stones being shaped just like those inlaid in the Taj. Excellent overall tour.
November 2015
This was an excellent tour! Our tour guide was extremely knowledgeable and took great care of my group. He brought us around to the best photo spots and was very patient as each person wanted a few snapshots with the Taj Mahal in the back. He provided a wonderful account of the history, and we were also able to bypass all of the lines. The driver was very good as well and ensured we were picked up and dropped back off at our hotel safely. It is a spectacular day, and I highly recommend this tour if you plan on seeing the Taj Mahal.
October 2015
It was a great experience! The tour guide was very knowledgable, friendly, and we felt a lot more comfortable throughout the day. The drive to Agra is about 3 hours, so that was a little long, but I would still highly recommend this tour to anyone!

June 2015
We recommend this tour without any hesitation! The driver is a nice young man, who is always on time and drive safely. The tour guide is also very nice and professional. Thanks to them, we had a great time in Delhi/Agra/Taj Mahal!

May 2015
My tour morning started in a panic. As instructed, I printed out my itinerary to find in big print 'MUST CALL WITHIN 24 HOURS TO CONFIRM OR YOUR TOUR WILL BE CANCELED'. Oops...I forgot to do that. Luckily, my driver still arrived. My tour was during India's heat wave and I was happy to see that the car was modern with good AC. The driver was courteous, pointed out things along the way, and made friendly conversation along the way. The drive was about 3.5 hours in which 80 was on a fast moving toll-road. There were plenty of optional clean restroom stops if needed along the way. Driving through Agra was especially interesting. Cattle in the streets, monkeys on rooftops, etc. I was dropped off at Costa Coffee where I met my tour guide. He explained the details of the day, such as what was included and what was not and also gave advise on dealing with beggars that we would encounter on the way there ignore them, basically. He added that I was only allowed to bring with me a wallet, camera, and cell phone, nothing else including water. We got back in the car and were dropped off at the gate where we then walked the 1km to the Taj there are electric carts available for 100 rupees 1.50 US per person if desired. He provided a bottle of water for me to quickly drink and then we skipped the line into the Taj Mahal grounds. He gave a great tour and knew all the great photo opportunities. After the tour we took an electric cart to the Fort have 100 rupees per person ready. He then gave the in depth tour of the Fort. In all, both tours took about 1.5 hours. We got back in the car to Costa where we had a cold beverage you pay for this and it is common courtesy to treat the guide and driver. I was then given the option to go to a souvenir shop or restaurant that they recommend. Thankfully, they were not pushy about this when I declined. I tipped the guide 1000 rupees/15 USD and we proceeded back to Delhi. I tipped the driver 1500 rupees 23 USD.
March 2015
Advertisement
Advertisement