43 Reviews
Location:

Delhi, India

Duration:

12 hours

(approx.)
Marvel at the world's greatest monument to love, the Taj Mahal and magnificent Agra Fort on this unforgettable private tour. Accompanied by your own private guide, you will travel by chauffeured air-conditioned vehicle between Delhi and Agra and enjoy personalized attention as you discover the magical history and romance of royal India.
Highlights
Explore the World Heritage listed Taj Mahal and Agra Fort on this full day tour from Delhi
Enjoy the comfort and convenience of traveling by your chauffeur driven air-conditioned private vehicle
Benefit from the personalized service from your private guide
All monument entrance fees are included in the tour price
Recent Photos of This Tour
Private Tour: Agra and the Taj Mahal Day Trip from Delhi
What You Can Expect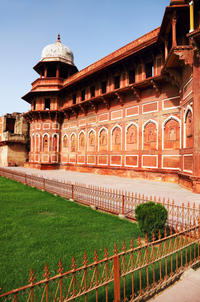 To begin your day trip to Agra, you will be collected from your Delhi hotel. As you travel the 124 miles (204 kilometers) to Agra you will be amazed by the colors and diversity of India displayed in everyday life.
On arrival in Agra, your first stop is the sublimely beautiful Taj Mahal, built by Emperor Shah Jahan as a testament for his love for his wife Mumtaz Muhal. This World Heritage site is an architectural masterpiece, and the most remarkable legacy of the Mugal Empire that ruled over India for 200 years from the early 16th century. Your guide will enlighten you with stories from the Taj Mahal, tales of love, loss, tragedy and amazing architectural feats.
Continue by road across the Yumuna River to the red sandstone Agra Fort, built by the great Mughal Emperor Akbar in the late 16th century. Your guide will lead you into the fort's massive walls and through a maze of buildings that form a city within a city. As you explore this magnificent Word Heritage site you will learn of its history and of the golden era of art, literature and architecture in India.
Return to Delhi and to your hotel by road. Please note the journey between Delhi and Agra will take between four and five hours.
IMPORTANT NOTE: The length of the trip can vary depending on the unpredictable traffic conditions, so plese be prepared for a long day.
November 2015
This was an excellent tour! Our tour guide was extremely knowledgeable and took great care of my group. He brought us around to the best photo spots and was very patient as each person wanted a few snapshots with the Taj Mahal in the back. He provided a wonderful account of the history, and we were also able to bypass all of the lines. The driver was very good as well and ensured we were picked up and dropped back off at our hotel safely. It is a spectacular day, and I highly recommend this tour if you plan on seeing the Taj Mahal.
October 2015
It was a great experience! The tour guide was very knowledgable, friendly, and we felt a lot more comfortable throughout the day. The drive to Agra is about 3 hours, so that was a little long, but I would still highly recommend this tour to anyone!

June 2015
We recommend this tour without any hesitation! The driver is a nice young man, who is always on time and drive safely. The tour guide is also very nice and professional. Thanks to them, we had a great time in Delhi/Agra/Taj Mahal!

May 2015
My tour morning started in a panic. As instructed, I printed out my itinerary to find in big print 'MUST CALL WITHIN 24 HOURS TO CONFIRM OR YOUR TOUR WILL BE CANCELED'. Oops...I forgot to do that. Luckily, my driver still arrived. My tour was during India's heat wave and I was happy to see that the car was modern with good AC. The driver was courteous, pointed out things along the way, and made friendly conversation along the way. The drive was about 3.5 hours in which 80 was on a fast moving toll-road. There were plenty of optional clean restroom stops if needed along the way. Driving through Agra was especially interesting. Cattle in the streets, monkeys on rooftops, etc. I was dropped off at Costa Coffee where I met my tour guide. He explained the details of the day, such as what was included and what was not and also gave advise on dealing with beggars that we would encounter on the way there ignore them, basically. He added that I was only allowed to bring with me a wallet, camera, and cell phone, nothing else including water. We got back in the car and were dropped off at the gate where we then walked the 1km to the Taj there are electric carts available for 100 rupees 1.50 US per person if desired. He provided a bottle of water for me to quickly drink and then we skipped the line into the Taj Mahal grounds. He gave a great tour and knew all the great photo opportunities. After the tour we took an electric cart to the Fort have 100 rupees per person ready. He then gave the in depth tour of the Fort. In all, both tours took about 1.5 hours. We got back in the car to Costa where we had a cold beverage you pay for this and it is common courtesy to treat the guide and driver. I was then given the option to go to a souvenir shop or restaurant that they recommend. Thankfully, they were not pushy about this when I declined. I tipped the guide 1000 rupees/15 USD and we proceeded back to Delhi. I tipped the driver 1500 rupees 23 USD.
March 2015
March 2015
Our tour guide was well informed and walked us through the remarkable construction of this world landmark. The visit to the Taj Mahal was the centerpiece of our family trip to India, and we will long remember it as an amazing illustration of this unique country's culture and history.
March 2015
The driver was late by 1 hr but compensated by doing a good job. The english speaking guide Mr. Khurram was neatly dressed, spoke good english and was very professional. He showed photo spots and helped capture some moments.
December 2014
Great tour! Picked me up at my hotel and dropped me off at the same. My driver was great and very friendly. The guide at the Taj got me in around all the lines and security. This tour highly recommended!
Mark United States of ...
April 2014
This tour was excellent. Reccomend going on a sunday due to lower traffic in Delhi. We had no traffic issues along the way. Stay hydrated! The Taj is beautiful but the inside portion is very hot and crowded. Be on your toes for pick pockets inside the Taj. No need to get one of the many photographers to follow you. You can take plenty of pics yourself and your guide can snap photos too. At Fort, be sure and look up. There are monkees, bats, and parrots to be seen in addition to the wonderful fort. Make sure the guide tells you the history of the Black Taj Mahal. It's almost as fascinating as the Taj itself.
March 2014
i highly recommended this tour especially if you first time in india and wanna see taj mahal, ask for raza he is the driver came to my hotel and drop me off after, he so nice guy, know all areas around Dlhi and agra especially for shopping and he do speak english/ hindi and arabic as well very well
Advertisement
Advertisement