89 Reviews
Location:

Delhi, India

Duration:

14 hours

(approx.)
Step back in time and discover the glory of the Mughal Empire of India on this private day trip to Agra from Delhi. See ancient architecture significant to India's history such as the Tomb of Itmad-ud-Daulah (Baby Taj) and the Agra Fort, a 16th-century Mughal monument. Of course, a visit to this country is not complete without a tour of the Taj Mahal, one of the most recognized symbols of India. Your own private guide will ensure that you get an in-depth experience of these emblematic structures.
Highlights
Private day trip to Agra from Delhi
Visit two of India's UNESCO World Heritage-listed sites: the Taj Mahal and the Agra Fort
Explore the huge expanse of the Agra Fort and learn about its Mughal architecture
Get an in-depth tour of the iconic Taj Mahal and the Tomb of Itmad-ud-Daulah (Baby Taj)
Enjoy a traditional Indian lunch at a popular restaurant
Private tour with an expert guide ensures a more personalized and flexible experience
Transport by air-conditioned vehicle included
Recent Photos of This Tour
Private Tour: Day Trip to Agra from Delhi including Taj Mahal and Agra Fort
What You Can Expect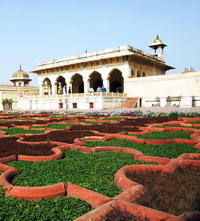 Take a private tour of several antique structures of Agra, a city on the banks of the Yamuna River. Private pickup will take you from Delhi approximately four hours to Agra. Stop first at the UNESCO World Heritage-listed Agra Fort, a treasure house of Mughal architecture.
This 94-acre (34-hectare) brick fort dates back to 1080 AD and has seen many battles and undergone major renovations. Witness the interesting fusion of Hindu and Islamic influences on its construction and decor as you walk inside the fort with your guide and learn about the different functions of the buildings including the Moti Masjid (Pearl Fort), Diwan-i-Khas (Hall of Private Audience), Diwan-i-Am (Hall of Public Audience), Sheesh Mahal (Mirror Palace) and more.

Head to the Taj-Mahal, India's most iconic building and a UNESCO World Heritage-listed site. Along the way, stop at a popular restaurant for traditional Indian eats.
Spanning an area of about 1,000 acres (400 hectares), this majestic architectural wonder offers incredible sights. On your guided tour, admire the structure's magnificent construction, the intricate exterior and interior decor, the beautiful garden and the outlying red-sandstone buildings. Its most predominant structure, the white-domed marble mausoleum, was built by the Mughal Emperor Shah Jahan in memory of his beloved third wife, Mumtaz Mahal, and combines Persian, Turkish and Indian architectural styles.
Finally, visit the Tomb of Itmad-ud-Daulah, situated on the opposite bank of the Yamuna from the Taj Mahal and commonly known as the Baby Taj. Built between 1622 and 1628 by Empress Nur Jahan for her father, the mausoleum is often described as a jewel box. Admire the trellis work and precious stone inlay as you listen to your guide's commentary and learn about the strong Persian influence on the tomb's design—the first in India entirely made out of marble.
At the end of private tour, sit back and relax on the drive back to Delhi.
July 2015
We had so much fun in Agra. Our driver Manoj Kumar and tour guide Hussein were very helpful and knowledgeable. I highly recommend these two guys as they will ensure your trip to Agra is safe and fun. Kudos to Viator for having these two guys in your team!
Benny Alibasa
June 2015
What an awesome tour! Everything is organized very well. We paid extra to have a photographer take our photos at the Taj Mahal and our guide negotiated the price. I finally got took the picture I dreamed of, on the marble bench in front of the Taj Mahal. If I had to do it again I'd skip the store that sold the marble items. While they had beautiful things, and I like my little elephant -- I wasn't in the mood for a hard sell. Lunch at the local restaurant was delicious.
June 2015
Totally fantastic. It was great. I stayed at the Oberoi, hotel and the driver picked me up at 5:00. His English was very passable and his driving skills were solid. We drove to Agra. Stopped once to get some coffee and stretch our legs and then we met up with the guide, Mohad. He met us and proceeded to give us the best tour of the Taj Mahal, the Agra Fort and the mini-Taj. He was very knowledgeable. His English was good and he had a breath and depth of the situation that was remarkable. He allowed me to wander a few times but always kept to a schedule.
June 2015
Perfect! I often do things on my own, but glad that I booked a guide for this!! Driver and guide were very professional and passionate. Went the extra mile many times. Many "hidden treasures" and cool photo ops as result. If driver says more money for fast trip, Rs 575, it's legit. Toll hiway.
June 2015
June 2015
Shyam was an excellent and very knowledgeable guide. Sahiram was on time and very accommodating. I would highly recommend both and would be more than happy to have their services again. Thank you for a wonderful experience.
May 2015
This trip was amazing! Definitely a once in a lifetime experience - and I would go again! Worth every penny. Our driver was right on time picking us up from our New Delhi hotel. The drive was long around 3 hours but fun because of the great music provided by the driver and good conversation - he answered any questions we had!
When we arrived in Agra - we were met by our private tour guide Mr. Kamlesh. He was by the far the best guide I have experienced - and I've been on many trips. He was extremely knowledgeable and the facts and insight he provided is something we will always remember. He went at the perfect pace and let us stop for water breaks many times because we needed them! He provided us with the hard facts as well as back stories and insights you can't get from reading a textbook. He is excellent at what he does!!
We were very happy we decided on the private tour as opposed to a group tour.
They also took us to the Agra fort as well as a stop at the Baby Taj. Oh and they take you to a local restaurant for lunch! It was delicious!!
After returning from our whole day trip, we concluded that we would have paid double for the trip!! It was that worthwhile. I would recommend this trip to anyone wanting to visit the Taj Mahal! Well wort it.
Cheers to Mr. Kamlesh and our driver that day!! Excellent service!
May 2015
We got picked up from our hotel in Delhi at 5am. They do ask for your hotel room number so the security people can call you when the driver arrives. Also be aware that the tour guide is in Agra so you will just be with the driver for about 3 hours. Our driver was nice guy but a little sleepy and got us nervous for a bit LOL. Nothing bad happened in the end so no worry. He did stop at a rest area on the modern toll freeway and we had coffee and bought bottled water. At this point of the trip there isn't anything free like water, which was a little disappointing esp if the drive is 3 hours.
We arrived at Agra and met with the tour guide who joined us in the car. I wish I had remembered his name! He was really great. An older man with glasses, and shortish. He was very knowledgeable and planned our excursions very well. For example he took us to the Baby Taj first, whereas most guides take you there last. I think he said this made us avoid the crowds and traffic that takes us further away from our departure point.
Then we went to see the Taj Mahal. Well I just have to say.. it is so much more amazing in person. I literally gasped when I first saw it. My mouth was open LOL. The tour guide navigated everything for us.. where to go, what to do, etc. And provided information about the history of the place. He was even our photographer! We did have a bottled water at this point.
The to Agra fort we went. Very cool also. Really worth the visit.
The only part of the trip we did not like was when they took us to a local shop that specialized in marble craft because we ended up spending money on items we really did not want to. We just felt bad not buying anything because they were really nice. And their items were super expensive. So if the tour guide asks you if you want to go, just decline.
Last part of the tour was lunch at local restaurant, which was very good. I recommend this tour but just be aware of some of the minor issues I raised. Other than that, enjoy!
April 2015
Thank you for a very wonderful day your driver for that day was very prompt and picked us up from the Hotel at the time that was given to us. Despite having fog from Delhi to Agra the drive was very interesting with explanation given as we drove through the country. Once we arrived at Taj Mahal it was every thing we had hoped our guide for the day was so informative and interesting. We were then taken to Fort Agra but it was when we were taken to see how the marble was inlaid with precious stones and how it was done. We can't wait to go back again and will certainly be using Viator when booking our trips
April 2015
Advertisement
Advertisement