Journey back to the days of India's Mughal Empire on this private Delhi to Agra tour that includes admission to two World Heritage sites—Agra Fort and the Taj Mahal. With a private guide, you'll admire the 16th- and 17th-century architecture of the enormous Agra Fort and the Tomb of Itmad-ud-Daulah (aka Baby Taj), and gaze in wonder at the exterior and interior grandeur of the Taj Mahal, one of the New7Wonders of the World. On this private day trip, you can be sure you'll enjoy an in-depth and personalized experience.
Highlights
Private day trip to Agra from Delhi
Visit two of India's UNESCO World Heritage-listed sites: the Taj Mahal and the Agra Fort
Explore the huge expanse of the Agra Fort and learn about its Mughal architecture
Get an in-depth tour of the iconic Taj Mahal and the Tomb of Itmad-ud-Daulah (Baby Taj)
Enjoy a traditional Indian lunch at a popular restaurant
Private tour with an expert guide ensures a more personalized and flexible experience
Transport by air-conditioned vehicle included
Recent Photos of This Tour
Private Tour: Day Trip to Agra from Delhi including Taj Mahal and Agra Fort
What You Can Expect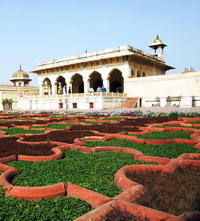 After pickup in Delhi by private vehicle, your day trip begins with the approximate 4-hour drive to Agra, a city located on the Yamuna River.

Your first stop is Agra Fort, a World Heritage site and Mughal architectural wonder. With your private guide, enter the 94-acre (34-hectare) brick fort, noting the mix of Islamic and Hindu influences in its design. Hear about the purposes of the various buildings such as the Hall of Private Audience (Diwan-i-Khas), Pearl Fort (Moti Masjid), Mirror Palace (Sheesh Mahal) and Hall of Public Audience (Diwan-i-Am).

Next, enjoy a lunch of Indian dishes at a local restaurant before continuing your tour to your second World Heritage site and perhaps India's most iconic landmark, the Taj Mahal. Built in the mid-1600s, this white marble mausoleum was commissioned by Mughal Emperor Shah Jahan in dedication to his wife. Learn about the Turkish, Indian and Persian architectural styles as you admire the detailed interior and exterior décor, the beautiful garden and the general magnificence of the place with your guide.

Then head to your last attraction, the Tomb of Itmad-ud-Daulah, another mausoleum sometimes referred to as the Baby Taj, as it was one inspiration for the Taj Mahal and sits just across the river from it. Learn from your guide about the Persian influences behind the design of the tomb as you admire its stone inlay and trellis work. Your day trip then ends with the return drive to Delhi.
May 2016
The beauty of the Taj Mahal made it worth the 4 hour drive from Delhi.
Both the driver and guide did their best for me to feel comfortable and answer my questions and requests.

May 2016
Our tour was brilliant, from start to finish..We had a brilliant driver and our guide was exceptional.
We had the most wonderful day finished off with a great meal. Thank you Viator, for making our day one to remember.Excellent.
April 2016
Thought the tour was great. As a female traveling alone, safety was also a big concern. I was treated very well, very safe with the driver and the guide. The guide was very knowledgeable and knew all the best spots to take pictures. All in all, great experience!

April 2016
My friends and I really enjoyed this tour. Our guide was nice and informative and the ease of being picked up at our hotel in Delhi and driven to Agra to meet our guide, explore the sites, and be driven back at the end of the day was so convenient. We were able to skip the long lines at the Taj Mahal and our guide was great about taking photos for us that others were paying cameramen for. An overall great experience and one that I'd highly recommend.
April 2016
Our guide was the tour. He made it interesting,fascinating and has given us a great lesson in Indian history. Lunch was first class. Highly recommended.

April 2016
If you are in Delhi, I highly recommend spending a day to see the Taj Mahal and Agra Red Fort. This all-inclusive package is a great way to do this. We met the driver outside where we were staying and the our guide Pramod met us as we entered Agra. Promod thoroughly described everything we saw and also pointed out the best places to take and frame photographs. Had we gone without a guide or with a different guide we would have missed out.

March 2016
What an awesome tour! Was supposed to begin at 5am but received an email 2 days before to expect 6am departure due to expected morning Delhi fog. English-speaking driver arrived promptly at 6. Drive Took 3.5 hour with a bathroom/stretch break each way. English-speaking private guide jumped into car in Agra. Took us to Agra Fort, Taj Mahal and mini-Taj. Guide P Sharma was fantastic, getting us tickets to each attraction, VIP access so we didn't have to wait in most lines, included a bottled water as it was 90F, also included lunch at respectable, clean restaurant in Agra. He helped us avoid beggars at entry to Taj Mahal, and he took great pictures with our iPhone so we didn't have to pay for pics from staff photographers. Long day but he made it as easy as possible. HIGHLY RECOMMEND!!!
March 2016
GReat Trip. The driver and the tour guide were very professional and had the day completely planned. Could not have asked for a better day .. Will definitely use the services again.
March 2016
It was the perfect day trip from New Delhi! Our driver, Mr Manoj, was on time for a 6am pick-up from our hotel. We had a fast and SAFE drive down to Agra in a very comfortable car. We met our delightful guide, Mr Padam Sharma at the Baby Taj. Mr Sharma's tales of the history of these monuments and the people who built them were mesmerizing. While we had the Baby Taj to ourselves, there were crowds at the Agra Fort and the Taj Mahal. Mr Sharma knew exactly where to place us for the best views and best pictures. He also is quite an accomplished photographer who probably can use your cell phone camera better than you! So he was very willing to take photos, with or without you in them, with your camera for your memories. Mr Manoj returned us to New Delhi in a timely and safe manner during rush hour. Communication with the local tour provider was excellent. GetsHolidays personnel were very responsive and extremely helpful. All in all, a wonderful day trip which we all recommend heartily.
March 2016
Very informative, friendly guide. Safe driver. Everything went well.
Advertisement
Advertisement