Experience the sites, sounds and scents of Old and New Delhi on this one-day whirlwind
private tour that showcases the best of this eclectic city. Start things off on the wider
roads of New Delhi before venturing into the narrow allies of the old city. Travel in air-
conditioned comfort with a private driver and uncover the mysteries and traditions that
make India's capital truly unique.
Highlights
Full-day tour of Old and New Delhi
Travel in the comfort of a private air-conditioned vehicle
Discover Old and New Delhi's interesting history and curious quirks with your knowledgeable guide's expert commentary
All monument fees included
Recent Photos of This Tour
Private Tour: Old and New Delhi in a Day
What You Can Expect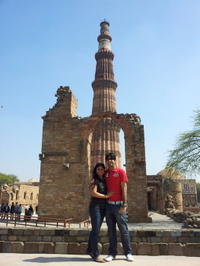 Experience the juxtaposition of old and new on this private tour that showcases the best
of both Delhis in a single day. Visit Raj Ghat and Shanti Vana, as well as the Red Fort,
Qutub Minar, Humayun's Tomb and other key historical and cultural highlights.
Follow your guide through the streets of Delhi where bike bells and rickshaw engines
provide the soundtrack to daily life. Experience the wonder as your senses come alive
and you take in the energy this city has to offer.
Meet your guide at your hotel and venture to the Raj Ghat and Shanti Vana, where
Mahatma Gandhi and India's first Prime Minister were cremated. Pay a visit to Jama
Masjid, India's largest mosque, before heading to the Red Fort and Chandi Chowk. This
bustling marketplace is home to hundreds of stalls where locals sell aromatic spices and
handmade items.
Enjoy lunch (at your own expense) before heading to New Delhi, where wider streets and
more modern homes signal the transition between old and new. Visit Qutub Minar, India
Gate (War Memorial Arch) and the Lakshmi Narayan Temple before you drive past some
of the most important government buildings. These include Parliament, the President's
House and the Government Secretariat building.
At the end of your tour say goodbye to your friendly local guide and return to the quiet of
your Delhi hotel with a deeper appreciation of the diversity and color of this great city.
February 2016
With a personal guide for just the two of us, what a wonderful way to experience the city and not get lost while you look around and try to figure out just where are we. Plus you can have all the say in what you want to see and not what they want you to see. A long day but a great day.
September 2015
Excellent tour had time to check out many more places like the Lotus Temple. Great guide who had full knowledge of many places we passed by.
September 2015
The guide is very nice and is quite knowledgeable.
Must not forget the driver whom is sometimes forgotten in these reviews. A very nice guy.
September 2015
Really good. The tour guide and driver were very nice and flexible. I was given a choice of what i wanted to see. They also took me to couple of craft shops.
August 2015
What a great trip. Suiki Spelling? was a brilliant guide. Took us to interesting places and explained everything really well. We experienced street food the most amazing sticky dessert and then had lunch in a little side street café where we were the only Europeans. Topped off our lunch with street chai tea. We went to the Sikh temple and helped make chapattis for lunch. I am not sure our skill level was up to standard but they were still cooked with the others! Finished our trip with a rickshaw ride and a walk back to our hotel. All in all a fantastic time and an excellent guide. Fully recommend this trip.
July 2015
An excellent day tour where I saw the many sights of this lovely city. The tour guide was excellent - very knowledgeable about the city and very accommodating. A thoroughly enjoyable day.

July 2015
Great day to explore the city both old and new in a short time period! The tour guide Konica was very knowledgeable and flexible to my needs - and the guides deployed at some of the sights were fantastic.
Warren K USA
May 2015
See it all in one day ! After this tour we felt like we had thoroughly done it all in New Delhi ! We want to thank Tushar Patiyal from the tour company for a truly excellent experience ! This was the company that Viator commissioned for this tour and we could not have been more pleased. Before we arrived I emailed Tushar and he was always prompt and informative with his replies. We had a clean air conditioned car and a skilled friendly driver - The company uses official licensed Indian guides at each site such as the Red Fort and Qutub Minar. These guides are paid for already and were very knowledgeable and experts in their area. We took a bike ride through the main market and a walking tour of Old Delhi. So interesting ! It is a long day but completely satisfying. We had wanted to see the Lotus temple which is not on the itinerary so when the tour was over at around 4:30 pm the guide had the driver take us to the temple and wait for us as we walked around - The driver was more than courteous and patient with us. We did not want to visit any major craft shops and they respected our decision. The entire day can be arranged per your individual needs and we were never rushed or felt like we were on a timetable - Lunch was not included so we treated our driver and guide at an inexpensive fast food place and it was a lot of fun. We can not under emphasize the professionalism and respect with which we were treated. It was a pleasant and informative day and we saw all the major sites. We highly recommend this tour and especially the tour company.
April 2015
What a wonderful day we spent looking at the sights of old and new Dehli. Our guide for the day was Sonny and a most creditable that we could have had. As the American President was about to come to Dehli some of the places we were to visit were a little difficult so Sonny consulted with us and suggested that perhaps that we might like to visit the house where Gandhi was assinated a most aw inspiring experience that I have had. Hopefully we will be able to get back to Dehli next time we visit India and we will certainly use Viator again
October 2014
Sunny was an excellent guide and we got to see a lot and experience life in old Delhi. This tour was well worth taking.
Advertisement
Advertisement