Experience the wonder of India's culture and history on this private walking tour of Old Delhi. Follow an expert guide through the city's 'havelis'—impressive private mansions—and listen to stories about the Red Fort and other key urban highlights. Comb through the stalls of Chandni Chowk and sample traditional Indian cuisine at Chor Bazaar. Be completely immersed in the lifestyle of locals as you travel the same streets they do on this incredible tour.
Highlights
Half-day walking tour of Ballimaaran, an area of Old Delhi
Take in the local atmosphere and learn about Delhi's heritage as you walk the streets with a private guide
At Chor Bazaar, feast on a meal of local Indian specialties
Enjoy the colorful sights and wonderful smells of Chandni Chowk
Admire the marvelous Indian architecture of the Red Fort and Jama Masjid
Listen to your guide's informative commentary and fun anecdotes about Old Delhi and the sites you see
What You Can Expect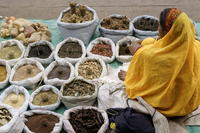 Your private guide will meet you at your Delhi hotel, where you'll travel in air-conditioned comfort to Old Delhi. This ancient walled portion of the city was once the capital during the Mughal Dynasty. Wander the neighborhood known as Ballimaaran, where private mansions—including one that belonged to Urdu poet Mirza Ghalib—line the streets. Your guide will share information about the history and architecture of these iconic buildings known as havelis.
Enjoy a typical Indian meal at Delhi's largest flea market, Chor Bazaar. You'll settle in to eat next to locals and travelers and experience the energy of this popular shopping destination.
Once your hunger is satiated, travel with your guide through the back alleys of Ballimaaran, where you'll get an up close look at modern life existing amid ancient structures. Pass by the UNESCO World Heritage-listed Red Fort and Jama Masjid—the largest mosque in the nation—while your guide shares Old Delhi history with you. Then walk the length of Chandni Chowk, where local markets selling crafts and Indian treats line a bustling square.
Your tour ends with a private transfer back to your Delhi hotel.
December 2014
Lots of pluses about this tour. I can't think of a better way to immerse oneself in Old Delhi than to walk it. Having a guide made the walk informative, entertaining and safe. My wife and I were impressed with the guide and the driver - on time pick up at hotel and pleasant interactions throughout the day. Perhaps our only criticism would be the lunch which was in an all too touristy restaurant. With a guide it would have been a wonderful opportunity to venture into a place that catered to locals. Also it seems inevitable on any tour in India that we have experienced to be taken to a touristy store or two (in our case a tea shop and a rug store), even though we said at the outset that we had NO interest in shopping. But the drives to the shops was interesting and so not a total loss.
Mark United States of ...
April 2014
The Fort is the highlight of this tour. Take lots of picturs and enjoy the history, scenery, and above all-the quiet. In the Chandni Chowk you will be wishing you were back in the fort. It is a cesspool that is worth seeing for the spectacle. Enjoy the crush of humanity but watch yourself. It would be insane to bring small children on this tour. This tour is for the experience not the shopping. You will get better quality souvenirs at the Airport- honest. The auto rickshaw ride in the spice market is on par with any roller coaster ride- without any of the safety features. A tour of this area is a must since you would be in serious trouble if attempted on your own.
Advertisement
Advertisement