Immerse yourself in Delhi's rich heritage on this 5-hour private walking tour of some of South Delhi's most important sites. With your own private guide, explore notable and extravagant temples like the Yogmaya Temple and Chhatarpur Temple. Learn about Delhi's past on a walk through the Mehrauli Archaeological Park and marvel at the early-Afghan architecture of the UNESCO World Heritage-listed Qutub Minar.
Highlights
5-hour walking tour of South Delhi with a private guide
Hear the tale of Mahabharata on a visit to the Yogmaya Temple
Marvel at the Hindu and Islamic elements of the UNESCO World Heritage Site of Qutub Minar
Walk through the Mehrauli Archaeological Park to see various monuments from the 13th to the 19th century
See the second-largest temple complex in India, the Chhatarpur Temple
Enjoy a meal at a popular local restaurant
Choice of two different departure times to suit your schedule
Recent Photos of This Tour
Private Walking Tour: South Delhi Heritage including Qutub Minar and Mehrauli Archaeological Park
What You Can Expect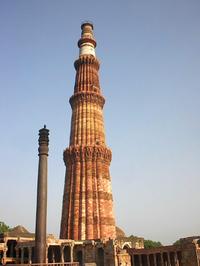 After pickup from your hotel in New Delhi, enjoy the approximate 30-minute drive to South Delhi for your private tour. Arrive at Yogmaya Temple, where your expert guide will be waiting for you. This ancient Hindu temple dedicated to the goddess Yogmaya is believed to be one of the five surviving temples from the Mahabharata period in Delhi. With your guide, walk inside the temple and learn about the role it plays in the annual interfaith festival in Delhi called Phool Walon Ki Sair.
Then, walk to the nearby UNESCO World Heritage-listed Qutub Minar, the tallest minaret (a tall spire tower of Islamic mosques) in India standing at nearly 238 feet (73 m) high. Marvel at its amazing construction, built with red sandstone and marble and covered with intricate carvings and verses from the Quran (Koran).
Afterwards, follow your guide on a short 15-minute walk to the Mehrauli Archaeological Park, where you'll find a large number of historical monuments of powerful people and excavated ruins dating back to the 13th century. Take a guided walk through the site and admire the elaborate structures like the Tomb of Ghiyasuddin Balban and the famous Rajon Ki Baoli stairwell. The archeological park will give you an interesting insight into Delhi at its various stages of development.
Finally, re-board your private vehicle for a quick drive to the Chhatarpur Temple, the second-largest temple complex in India, spreading over an area of about 60 acres (24 hectares). You will be in awe of the marble construction of this serene temple, highlighting South Indian-style architecture. Wander inside the temple with your guide and see various shrines dedicated to deities like the Goddess Durga or Maha Gauri.
Finish off your tour with an authentic Indian meal at a popular restaurant before relaxing on the drive back to your New Delhi hotel.
March 2015
Loved our tour guide, Anand! It was our first day in India and we were so lucky to have such a helpful and knowledgable tour guide. He was incredibly knowledgable about the sites we saw and had detailed answers to all our questions. In addition to the sites, he helped answer our questions about Indian government, culture and music. We would definitely recommend a tour with Anand!
September 2014
Best day ever, guide was friendly and informative. On time , door to door service, took care of all the entrance issues. Kept people from trying to get you to buy stuff, was very helpful about how to get around town and avoid unsafe places. The sites were breath taking , the lunch was great . Real resturant not some side shop. Four main entries to choose from , soda cost which is not included a little high (still only one fifty in us terms)
I just can't give enough praise for the guide and driver , would take any tour with them again. Even some of the others I did not like if these two where running them
February 2014
A nice succinct tour of some of the more significant historical treasures in Delhi. This is great for someone like me who had limited time. I would recommend something longer if you do have the time. However, the five hours were well-spent, and the guide was great.
Anonymous
January 2013
Excellent!
January 2013
Excellent, as I learnt a lot about Delhi through a great guide and a good driver. I'd recommend this one!
Anonymous
November 2012
I really enjoy the tour! The tour guides were very informal w/ the info. The multiple temple were the best of all. traveling around India is a very good experience for him/and the group. India will never be the same!
Anonymous
November 2012
It was my first time in India. I was surprised that Delhi is such a "green" town with interesting old buildings which you can't find in a travel guide. I liked this Tour very well! The local guide know a lot about the buildings and the historical background! And Mr. Ashish was very helpful in every case! Very good driver! Thank you for the gifts! Conclusion -> Amazing Tour!
December 2012
Most sites were good, but my guide knew nothing about the Mehrauli park. We made only one stop at a mosque where my guide could tell me nothing (except that mosques are important to Muslims...good to know!) and then he admitted he'd never been to Mehrauli before. Bad guide :(
Advertisement
Advertisement